The farce at Blackpool Football Club descended further into humiliation after they posted a team-sheet for their pre-season match at Penrith with five players under the name of 'Trialist', as they still have just eight professional players on their books.
Having signed just one of their players out of contract at the end of last season to a contract extension – namely Tony McMahon who captains the Seasiders today – Blackpool's official club website shows that they have eight players remaining, and not one goalkeeper in sight.
As a result, they posted the starting line-up for Saturday's pre-season friendly with five trialists included, as well as another three on the bench. First-team members David Perkins, Charles Dunne, Sergei Zenjov, Bobby Grant and McMahon were named in the starting XI, with Tom Barkhuizen named on the bench, while youth players and unnamed players on trial with the Championship club made up the rest of the squad.
TEAM: Trialist, Waddington, Trialist, Perkins, McMahon (C), Dunne, Zenjov, Trialist, Trialist, Grant, Trialist.

; Blackpool FC (@BlackpoolFC) July 19, 2014
SUBS: Barkhuizen, Trialist, Highan, Telford, Moulden, Gregory, Trialist.

; Blackpool FC (@BlackpoolFC) July 19, 2014
Earlier this week, Blackpool cancelled their pre-season tour to La Manga in order to concentrate on player recruitment, with just three weeks to go until the new season gets underway.
A club statement on their official website read: "Blackpool manager José Riga has opted to keep The Seasiders in the UK next week, in order to spend more time on player recruitment.
"The decision means that a planned trip to Spain, which included two fixtures, will no longer take place."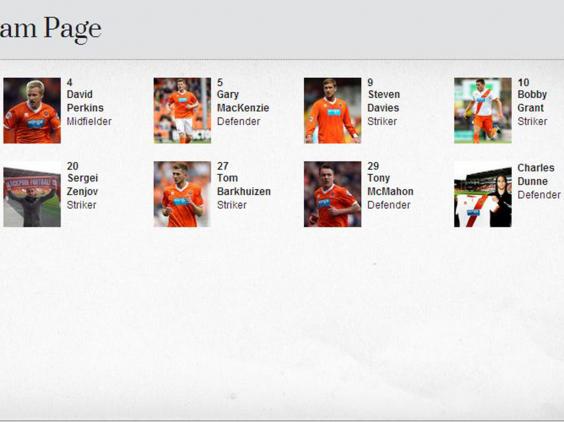 Club chairman Karl Oyston added: "The manager has taken the decision - and I agree with the decision - to cancel the pre-season tour so that our time is better served to try and get some of the player deals that we've been trying to get over the line for some time across the line. Our time will be far better spent preparing here than going over to Spain.
"I've spoken with the chairman of the supporters' association, as I do with most things, about the decision because certain people no doubt booked to go across and follow the two games. We'll look to fairly deal with that issue."
There was some good news for those fans who travelled north to see Blackpool in action, as manager Jose Riga appeared despite concerns his resignation was imminnent.
José Riga arrives at Penrith FC. pic.twitter.com/uZ7Acs00mE

; Blackpool FC (@BlackpoolFC) July 19, 2014
Riga only joined the club five weeks ago, but the turmoil and stand off with Oyster over transfer targets had led many to believe he could be leaving before the start of the season.
Reuse content