Controversial Cardiff owner Vincent Tan has urged the club's fans to give Russell Slade a chance as he prepares to install him as his new manager.
The Malaysian billionaire and Ole Gunnar Solskjaer parted company earlier this month after a difference of opinion between the two over the best way forward.
Now he is ready to hand former Orient boss Slade the task of leading the fight for a return to the Barclays Premier League.
Asked if he the 53-year-old was his choice of that of the Cardiff Board as well, Tan told Sky Sports News HQ: "Actually, he was identified by me.
"Dave Jones wasn't recruited by me; Malky Mackay wasn't recruited by me; in a way, Ole wasn't recruited by me. But I said now, the next manager, I must select him.
"I think he will make a good manager for us. All I can say to the Cardiff fans is give him a chance, give him a break.
"Russell is the fourth longest-serving manager in British football now - Arsene Wenger, of course, is the longest. Of course I hope Russell joins us and one day can beat Arsene Wenger's record."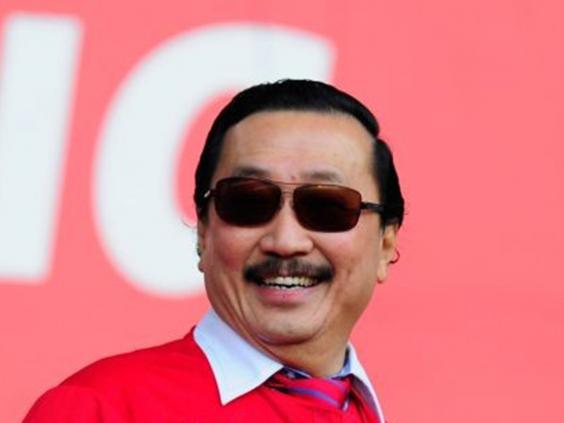 Tan insisted he would not interfere with team selection, although admitted he might voice his opinion at times.
He said: "I won't get involved. Sometimes I do make suggestions when we have paid so much for a player. Isn't it logical?"
Solksjaer's appointment in January was prompted by Mackay's untimely departure, and the Scot later found himself embroiled in a scandal over unsavoury text messages.
He received the backing of the League Managers' Association in a hastily withdrawn statement which prompted the Welsh club to demand the resignation of chief executive Richard Bevan.
However, Tan has since mellowed on the issue.
He said: "I would say that maybe sounds bit harsh, but sometimes when we are angry, we can say harsh words, so if you ask me do I want him to resign, I don't really want him to resign.
"Now I would say Mr Bevan, I don't really want you to resign, but you should take this most seriously."
Tan also insisted he is not conducting a vendetta against Mackay.
He said: "Nothing personal, there is no personal vendetta. This is business. What personal vendetta? I hardly know him. I didn't recruit him."
Tan, who angered supporters by changing the club's colours from blue to red, and by dismissing Mackay, who had guided them into the top flight, admitted if he did ever sell up, he would remain in football, and has plans to extend his sporting empire.
He said: If I sell Cardiff, I will buy another club in the UK. I love football now. I have got a club in Sarajevo in Bosnia - oh, I love that. The fans are fantastic, the people who run the club are incredible, honest people and they really motivate me.
"I am looking to buy another club in Europe and then I may invest a club in the US in the MLS."
Reuse content