Dave Whelan on Tuesday resigned as chairman of Wigan Athletic and chose his 23-year-old grandson to replace him. Whelan has owned the club for 20 years – and will continue to do so – taking them from the fourth tier of English football to the top, and winning the FA Cup in 2013.
The Championship club also learnt that the Football Association's investigation into manager Malky  Mackay over alleged racist texts when he was in charge of Cardiff has been widened by the discovery of "significant new information".
Whelan, 78, was banned from all football activities for six weeks by the FA in December after breaching misconduct rules with comments made about Jewish and Chinese people. Soon after the ending of that suspension, Whelan announced his decision to step down from his role.
"The time has now come to hand over the reins," Whelan said in a short statement released on the Wigan website. "I am approaching 80 years old and spend an increasingly long time abroad, and cannot make it to games. It is a decision I have been mulling over for some years and I believe David is now ready."
David Sharpe is Whelan's grandson who became chairman on Tuesday and will soon be formally elected as the new chairman of Wigan by the board. Sharpe has been involved with the club for the last year, running a fish and chip restaurant called Sharpy's next to the DW Stadium which eventually closed down due to a lack of business. Sharpe will run the club in conjunction with chief executive Jonathan Jackson.
The most controversial club owners to have graced the English game
The most controversial club owners to have graced the English game
1/9 The Venkys – Blackburn Rovers owners The Venky's are often cited as an example of how not to run football club. When the Venky's took over in 2010 they made a series of footballing gaffes that clearly illustrated that India's largest poultry business have absolutely no idea how to run a successful football club. Their first mistake was to install false hope in their fans by claiming that they were going to sign the likes of David Beckham and Ronaldinho. They also promised to take the club into the Champions League, something that evidently has failed to materialise since. They then made the unpopular decision to sack then manager Sam Allardyce and appoint the relatively inexperienced Steve Kean, resulting in relegation to the Championship at the end of the 2011 / 2012 campaign. To top it off, the owners made their own players star in a deeply embarrassing Venky's chicken advert, which to any Rovers fan must be serious 'fowl' play.

GETTY IMAGES

Getty Images

2/9 Thaksin Shinawatra- former Manchester City owner Thaksin Shinawatra, the former Prime Minister of Thailand, bought Manchester City in 2008. Thaksin appointed Sven-Göran Eriksson as manager who later admitted that the owner didn't have a clue about football. It later emerged that the Thai business tycoon, turned politician, turned football owner faced charges for political corruption and human rights abuse in Thailand. He was sentenced to a two year jail term and is now on the run from Thai authorities.

GETTY IMAGES

Reuters

3/9 Flavio Briatore – Former QPR co-owner In 2007 Flavio Briatore completed his takeover of Queens Park Rangers alongside Bernie Ecclestone and Lakshmi Mittal. His time at the club, well documented by the documentary 'the four year plan', was unconventional to say the least. Briatore was renowned for interfering in first team selection. He dismissed several managers in quick succession and was famously quoted for saying "We found a band of drunkards. One hits a player. Another gets drunk. This is impressive." After falling out with the Football League, Briatore was forced to step down in February 2010. When interviewed about the QPR experience on an Italian chat show he stated "I will never invest in a Football Club again, it's only ever a good idea if you're very rich and looking for ways to waste your money. In two years you'll be very poor and won't have that problem anymore."

GETTY IMAGES

GETTY IMAGES

4/9 Tom Hicks and George Gillette - former co-owners at Liverpool Former Liverpool owners, Tom Hicks and George Gillette, shrouded themselves in controversy during their stay at Anfield. The pair were deeply unpopular with the supporters and their proposal of a ground share with arch-rivals Everton did little to enhance their profile. Embarrassingly, the owners failed to even get along with each other. Their feud was made public when Hicks infamously blocked Gillette's attempt to sell his stake in the club in 2008. Relations with former manager, Rafa Benitez were also strained. When Hicks and Gillett ended their ill-fated six year stint at the club, Reds fans rejoiced at the news.

GETTY IMAGES

Getty Images

5/9 Mike Ashley- Newcastle United owner Mike Ashley's tenure at the club since 2007 has been turbulent. The owner is often seen to be downing beers in the stands at St James's Park. In 2009 he controversially announced that he was changing the name of their ground to "sportsdirect.com @ St James' Park Stadium" until the end of the season. A move that didn't go down too well with the Newcastle faithful. He has since drawn criticism for handing Alan Pardew an eight year contract and then subsequently appointing ex-manager Joe Kinnear as director of football.

GETTY IMAGES

AFP/Getty

6/9 Assem Allam – Hull City owner The Hull City owner, Assam Allam, has alienated supporters by trying to change the name of the club to 'Hull City Tigers' against their wishes. The owner told fans he was going to consult them on the issue, however, shortly after he sent an official request to the Premier League to change the name.

GETTY IMAGES

7/9 Milan Mandarić – Former Portsmouth owner Milan Manderic had a reputation for being trigger happy when it came to firing managers. By the time that he appointed Harry Redknapp in 2002, Manderic had already disposed of Alan Ball, Tony Pulis, Steve Claridge and Graham. However the pair fell out after Manderic hired Velimir Zajec as executive director in 2004, a move that resulted in Redknapp's resignation shortly afterwards. In 2010 Manderic was charged with tax evasion regarding his time at Pompey.

GETTY IMAGES

8/9 Roman Abramovich – Chelsea owner Since taking over Chelsea in 2003, Abramovich has seen his side win three Premier League titles and the Champions League in 2012. However, during Abramovich's 10 year tenure at the club, he has overseen 10 managerial changes. Abramovich sacked Jose Mourinho after the pair fell out in 2007, before bringing him back to Stamford Bridge at the start of this season.

GETTY IMAGES

Getty Images

9/9 Maurizio Zamparini- owner of Palermo Maurizio Zamparini lost patience with his manager once again last week sacking manager Gennaro Gattuso. The ex-Italian international lost his job after the Serie B outfit suffered back to back defeats. Zamparini has now sacked 20 managers in 10 years since taking over Palermo.

GETTY IMAGES

GETTY IMAGES
Whelan admitted to Sky Sports News that he had Sports News that he had decided to leave because he was too old to do the job as well as he used to. "We all know as we're getting older that there's certain things that you suffer from," Whelan said. "Your memory is not quite the same, your judgement is not quite the same. When I'm watching a football match I forget the players' names. I never, ever used to do that."
Despite transforming the fortunes of Wigan – leading them to eight consecutive seasons in the Premier League, their only spell in the top flight – Whelan has rather left the chairmanship under a cloud. Having been relegated in 2013, they are currently second from bottom in the Championship. They have won just six games this season.
The appointment of Mackay as manager in November has been a disaster, not least because it was in defending that appointment that Whelan made the comments that led to his ban. Whelan had told The Guardian, while discussing Mackay, that it was "nothing" to call a Chinese person "a chink" and that "Jewish people chase money". The FA banned Whelan for six weeks, fined him £50,000 and ordered him to undertake a diversity education programme.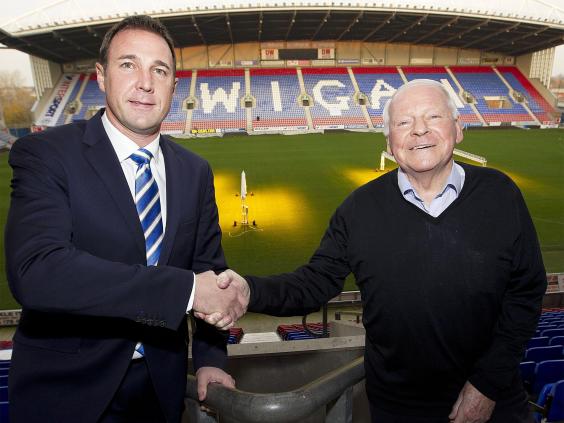 Whelan said that he was still baffled at the punishment he received from the FA. "That charge did hurt me, there's no question," he said. "It hurt me, it hurt my wife because we're not racist people in any way, shape or form.
"The FA came to the decision that I wasn't a racist, but they fined me £50,000 and banned me for six weeks. I could not understand what that was all about. If I'm not a racist why did I have to have those punishments?"
Reuse content