Blackburn Rovers manager Gary Bowyer had just been extolling the virtues of his Leeds counterpart Neil Redfearn ahead of today's Championship meeting between the two sides when news came through on Thursday of yet another crisis at Elland Road.
Redfearn goes into today's home game still considering his future after the unexplained suspension of his assistant Steve Thompson – he has effectively been sacked – and a boardroom order instructing him not to play their top scorer, striker Mirco Antenucci.
Bowyer and Redfearn have much in common, both up-and-coming English managers who have turned things round at their respective clubs. And Bowyer, who may have half an eye on Wednesday's FA Cup quarter-final replay with Liverpool, was full of praise for his rival.
"I'm delighted for Neil because there are some good, young English and British coaches up and down the country and people sometimes don't get given that opportunity," said Bowyer, who was a reported managerial target for Leeds last summer.
"But I was fortunate enough and Neil was fortunate enough to get opportunities and they've got some good young players and he's turned it around so we're aware of how a difficult game it's going to be."
That rosy outlook changed shortly after when news broke of events at Leeds.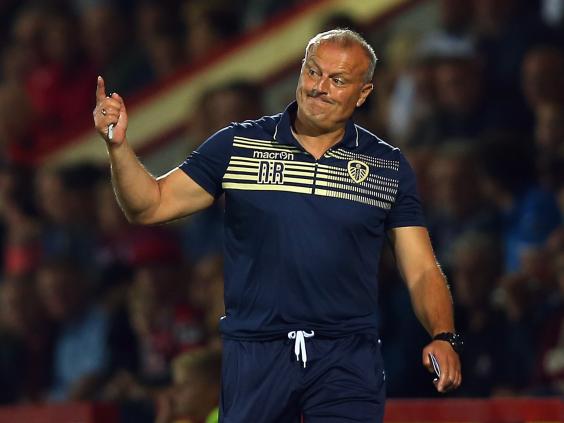 Redfearn is currently considering his position after Thompson was informed via a letter from sporting director Nicola Salerno that he would relinquish his duties for the rest of the season and leave the club when his short-term contract expires in the summer.
Thompson has not commented on his sudden departure and he is understood to be receiving advice from the League Managers' Association.
A shocked Redfearn admitted he was mulling over his options with his own contract due to expire in June and Leeds yet to offer him an extension. He and Thompson have overseen an impressive improvement in results from January onwards, leading United out of a worrying relegation battle which developed around Christmas.
His preparation for today's game has been further disrupted by pressure from the Elland Road board not to involve Antenucci heavily in the Championship run-in.
Antenucci, 30, is tied to Leeds until 2016 but a clause in his contract will earn him an additional 12 months if he scores 12 goals this season.
He struck for the 10th time away at Blackpool before the international break.
Leeds are believed to be reluctant to make a further commitment to the Italian and have told Redfearn to limit his use of him in the seven games that remain.
United chairman Andrew Umbers – in day-to-day charge of Leeds in the absence of banned owner Massimo Cellino – was asked to comment by the Yorkshire Evening Post but did not respond.
Antenucci's agent, Silvio Pagliari, said: "It is true that the 12th goal is an automatic extension of the contract.
"I've known Nicola Salerno for years and he assures me that this is definitely not the reason why [Antenucci] does not play. Only for technical reasons. I want to emphasise that this is a deal agreed with president Massimo Cellino in person. At the same time, it is very strange that in the past two months the top scorer of has played very little."
Redfearn, meanwhile, is expected to be without Lewis Cook today after the youngster injured ankle ligaments on England Under-19 duty but scans have shown that the damage wasn't severe.
Reuse content