It is one of the modern rituals of lower league football. Listen to the team being read out, then turn on your smartphone to discover who the new right-back belongs to.
The old adage "neither a borrower nor a lender be" has long ceased to be heeded in the Football League and not just because most clubs are in debt. 
There has been much attention drawn to the over-use by Premier League clubs of the loan system, highlighted by Chelsea farming out 25 players. Yet there has been less focus on the effect the scheme is having on the competitive integrity of the lower leagues.
Last weekend 116 loanees played in Leagues One and Two, an average of nearly five per match. Another 29 spent the 90 minutes sitting on the bench with their temporary team-mates, which cannot have been much use for anybody. Many others were either injured or unable to even make the matchday squad. The situation is less pronounced in the Championship, but Rotherham and Watford featured five loanees on Saturday.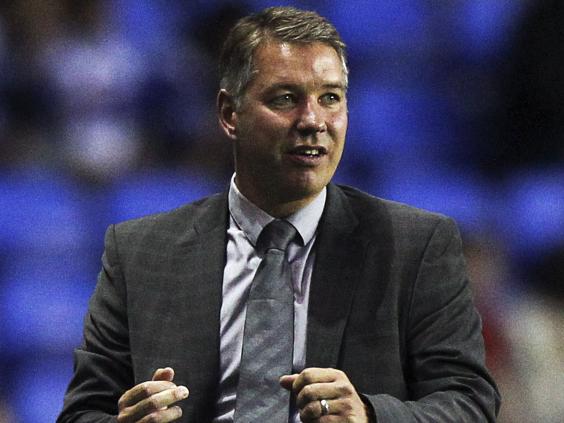 These players have not come up through the youth system or been signed as a part of a long-term strategy. Sometimes they do not even train with their temporary club and they certainly do not move into long-term accommodation. They turn up at training one day, stay for a few weeks or months, then disappear. While most do their best, they are not part of a club, so relegation will not hurt as much, nor promotion feel as joyful. Whether youngsters trying to gain experience, or older players out of favour at their parent club and seeking a shop window, they are tourists. No one in the crowd wears a shirt with their name on, they do not have a kit sponsor in the programme. Here today, gone tomorrow.
This proliferation of borrowed players has some interesting effects. Lower division loanees scored 10 goals at the weekend, 18 per cent of the total. One was scored by Jermaine Beckford, a Bolton player on loan to Preston. He was partnered by Paul Gallagher (on loan from Leicester) in an ex-Premier League front two. Opponents Peterborough failed to score despite fielding a pair of strikers they sold for a combined £4m but have borrowed back – Craig Mackail-Smith and Aaron McLean.
Crewe, fielding five loanees, upset League One leaders Bristol City through a goal by Stoke's Jamie Ness. A player loaned by Crewe, Vadaine Oliver, also scored, for Mansfield Town at AFC Wimbledon. It was the only goal, though of the Stags' five starting loanees, it was "goalkeeper Dimitar Evtimov who really made the difference", reported the Nottingham Evening Post, with manager Adam Murray describing it as the "best goalkeeping performance I have ever seen". Which might be expected since the Bulgaria Under-21 international actually belongs to Championship side Nottingham Forest.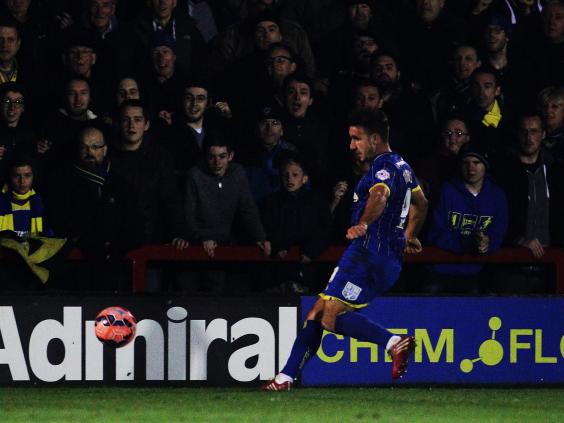 Not that Wimbledon can complain. The previous week, at York, Matt Tubbs (Bournemouth) and Jake Goodman (Millwall) scored in their 3-2 win at York. Nor could the Minstermen object. Both their goals that day, in a match that at one stage had nine loan players on the pitch, were scored by loanees. Indeed, one of them, Stéphane Zubar, is in theory a Cherries team-mate of Tubbs.
Last weekend only two clubs in the lower leagues did not feature a loanee: Newport County and Chesterfield. That was not due to principle. Last month Newport had five, often playing four at a time. Chesterfield, meanwhile, are having to replay their FA Cup second round tie against MK Dons because Georg Margreitter, then on loan, did not have written permission to play from Wolves, his parent club. 
That highlights one of the problem with this free for all: keeping up with the paperwork. When Neil Warnock pinned up the team-sheet for his first match as Queen's Park Rangers manager in 2010, Marcus Bent pointed out he had named six loanees – the maximum allowed in a matchday squad is five. Bent, a loanee himself, was dropped and never did play for QPR under Warnock.
Then there is the unfairness. Geographically isolated clubs can find it hard to bring in players, so can managers with a small contacts book. It is, often, about who you know. Or who you upset. When Preston sacked Darren Ferguson in late 2010 his father, Alex, immediately recalled three players loaned from Manchester United and Tony Pulis, then at Stoke, recalled his two.
Good loan signings can make a season. Benik Afobe and Will Grigg have already scored 27 goals for MK Dons. They belong to Arsenal and Brentford respectively.
Those two will be popular, but you have to wonder whether fans can really associate with the revolving door of loanees. There is no limit to how many players a club can loan during a season, and some reach double figures. Regulations stipulate a maximum eight "standard" loans (beginning and ending in a transfer window), but there is no limit to "emergency" loans.
This is the device by which the Football League have evaded Fifa's ban on moves outside the transfer window. However, Fifa has threatened to ban emergency loans. Negotiations continue and the Football League is hopeful a compromise can be reached, but it seems there are bound to be tighter curbs.
Some clubs, their squad size limited by financial constraints, argue they would be unable to field a team without emergency loans but a ban may have unforeseen consequences. Unable to farm players out, Premier League clubs may keep smaller squads, creating a player surplus that would drive wages down so enabling smaller clubs to keep larger squads. A side effect could be young players getting more game time as an established club player instead of being stockpiled by Premier League clubs, their stagnation barely kept at bay by serial loans.
But back to the present. Even emergency loans for outfield players are banned in December, so clubs are getting short – loan-free Chesterfield only named four subs on Saturday. Tomorrow, however, the window  re-opens and lower league managers will hit the phones seeking a centre-half, or left-winger, to tide them over for a few weeks, just a few weeks.
--
PREMIER NUMBERS - SEASON HIGHS SO FAR
41 Yellow cards awarded to Sunderland. Palace, QPR and Southampton  (all 25) have the least
48 Raheem Sterling has been fouled most times – twice more than Eden Hazard
4 Swansea City have the most red cards this season
13.3 Average fouls per game by Leicester. Everton (9.5 per game) are the cleanest team
17.3 Average shots per game by Manchester City. Hull (9.3 per game) are the most shot-shy
8 Clean sheets kept by Southampton's Fraser Forster
14 Goals scored by Sergio Aguero – two more than Diego Costa
78 Dribbles completed by Hazard this season
7 The Christmas table-toppers have gone on to win the Premier League in seven of the last 10 seasons
12 Assists provided by Cesc Fabregas – four clear of Gylfi Sigurdsson
35 Fouls committed by Mile Jedinak and Connor Wickham
10 Charles N'Zogbia and Willian have both been taken off 10 times
2 Red cards awarded to Tottenham's Kyle Naughton
3 Chelsea won the title on all three previous occasions  when they were top on Christmas Day
12 Didier Drogba has come off the bench on 12 occasions
8 Yellow cards awarded to Sunderland's Lee Cattermole
and... 2 West Bromwich (2004-05) and Sunderland (2013-14) are the only sides to stay up after being bottom at Christmas