Ian Holloway is not a pair of bell-bottoms, nor is he "a high-waisted pair you had at school with pockets so big you could get your books in". He is not that pair of trousers. Queens Park Rangers are not a race horse, and will not gallop off "and look all lovely with shiny shoes on saying 'look at me'".
Holloway, in fact, is pair of trousers which gets "re-tailored all the time to get in fashion, because that is what you have to do." QPR, as a club, is horse that is going to try and pull a cart, and make sure everybody is on it. "We are an old cob of a fella that is going to drag everybody with us."
This was Holloway's unveiling at Loftus Road on Wednesday afternoon, hours of metaphor barrage, in which he also compared himself to an astronaut and to Barack Obama. The 44th president of the United States had described himself as a relay-runner, passing the baton of the presidency onto the next man. Holloway liked the image and took it for himself. He has picked the baton up from Jimmy Floyd Hasselbaink, and now he is desperate to carry them into the Premier League.
This was a unique performance, one that could not have been given by any other manager than Holloway himself. But then QPR is a unique club too, and that special understanding was part of Holloway's pitch here. That is why he kept talking about Gerry Francis, Stan Bowles and Rodney Marsh. Why he harked back to his five years here as a player, or five years as manager.
"I came here when I was 29 years old from Bristol Rovers," Holloway remembered, "because Gerry Francis liked my attitude. He wanted me to rub off on people. He liked how hard I worked. QPR was the best team I ever played for. So for them to choose for me to come back is unbelievable."
Holloway loved his time managing here too, although there was some bitterness about the boardroom wrangling and his eventual departure, more than 10 years ago. Championship football has changed beyond recognition since then, overheated by the massive money teams are now prepared to spend in pursuit of Premier League football.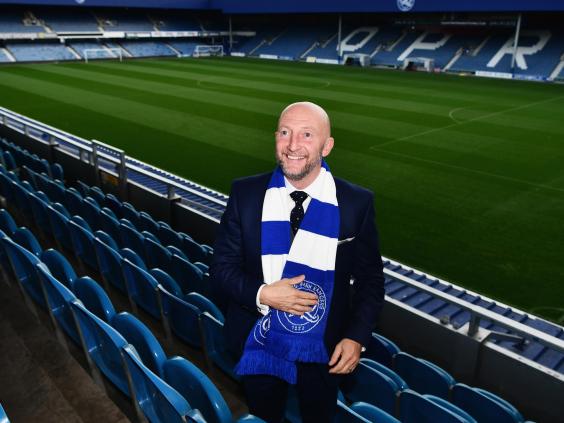 QPR have chased the dream, caught it and lost it twice now, leaving them stuck back in the middle of the second tier again. They are now, in financial terms, relatively minor players in the Championship. But that does not bother Holloway. He has built his career, since leaving QPR, on getting teams to overperform and reach the Premier League through the play-offs: first Blackpool in 2010 and Crystal Palace in 2013.
While this unveiling did appeal to the emotional history of QPR fans, it was also a passionate defence of Holloway's own managerial skills. Holloway talked about his Blackpool and Palace tenures, and why they showed that the Premier League was not an unreachable dream.
"I will be doing my utmost to encourage everybody to actually believe that we will get there," he said, banging the table to emphasise the strength of his record. "What I am saying is that [imposing] a way of playing and training and passing and improving people is on my CV."
Holloway spelled out in detail Palace's unlikely play-off campaign in 2013, and why it proved his suitability to this job. "I had to tactics my way to winning the play-offs," Holloway remembered. "We beat Gus Poyet's Brighton, the enemy, we beat them 2-0 on their ground after he was very showy about how they were going to beat us. Wilfried [Zaha] scored two, one header, couldn't believe it. I'd been telling him for months and months and months, get inside the full-back, diving header, get in. It was wonderful."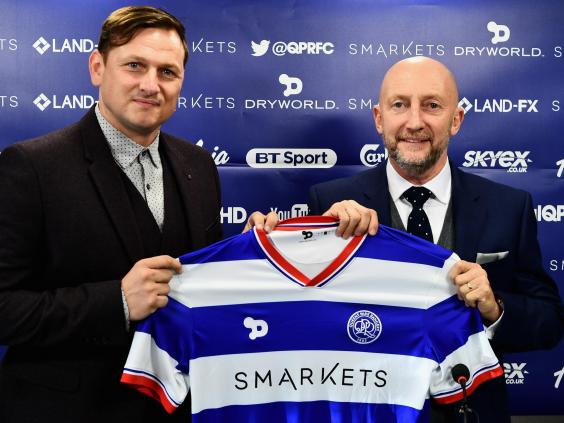 Then Palace went to Wembley to face Gianfranco Zola's stylish Watford, and sprung another surprise. "Well, it was Udinese really," Holloway joked. He described how he had told Zaha to follow veteran left-back Marco Cassetti all game. "They would move him out of the way of Wilf, because Wilf could kill him," Holloway said. "They moved him four times to get him out of the way of Wilf." In extra time, Cassetti fouled Zaha, conceding a penalty which Kevin Phillips scored. "Al l the lads were looking at me 'is he a genius?' When you say something, and it happens, it's unreal."
That is the old Holloway magic, a mixture of tactical insight and mad enthusiasm. That is what he is now trying to impose at Loftus Road again, hoping that it will push his players up into the play-offs. On his first day back he sat the players down in front of 'Coach Carter', the Samuel L Jackson film about an inspirational high-school basketball coach.
"He gave them exactly what you need to nurture something that you love," Holloway explained. "He gave them exercise, discipline and an affection. He made them realise the privilege it is to play basketball. That is what my management style is all about."
Reuse content