After a long, tough game, Southend United end a long, tough wait. "Shall we sing, lads?" a beaming Phil Brown joked afterwards. His side finally return to League One, courtesy of a 120th-minute Joe Pigott equaliser and then Daniel Bentley's save from a sudden-death Sam Wood penalty, to beat Wycombe Wanderers 7-6 in a shoot-out after a 1-1 draw.
It meant they also won what was their third play-off since being relegated in 2010, overcoming all that recent history as well as a hugely eventful final here.
"You can't write the script," Brown enthused, as he said it was "greater" than promotion to the Premier League with Hull City. "I wouldn't swap this day for anything."
The feeling was all the greater because it seemed for so long Southend would be denied the win they deserved. Barry Corr, their top scorer,  couldn't quite find his range but did have a header harshly ruled out for an infringement by Cian Bolger.
It wasn't the only time Southend could be aggrieved, and they should have had a second-half penalty when Joe Jacobson shoved Corr in the box, but appeals were waved away and the same Wycombe player then stepped up for a 95th-minute free-kick. He curled it over the wall and off the bar, only for the ball to bounce back in off Bentley for an own goal.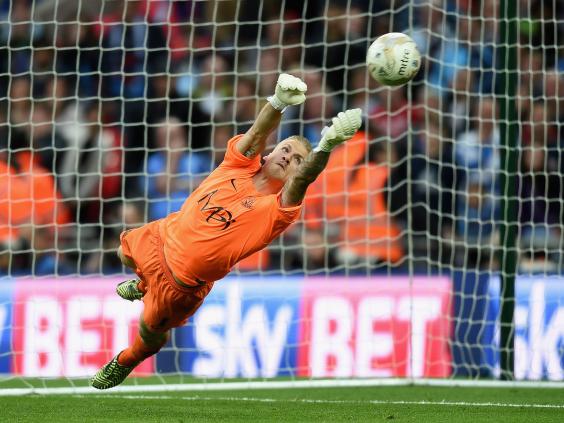 That seemed to be decisive until Pigott slid in a supreme 120th-minute equaliser. Only 24 seconds remained. Wycombe looked emotionally spent, but their manager Gareth Ainsworth and Brown propped each other up by so admirably standing together for the shoot-out.
"Myself and Gareth made a pact when the penalties started because a lot of bad things go on in football," Brown explained. With both sides having missed penalties, Wood stepped up in sudden death. Bentley saved, though, and it is Southend who step up to League One.
Southend: (4-3-3) Bentley; White, Bolger, Barrett, Coker; Worrall, Atkinson (Weston, 79), Leonard; Timlin, McLaughlin (Pigott, 58), Corr
Wycombe: (4-3-3) Lynch; Yennaris, Jacobson, Mawson, Pierre; Saunders (Bloomfield, 1), Bean, Wood; Ephraim (Craig, 85), Holloway, Hayes
Referee: Simon Hooper
Man of the match: Bentley (Southend)
Match rating: 7/10
Reuse content