There was a hastily arranged wedding at Wigan Athletic today. Clubs like to introduce their managers in a blaze of flashbulbs and self-reflected glory. But so pressing was the desire to get Malky Mackay through the door and announced that his press conference with the newspapers was done and dusted a good 15 minutes before its scheduled start time. Wigan announced the new manager at 1.50pm. The entire proceedings were wrapped up by 4.30pm.
It was easy to see why club and manager were so anxious to get it all over with. Half a day's notice would have been enough time to turn Mackay's first appearance in front of the press at his new club into a baptism of fire and even end this engagement before it had started.
The crude text messages, which the Scot exchanged with former colleague Iain Moody while Cardiff City manager, had been in the possession of Cardiff owner Vincent Tan for several months before they were made public on the eve of his planned installation as Crystal Palace manager in August. They killed his appointment.
The sense that those messages could keep Mackay out of football for a long stretch was confirmed last Friday when the first hint of him becoming Wigan manager led the local MP, Lisa Nandy, to say she would boycott the club if he was appointed.
Nandy's intervention came within 48 hours of the Olympic gold medallist Jessica Ennis-Hill saying she wanted her name to be taken down from a stand at Sheffield United's ground if Ched Evans was allowed to rejoin the club. Reading Nandy's letter to Wigan's owner, Dave Whelan, on House of Commons headed notepaper, did make you wonder whether the Labour MP for a town so scarred by Coalition cuts had no more pressing issues to preoccupy her.
Evans is a convicted rapist. Mackay is a football manager who sent three text messages which, though deeply offensive, could have been written by many people in the unreconstructed world of football.
It was Mackay's new chairman, Whelan, who brought up the Evans case, observing that Wigan had encountered such a problem "when one of our players assaulted a lady" and stating that the decision to cancel Marlon King's contract in 2009 demonstrated an ability to tackle challenges. Mackay did not bat an eyelid as Whelan related all this, though his weeks on an ongoing diversity educational programme would have been enough to make him flinch at what he heard Whelan say about King and also Nandy, who was parachuted into the constituency as the Labour Party candidate on an all-women shortlist in 2010.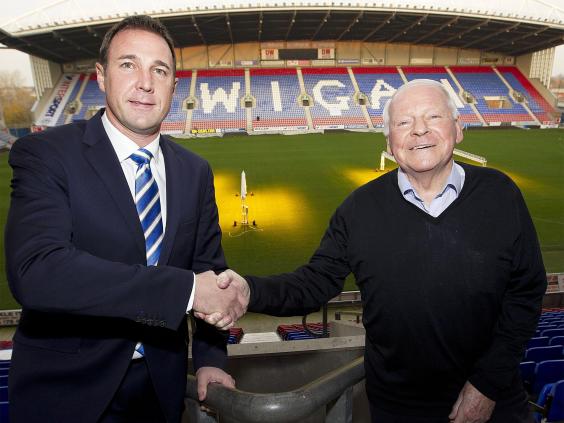 "She's not a Wigan lass, you know," Whelan said. "She was imported. I'm going to invite her to a game and hope she will come along and if she does I will introduce her to Malky." A 77-year-old Wiganer isn't going to change his way of talking.
Mackay says he has changed his ways – publicly and privately – and it was certainly hard to take that claim at anything less than face value today, or to say that he might have done more. There was a little prickliness as a second round of questions on the texts went on, but he was contrite above all and he rejected all opportunities to deflect blame or criticism.
When a player commits an offence, he gets a ban and it is settled, so should the Football Association have concluded its investigation into him by now? "I can only… I'm respectful of their time and how they want to go about things," Mackay said. Did he have any idea that Tan would choose the eve of his appointment at Palace to let information on the texts be known? "I don't have anything to say on that. I live my life and look forward as far as I'm concerned. What other people do is their own business. I'm a football manager."
Has he any idea when the FA's work will be concluded? "How can I? I can't judge that. I don't know how long these things take. I'm respectful of their decision and how long these things take."
Did he feel that, having apologised, he had been the victim of a smear campaign? "I can't speak for what other people want to do. I can only speak for myself. What others do is their own business." Mackay has not sought communications advice but this is the kind of response he would have been encouraged to deliver.
He was reluctant to reveal whether the FA is running the educational course he has enrolled on. If it is, one would presume it might enhance his prospects of a suspended sentence, should the governing body find him to be guilty of racist conduct.
It might have been an awareness of being held up to scrutiny on the nuances of the diversity agenda that also made him unwilling to discuss what the programme had taught him. "Public or private, I know it does not matter," he said. "It is about learning and not doing that again. I have spoken to a lot of people – stakeholders in the game with education, diversity and equality programmes that are ongoing, something that will be ongoing with me for the rest of my life in terms of becoming a more rounded person and better manager."
Wigan will try to move the story on today. An open training session will allow footage of the new manager with his players. The Kick it Out organisation's insistence that Mackay should not have been re-employed before the FA's investigation concludes keeps the controversy alive. The FA's own report will refuel it too. Mackay has not finished paying a price for those texts.
Texts and turmoil: Mackay's timeline
9 October 2013 Mackay's head of recruitment at Cardiff, Iain Moody, is replaced by 23-year-old Alisher Apsalyamov, a friend of owner Vincent Tan's son.
19 December 2013 Mackay is told in an email by Tan to resign or he will be sacked as Cardiff manager.
21 December 2013 Mackay says after defeat at Liverpool that he will not stand down as manager. Apsalyamov leaves his role owing to visa issues.
26 December 2013 Cardiff fans protest against Tan before team suffers defeat to Southampton.
27 December 2013 Mackay is sacked by Cardiff.
19 August 2014 Mackay is reportedly set to land the Crystal Palace job.
20 August 2014 Mackay and Moody reported to the FA over accusations of racism, sexism and homophobia in text messages sent during their time at Cardiff. 
21 August 2014 Mackay is reportedly out of the running for Palace job. The League Managers' Association issues statement, calling the content of the messages "friendly banter".
22 August 2014 LMA apologises for its statement. Mackay insists he is not racist, sexist, homophobic or anti-Semitic.
19 November 2014 Mackay is named Wigan's new manager.
Reuse content