Rafael Benitez hailed Newcastle United's comeback win over Brighton and Hove Albion as the most satisfying of his season. Newcastle moved back to the top of the Championship, beating former leaders Brighton who, with 10 minutes left, were due to go four points clear in first.
Newcastle beat Norwich City 4-3 last September thanks to two last-gasp goals but Benitez said that this win meant even more because it was against the next best team in the division.
"We have had great games, Norwich at home was a massive game," Benitez said. "But the main thing here was we were playing against a very good team, which gives you more satisfaction."
Newcastle have not made a habit of turning deficits into wins this season but here they did that, cancelling out Glenn Murray's first half penalty for a crucial three points. "Coming from behind, and also against a very good team, makes it more satisfying," Benitez said.
Despite the dramatic circumstances of the win, Benitez did not want to say that there had been a decisive shift in the title race. Newcastle go to in-form Huddersfield on Saturday then to Reading next Tuesday but for Benitez the last few games will be the most important.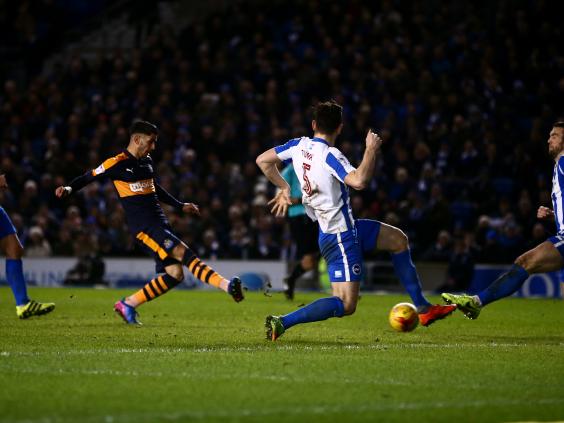 "It is good to get three points, away on this pitch against a very good team," Benitez added. "Still I have the same feeling: April will be crucial."
Chris Hughton said that that defeat, which he did not see coming with 10 minutes left, was a "sickener". "Over 90 minutes it is not a result we deserved," Hughton said. "I genuinely felt, up until the equaliser, we would go on and win the game."
Hughton said that his team has no option but to hit back when they go to Nottingham Forest on Saturday and Rotherham on Tuesday.
"I see us bouncing back, we have to," Hughton said. "We have a game in four days' time, and another on Tuesday. As Newcastle did after the weekend, dusting themselves down to get a result here, we must do the same. We have no choice."
Reuse content