Derby County should have been the perfect fit for Paul Clement. The former Paris Saint-Germain and Real Madrid assistant arrived at Moor Farm in the summer with a coaching repertoire which spanned from grassroots to the elite. 
Despite an apocalyptic slump in fortunes under predecessor Steve McClaren last term, the 43-year-old nonetheless inherited one of the most fearsome squads outside the Premier League – before a further £25m was poured into the side eight months ago.
Mel Morris and Sam Rush, Derby's first-time chairman and chief executive, too, appeared to offer Clement with kindred spirits at boardroom level. The Rams brag an average attendance of 29,598 at the recently rebranded iPro Stadium. In short, Derby were (and are) perfectly equipped for another assault on the Premier League. 
Clement was given the green-light to redress an already strong squad while further funds were made available to expand the previously ill-equipped analytics department, hiring two full-time analysts from Madrid. Speaking to the Independent in November, Clement heralded his East Midlands union with Morris as "a good alignment."
For a debutant manager who started out as a PE teacher in Wimbledon's Football in the Community Scheme in the mid-90s before clambering up the greasy pole to reach the Santiago Bernabéu, the move to Derbyshire represented a risk. Regrettably for Clement, whose side lost to arch-rivals Nottingham Forest in Novermber, it will now be remembered as a failure.
Derby's fortunes curtailed at the turn of the New Year with a seven-match winless stretch leading to an inevitable plummet down the division. The helter-skelter world of the Championship is nothing if not tumultuous, however, so a rocky patch is always to be expected. A club's reaction to such adversity usually determines whether their pre-season ambitions will ultimately be met in May.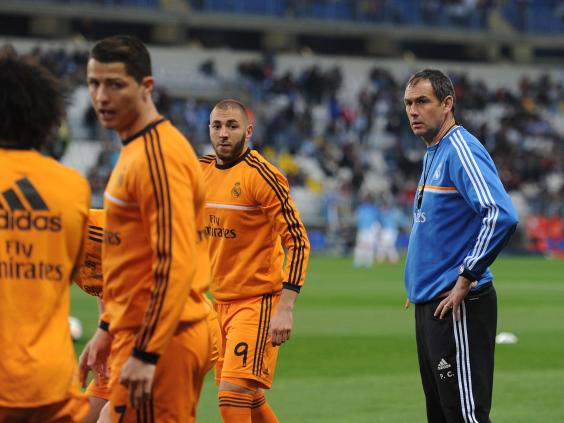 For a club likely – although not certain – to announce considerable losses for the current financial year, the anxiety of failing to secure promotion can become paralysing. The Premier League may offer unlimited riches and marketing opportunities but, above all else, it is a sanctuary from Financial Fair Play punishments. 
Morris, who built his £400m empire on a succession of prudent investments online, insists the decision to relieve Clement of his duties does not originate from a frustration at results. He said: "The priorities were building on the Derby way and style of football enjoyed in the past two seasons; adding depth and strength to our playing squad; and, developing and improving player and team performance.
"Sadly, on these measurements, we have not made enough progress and that is why we have decided to part company with Paul."
Despite stringent denials to the contrary, it would appear Clement has fallen on his sword amid concerns at boardroom level that Derby may not challenge for automatic promotion. Darren Wassall, the academy chief promoted to interim boss until May, has been tasked with fixing their ills in the short-term. 
Asked about the unfolding situation at Madrid, before Rafael Benitez's dismissal after just seven months, Clement offered some telling thoughts on the nature of being a manager under pressure – words his former Derby superiors appear to have ignored.
"All managers need time to be able to do their work," he said. "It is good that the club has come out and supported him. Even in difficult times that is what you need."

Reuse content