It was two hours before kick-off but already the statue of Sir Tom Finney outside Deepdale was decked out with tributes. It is called "The Splash" and recalls the famous photo of the great man sliding across a waterlogged Stamford Bridge pitch in 1956. The fountain was turned off and instead the concrete plinth was awash with flowers, shirts and scarves. One message read "RIP Sir Tom. A legend. A gentleman. You will forever make Preston proud." It seemed a fair summing-up of the man whose death at 91 was still sinking in.
Finney played 76 times for England and scored 30 goals. He played in three World Cups and was twice Footballer of the Year. First and foremost, though, he is synonymous with Preston North End, where he spent his 14-year career.
Standing in quiet contemplation was 71-year-old Cedric Shorrock. He had been here 54 years ago on the day Sir Tom said his first goodbye on retiring aged 38. It was against Luton Town on the final day of the 1959/60 campaign and the Preston players stood with arms linked in the centre circle and sang Auld Lang Syne. "He was dedicated to his club," Shorrock remembered. "He was a Prestonian through and through. I am really sorry." With that he stopped, unable to say more.
Preston were relegated in 1961, the year after Finney retired, and have not been back to the top flight since. Finney never went away, though, and became president of the club and ever-present at home matches right up until the last few years of his life when his health began to fail. Down in the press room, Jimmy Armfield, his old adversary from Preston-Blackpool derbies, remembered a man he considers one of the true icons of British sport.
"We talk about the great Olympians and Finney was in that category," Armfield said. "The Olympians have it once every four years, but he produced it all the time." Finney, he explained, was a left-footed footballer who spent much of his career on the right wing, but his brilliance lay in his ability to play right across the forward line. "He didn't have a best position," said Armfield. Bill Shankly, who like Finney has a stand named after him at Deepdale, once said: "When people saw the Peles and the Cruyffs doing things, they would say 'Oh brilliant'. Well, Tommy Finney was doing that when he was 16 years old. If I were pressed into it I would say Tommy was the best player ever born."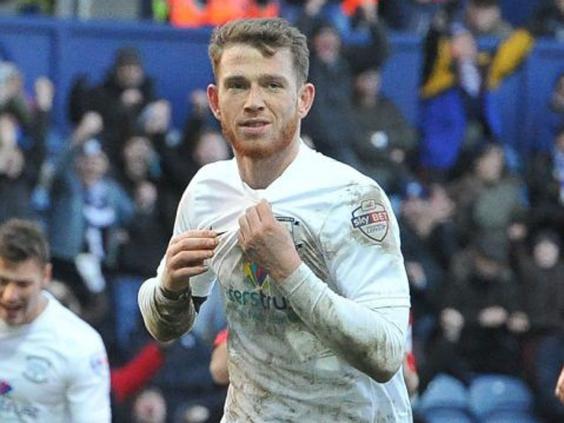 When Finney played for Preston he earned £14 a week, and not until after his testimonial match was he able to buy a detached house. He never had great wealth, nor did he win the league or cup, but what he achieved, if less tangible, was so much more. Armfield recalled: "One of the greatest things about him was the way he carried himself, his whole demeanour – it was total humility. He couldn't understand what the fuss was all about. The thing I always try to remember is he was a man of the people. He gave himself to Preston North End, to these people out in these streets here."
He made Preston proud, and yesterday Prestonians showed their gratitude. The 13,440 crowd was Deepdale's biggest since Blackpool's visit in August. A video tribute was played 10 minutes before kick-off. There were chants of "There's only one Tom Finney". When the teams came out, each Preston player wore the name Finney on his back. In the centre of the pitch, Finney's son Brian and grandson Paul were presented with a wreath as Deepdale paused for a minute's silence. Seven minutes into the match, the crowd were back on their feet for a minute's applause for their old No 7.
Out on the pitch, Joe Garner's second-half penalty earned Preston a point after Mathieu Baudry's opener for League One promotion rivals Leyton Orient. But it felt like an irrelevance. "We are disappointed we have not got a victory for one special person," said Preston manager Simon Grayson afterwards. He voiced the hope that fourth-placed Preston might deliver promotion in his honour. "Hopefully he will be looking down on us for the rest of the season."
Preston North End (4-3-1-2): Rudd; Wiseman, Clarke, Wright, Laird; Keane (Holmes, 57), Welsh, Kilkenny; Gallagher (Brownhill, 76); C Davies (K Davies, 76), Garner.
Leyton Orient (4-4-2): Jakupovic; Cuthbert, Baudry, Clarke, Sawyer; Vincelot, James, Odubajo (Batt, 82), Cox; Lisbie (Dagnall, 70), Mooney.
Referee Dean Whitestone.