Blackpool football club, like the seaside town they once represented with pride and distinction, are tainted by decay and neglect. Their plight provides as graphic a reminder of regret as the vomit trails which signal the progress of stag and hen parties along a faded promenade.
The club's long-suffering, unfairly maligned supporters signalled the limit of their loyalty and the strength of their cause yesterday, when they boycotted the home game against Leeds United, which ended 1-1. Relegation to League One should be confirmed before Easter.
Protests, led by the Tangerine Knights group, had a positive spin, since hundreds of fans transferred their allegiance for the afternoon to AFC Blackpool, who put back the kick-off time for their North West Counties Premier Division game against Bootle to 3.15pm as a gesture of gratitude.
Gift horses are not looked in the mouth in the ninth tier of the English game, even if they have the whiff of the glue factory about them. Unlike Bloomfield Road, the Mechanics ground, average crowd 35, had life and colour.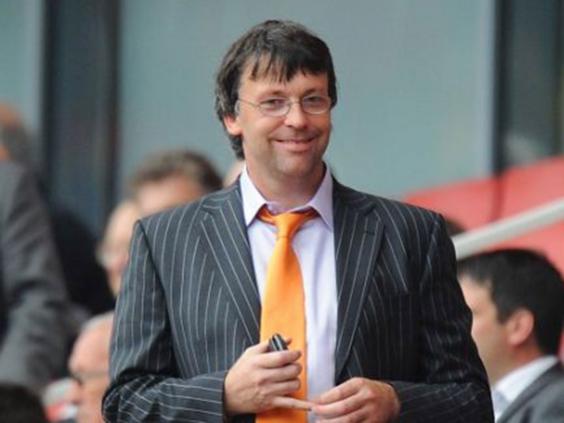 There was little sympathy for a Championship team which even their manager, Lee Clark, admits is "going down by a massive margin". The 51 players who have worn the famous old shirt this season might as well have been lumbering around in plastic "Kiss Me Quick" hats.
Clark warned them they are not merely jeopardising their careers, but "their families' futures". If he expected respite after being sacked by Birmingham City, whose owner Carson Yeung is imprisoned for money laundering in Hong Kong, he obviously wasn't paying attention.
The kitman walked out in midweek, and the legalised loan sharks who sponsor the shirts will not renew. Blackpool have arguably the worst pitch in the Football League; their training ground would shame a semi-professional club.
Karl Oyston, Blackpool's chairman, exudes aldermanic pomposity and a zealot's self-righteousness. It is not an attractive combination, though it can be said to complement the studied flamboyance of Blackpool's owner, his father Owen, a convicted rapist.
Karl argues his family deserves recognition and reward for underpinning the club for two decades. His justification for remorseless cost-cutting and creative accounting lies in the latest accounts, which record an increase in profit from £5.9m to £9.45m.
In modern football, this is close to witchcraft. Yet the nuances of loans from the football club to their Oyston-dominated parent company Segesta Limited, which increased from £23.7m to £27.7m, pose uncomfortable questions.
What happens if a cash cow is milked to within an inch of its life? What is the Oystons' contingency plan once parachute payments for the solitary season Blackpool spent in the Premier League three years ago, end after this season? Why are the FA, Premier League and Football League content to play the role of three wise monkeys?
It has been more than two months since the FA received Karl Oyston's submission to an investigation into his alleged description of a Blackpool supporter as a "massive retard" and an "intellectual cripple". He apologised for the comments just before Christmas, which suggests this is hardly a case for Poirot.
The Football League, of which the Blackpool chairman has been a director for nine years, stands by him. In mind-numbingly naïve correspondence with a supporter, duly leaked to the Blackpool Gazette, they argued "aside from adhering to our regulations (including financial requirements) and the laws of the  land, clubs are their own individual business and can chose to operate as they wish".
The Premier League, asked similarly about the use of parachute payments, in effect answered "nothing to do with us, guv". When clubs of lustre and legend like Blackpool are in such trouble, football cannot afford to look the other way.
Cartel must be broken
It is a busy period for senior scouts operating on behalf of Premier League clubs. Deals for the summer and beyond are being quietly tied up. Data has been scrutinised and due diligence is being done.
There are always leads to follow, hunches to confirm, networks to strengthen. Here is the schedule of one scout, who doesn't want to give the  game away by identifying himself: "Tuesday, France. Wednesday & Thursday, Spain. Friday, France again. This weekend, Italy. Monday, home, possibly…"
He agrees recruitment is a key issue which needs to be resolved if this season's failure in European competition is to be nothing more than a cyclical anomaly. His problem is a simple one: his targets see him coming.
It seems counter-intuitive to suggest cash can ever be a curse, but the  unearned wealth of Premier League clubs is proving a problem, since a small group of hugely influential agents and selling clubs conspire to inflate their prices, and dilute the quality of the player they are willing to trade.
Until that cartel is broken, the three truly big clubs of European football – Bayern, Barcelona and Real Madrid – will continue to cherry pick.
Pele's ultimate betrayal
Renowned sandwich salesman Pele  believes veteran snake-oil salesman Sepp Blatter merits a fifth term as the most powerful man in world football. And so a childhood dream is finally sacrificed, after decades of denial.
He was the player on whom I was weaned, the magician whose DVD was the first football item I purchased for my son. He was forgiven his corporate excesses and crass politicking, until he offered succour to Fifa's discredited dictator. The game has officially gone.
Tennis courts trouble
Vanity projects have been scrapped. Under-performing players have had funding slashed. Participation has declined by around 30 per cent in six years. Michael Downey, the Canadian in charge of British tennis, admits the sport has an existential crisis. He  intends to reinvent it in the parks, but  has he the courage to withdraw financial support from cosseted clubs? We shall see.
Reuse content