The female Preston fan who has been labelled a "shirt snatcher" after apparently taking Jermaine Beckford's shirt from an eight-year-old boy claims she has reported the incident to the police along with the social media abuse she has subsequently received.
31-year-old Vickie Timbrell was seen on video wrestling in a tug of war with young Preston fan Ted Dockray, before overpowering the youngster and returning to her seat with her prize and a smile on her face. The footage prompted thousands of messages on Twitter condemning her actions.
Timbrell claimed that she knew Ted's family and that she would "clear the air" with them, but Ted's aunt confirmed that he was devastated and claimed that the shirt had been "stolen" off him.
In the latest twist to the strange story, Timbrell has told the Manchester Evening News that she has "reported the whole thing to the police" and no longer wishes to speak about it. However, Greater Manchester Police have no record of a complaint under Timbrell's current address.
Lancashire Police also have no record of a complaint while the Metropolitan Police were unable to confirm whether she had spoken to their officers given the incident happened at Wembley Stadium, although Lancashire's Football Intelligence Unit are believed to be looking at the footage.
Watch the video of the incident below:
Timbrell had earlier told the Manchester Evening News: "People have made me out to be an absolute idiot. I will be speaking to the family, I actually know them, they're friends."
She also told The Mirror: "My side of the story will soon come out."
Timbrell has also deleted her Facebook account to prevent anyone from contacting her, but before she deactivated it she posted: "Can I just say thank you to everyone for all the support and texts. I'm not commenting on the c*** they've written because I'm taking this further.
"It's all wrong and twisted. My side of the story will soon come out."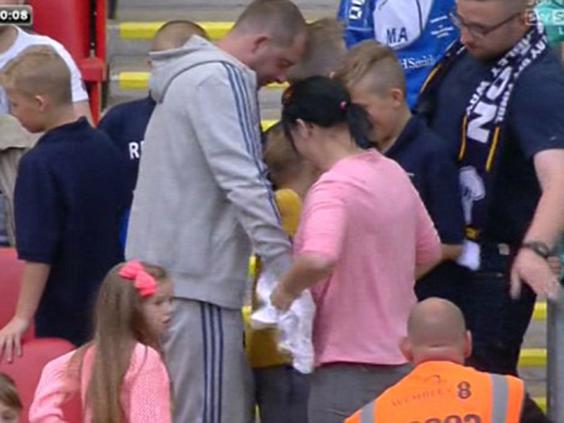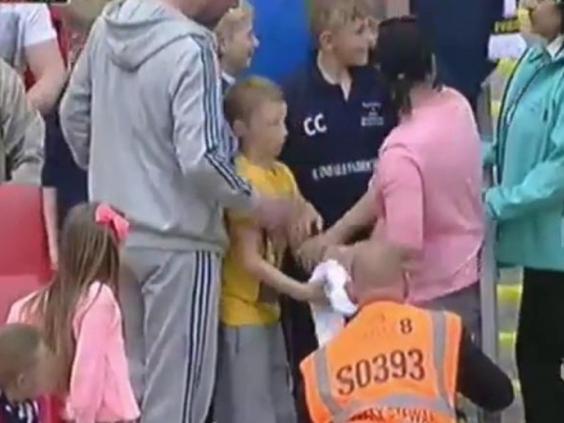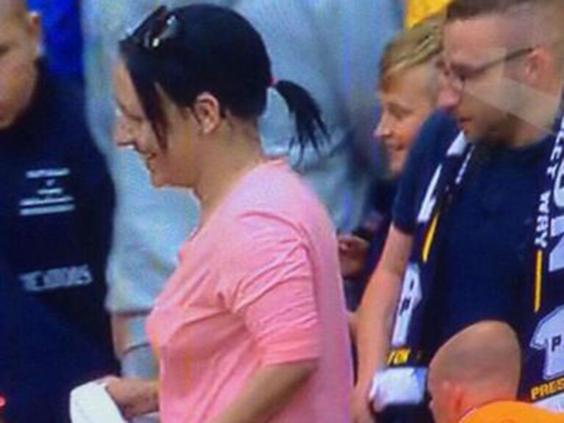 However, Ted's aunt Helen told the Lancashire Evening Post: "Ted was clearly the last one to have his hands on that shirt.
"He would have worn it even if it was all sweaty and smelly. It is the happiness it would have brought the child that matters.
"Ted was in bits and went running to my dad."
Beckford scored a hat-trick for Preston North End as they secured a 4-0 victory over Swindon on Saturday in the League One play-off final. Having been substituted after his match-winning performance, Beckford threw his shirt into a group of young supporters, with Dockray emerging with it in his possession.
However, it's at this point in the video that Timbrell begins to wrestle with the young boy and manages to seize the shirt from his grasp.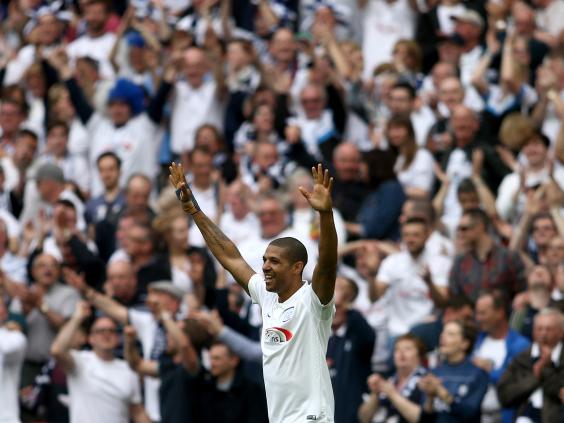 Beckford said after the incident came to light: "It was intended as a goodwill gesture.
"I assumed it would go to a good home from someone who was able to enjoy the game. Hopefully, it will find its way back to the kid who caught it."
The club also confirmed that if Ted gets in touch with the club, he will be presented with Beckford's second shirt from the Wembley final, while Britain's Olympic gold medallist Greg Rutherford offered to send him a signed vest after venting his disgust at the video.
Rutherford said: "I know it's not the same. But if anyone knows this boy I'd like to send him a signed vest."
Reuse content