A young Preston fan who appeared to have Jermaine Beckford's shirt snatched from him at Wembley during Preston's League One play-off victory has been presented with a signed replacement by the striker.
Eight-year-old Ted Dockray caught the shirt when Beckford, who scored a hat-trick in Preston's 4-0 victory over Swindon, threw it into the crowd after being substituted. However,TV cameras appeared to show a female fan later named as Vicky Timbrell, 31, wrestling the precious memento from his grasp.
The incident sparked outrage on Twitter, particularly after the shirt appeared on the classified ads website Gumtree on sale for £1,500, although it is not known if the listing, which was later removed, was genuine. Olympic long-jump gold medallist Greg Rutherford even offered to send Ted a signed vest in a gesture of goodwill.
I know it's not the same.. But if anyone knows this boy I'd like to send him a signed vest @IndyFootball @MailOnline https://t.co/al9Joov3ZK

— Greg Rutherford (@GregJRutherford) May 26, 2015
After hearing about the story, Preston announced that they would present the young fan with a replacement shirt along with a tour of the club's home ground, Deepdale, and this morning Dockray finally received Beckford's replacement shirt from the man himself.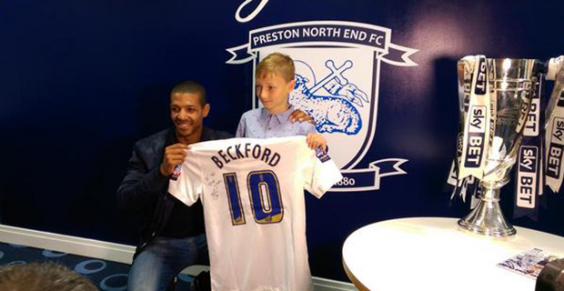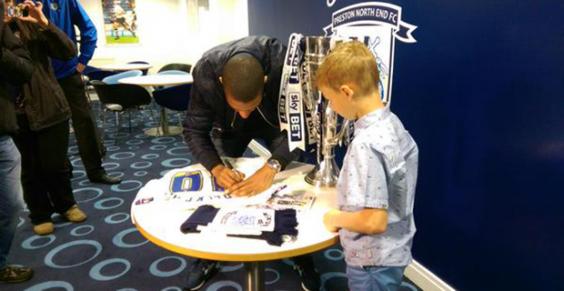 "He's been through a lot this past week," said Beckford, who scored 18 goals in 31 appearances on loan at The Lilywhites from Bolton. "I just thought it would be a really fitting end to a really memorable day for him.
"It's something that once I'd seen and heard what had happened, it was a no-brainer for me. It means an awful lot, not just to Ted and the other kids, but just to myself as well."
Watch the video of the incident below:
Along with his signed shirt, a club scarf and tour of the ground, Ted also got his hands on the League One play-off trophy.
"It's good, I'm happy and excited," said Ted when he received the shirt. "It's the best way to spend half-term. He is a really skilful player and I'm going to put his shirt in a frame on the wall."
Timbrell, who faced fierce criticism on social media and reportedly deleted her Facebook account following the incident, told the Manchester Evening News: "People have made me out to be an absolute idiot. I will be speaking to the family, I actually know them, they're friends."
She also told The Mirror: "My side of the story will soon come out."
Additional reporting by PA
Reuse content