A Portuguese referee showed a red card within 2 minutes of his first top-flight match on Sunday evening.
35-year-old Helder Malheiro had started the match as fourth official, before having to take the place of referee Rui Costa, who pulled a thigh muscle five minutes into the second half.
After medical attention couldn't keep the original referee in play, the rookie Malheiro took to the field as Sporting led Vitoria Guimaraes 2-0.
Two minutes later, Guimaraes midfielder Bakary Bouba Sare was shown a straight red for his challenge on Gelson Martins.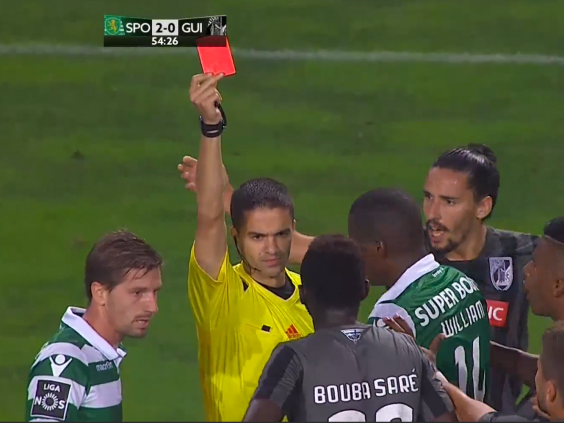 If Bouba Sare had thought the new referee may be cautious on his debut, he was much mistaken. Malheiro hardly hesitated before sending the player off, despite protests from the Guimaraes team.
The rookie's decision was widely lauded, with Bouba Sare catching his opponent high and late.
The game eventually ended with Sporting winning by 5 goals to 1 and due respect for Malheiro's sound judgement.