Harry Redknapp paid tribute to an unexpected source of leadership as QPR stole promotion from Derby County at Wembley on Saturday, unexpected to him too. "When I came here I thought... Joey Barton?" said Redknapp, shaking his head like a car dealer assessing a dodgy motor "he'd been at Marseille..."
Barton had loved it in France, where he had been on loan. Terms could not, however, be agreed for a permanent deal and Barton returned to QPR despite having tweeted he would "never play in the Championship".
Redknapp clearly had reservations about the once-capped twice-convicted Barton. But he was pleasantly surprised. "He has been a real driving force behind the team. In the dressing room he is a real inspiring person. I'd never thought I'd say that."
"He is so into his football, such a student of the game, as much as any player I have ever met. He watches every video of every minute of every game, everything we do in training he wants to talk about it.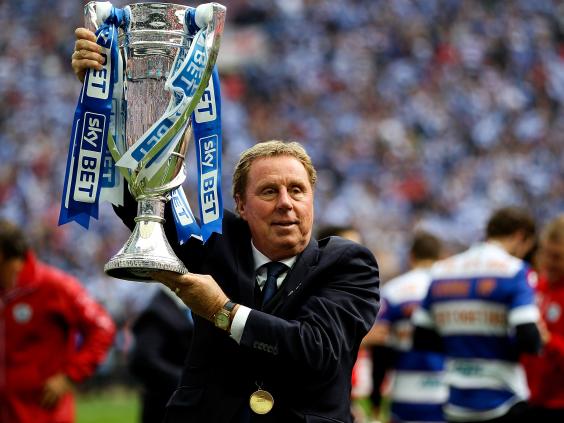 "He is management material, absolutely. He is doing his coaching badges and he comes in, we are sitting there at half past five at night, looking at stuff on the ProZone or whatever, and he is analysing everything: 'Where are we going to press them? How are we doing this? Where are we dropping? Most lads shoot off, he wants to talk about football all afternoon. I've never met anyone like him."
Not every QPR manager has been as complimentary about Barton's influence but he has long been known for having high expectations of training. "He sets very high standards" said Redknapp. "He's the same in the dressing room. Before the [play-off] game at Wigan he is the one got them all in a huddle, driving them on when we won that game. He was the same today, at half time and before the game, he's a real leader."
On the pitch, however, Barton and his fellow veterans were out played by Derby's youthful trio George Thorne, Jeff Hendrick and Will Hughes even before Gary O'Neil's 58th-minute dismissal. Redknapp admitted his team were playing for penalties when QPR stunned Derby with a 90th-minute winner, Bobby Zamora clinically punishing a rare error from County skipper Richard Keogh.
It was a brutal end to Derby season with Keogh unconsolable at the end. " We'll get the players together and relect on what we have achieved," said Steve McClaren. "We'll pick ourselves up. It'll take days... weeks... I can't say I'm looking forward to pre-season training. But we have to come back again. I've had worst defeats than this. We have a lot to be proud of. The future looks bright."
"There are plenty of examples of teams coming back [from losing in the play-offs], look at Leicester last season. What it takes is character and the players have shown they have that."