On 15 October last year South Africa sat top of their Cup of Nations qualifying group. There may perhaps have been a little frustration that they had just only drawn with Congo at home but, with four games out of six played, they had eight points and were yet to concede a goal.
There were many reasons for that record, not least the impact of the coach, Ephraim "Shakes" Mashaba, but the greatest was the captain and goalkeeper Senzo Meyiwa, an ebullient and agile figure whose personality seemed to make up for the fact that, at 5ft 9in, he was short for a goalkeeper.
Ten days after that draw against Congo, Meyiwa visited his girlfriend, the pop star Kelly Khumalo, in the south-east of Johannesburg. She'd recently given birth to his child but he was still married and, that evening, he intended to go to a party with his wife, Mandisa. Nine guests, having come over for Sunday lunch, were still at his girlfriend's house when, at around 8pm, three men entered and demanded Khumalo hand over her phone. She refused, Meyiwa  intervened and was shot. He  was declared dead on arrival  at hospital.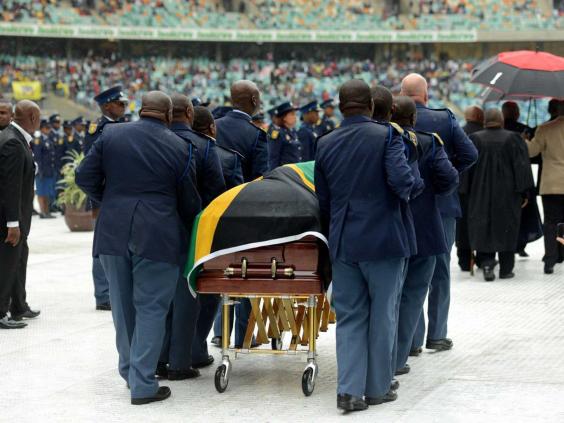 Three months on, South Africa have qualified for the African Cup of Nations and will begin their campaign against Algeria in Mongomo tomorrow, but Meyiwa's death still casts it shadow. His killers have not been caught, but each week seems to bring new revelations. An arrest was made a fortnight after his murder but the suspect was soon released for lack of evidence. There were suggestions Meyiwa was actually three years older than he had said he was. The BMW in which he was rushed to hospital has since been repossessed.
Another woman came forward with a three-month-old child she claimed was Meyiwa's, only to be met with immediate counter-claims that she was a professional con artist. Last week, the South African tabloids were packed with rumours that a "surprise arrest" was imminent, reporting that the murder may not have been a robbery gone wrong.
As the scandals rumble on – and South African policing is once again held up to scrutiny – there is also the human cost, on the families, on Meyiwa's friends and team-mates and on South African football. Mashaba has called on fans to uphold Meyiwa's memory. "It's unfortunate what has happened," he said. "It was beyond our control so we say to them, they must stay focused, stay put, and cheer the team as they did when the late Senzo was with us."
Darren Keet, 25, who plays in the Belgian league for KV Kortrijk, looks like taking over in goal, and with four caps is the most experienced of the available options (Meyiwa, although a central figure in Mashaba's squad, had played only seven times for his country). Keet left South Africa's training camp in Gabon last week to visit his wife, who has just given birth to their first child. "Even though it was short, I'm happy I got to see my boy and my wife," he said. "Now back to camp to continue what we started." Jackson Mabokgwane started Wednesday's 3-0 friendly win over Mali, but that was a line-up featuring a number of back-up players.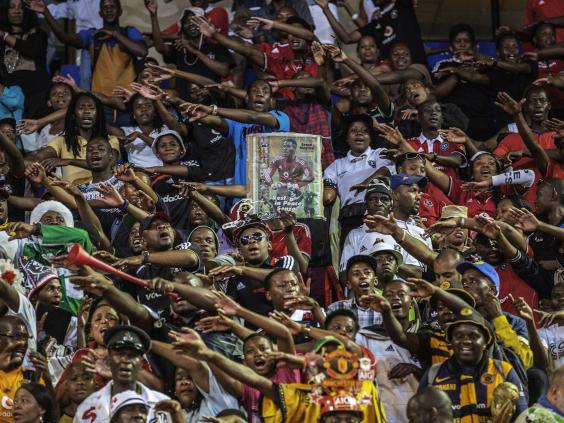 Meyiwa may have embodied the new South Africa on the pitch, but the sense of purpose was instilled by Mashaba who, at 64, is in his second stint as national coach. There were many who dismissed him as the cheap option when he replaced Gordon Igesund last July, but South Africa are unbeaten in 10 games under him, defensively sound and playing markedly more attractive football than they did before. Gone is the reliance on a rigid 4-4-2, and gone too are a number of stalwarts: Steven Pienaar, Siphiwe Tshabalala, Kagisho Dikagcoi and Bongani Khumalo have either retired or been dropped.
Mashaba has shown a marked preference for domestic-based players, and has been rewarded with excellent performances from the likes of Rivaldo Coetzee and Sibusiso  Vilakazi. Still, there was a deal of consternation when the midfielder creator Thulani Serero missed out on the final squad. The Kaizer Chiefs forward Bernard Parker has struggled with injuries, but that may not matter with Bongani Ndulula and Bournemouth's Tokelo Rantie forming gelling together so well.
South Africa have been the continent's great under-performers for years; this is the first Cup of Nations they've qualified for (as opposed to hosting) since 2008. Whether this is the beginning of a great revival is doubtful, but with a team grimly bonded by grief over Meyiwa's  death, a defined and relaxed way  of playing, the green shoots  are emerging.
Reuse content