'Dear Neymar, I want you to be strong in this World Cup. You are really good at football… I LOVE YOU!!'
These words, handwritten in blue and red ink, are taken from one of more than 11,000 letters that have arrived in recent weeks at the training base of the Brazilian national team near Rio. In an age of social media, the volume of good luck messages sent by post is evidence of an especially strong emotional bond that the current players have with their young fans.
Last week, during his TV commentary of Brazil's 0-0 draw with Mexico, 2002 World Cup winner Ronaldo said that his generation never had the popular appeal that the current squad enjoy.
"The Brazilian people feel much more personal affection to the national team than they have for years," says Mauricio Savarese, author of A to Zico: An Alphabet of Brazilian Football. "They are seen as very nice boys, rather than tough guys with big egos like they have sometimes been in the past."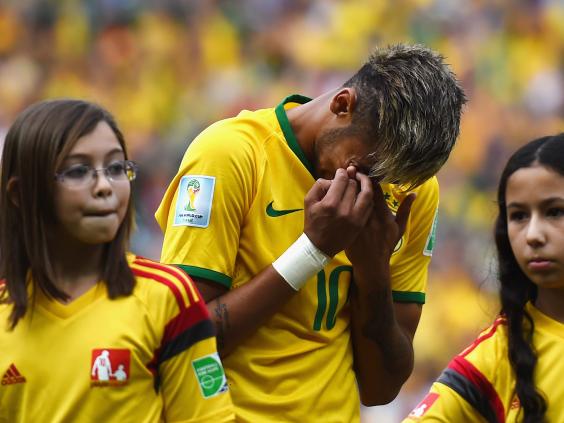 I noticed this when I saw the players after the opener against Croatia. They spoke at length, and with considerable humility and charm, to the Brazilian media. You'd invite Neymar, David Luiz and Thiago Silva for tea with your grandmother. I sensed a warmth between players and press that was absent when I covered the team in the 2006 World Cup.
Savarese puts this fondness down to last year's Confederations Cup. Most of the team had played for European clubs for years, and were not very well known back home. The Confederations Cup meant that the country had a chance to get to know them as people.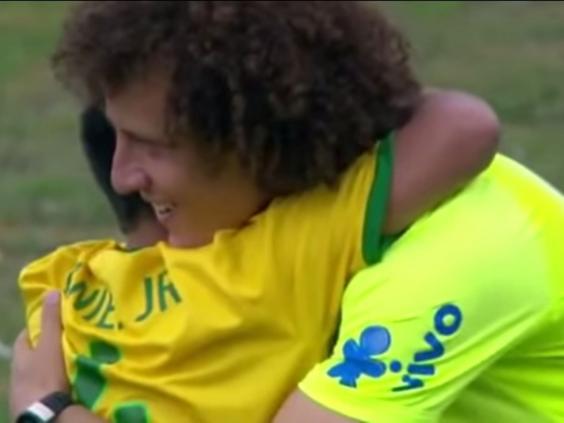 One player, however, was already very familiar: Neymar, who stayed at his local club Santos for four years before transferring to Barcelona last summer. He was the first top Brazilian player in decades to choose his domestic league over a European one for so long, and this made him a national hero.
As the focus of the team, Neymar's personality also shapes the group. His reputation is of the good, loyal son. He is inseparable from his father, who runs his business affairs. Neymar's father has appeared with his son in adverts and an authorised biography just out is written as letters between them.
Neymar, aged 22, has his own son with an ex-girlfriend and has embraced fatherhood, taking a prominent role in the boy's life. His image as a caring, family man was sealed earlier this year when a South African boy ran on to the pitch at the end of a Brazil v South Africa friendly. As security guards tried to take the boy away, Neymar went over to him, picked him up and introduced him to the team.
Coach Luiz Felipe Scolari's style is to be a gruff father figure for the Brazilian team. In 2002, the press nicknamed his squad the "Scolari family". Yet that year there were opinionated, veteran players – Cafu and Rivaldo – who would challenge him.
World Cup 2014: The worst haircuts in Brazil
World Cup 2014: The worst haircuts in Brazil
1/14 Cristiano Ronaldo

The world's best player has never been afraid of rocking some perfectly coiffed barnets, but this one looks as if his barber dropped the clippers mid-shave - however a story later emerged on Twitter that said Ronaldo had shaved the zig-zag in his hair as a show of solidarity for a child who had brain surgery. The Portuguese footed the £50,000 surgery for Erik Ortiz Cruz to have an operation in March.

Getty Images

2/14 Nani

Nani has always been ridiculed by his Manchester United team-mates for being in awe of Ronaldo, and now that he's chosen to copy his former club team-mate by shaving something into his hair will only provide more material for the banter.

GETTY IMAGES

3/14 Marouane Fellaini

A long favourite of hair-based galleries for a long time, Marouane Fellain's mop still looks awful. At least it has a decent story behind it - it's a nod to his father, who sported one when he was younger.

Getty Images

4/14 Néstor Pitana

Argentinian referee Nestor Pitana needs to lose only about four hair-strands before he takes Sir Bobby Charlton's crown as having the best (worst) comb over.

Getty Images

5/14 Raul Meireles

A man who wouldn't look out of place with the hipster crowd of east London, Ronaldo's team-mate Raul Meireles has the best beard of the World Cup. He needs to spend more time on his hair, though.

Getty Images

6/14 Luka Modric

Not a particularly bad cut but the Croatian playmaker looked much better with the flowing blond hair we all knew and loved.

Getty Images

7/14 Dani Alves

Dani Alves clearly opted for the wrong shade of highlighter. Instead of going for blond it looks as if the Brazil full back has picked up grey.

Getty Images

8/14 Neymar haircut

The most famous man in Brazil's hair is all over the place. Up at the front, shaved at the sides, terrible blond highlights... a mess.

Getty Images

9/14 David Luiz

The third Brazilian in this list sent this internet into a spin with rumours he had chopped off his famous locks, David Luiz emerged with his curly head of hair in tact. A living, breathing Sideshow Bob.

Getty Images

10/14 Asamoah Gyan

It's a rare moment when a striker wears the No 3 shirt, but Asamoah Gyan is so close to the number he decided to get it imprinted with blond highlights in the side of his head. If only Ghana could have found a third against the Germans.

Getty Images

11/14 Luis Nani

Another to sport have his number shaved into the side of his head, Portugal and Manchester United winger Luis Nani opted to have the No 17 bordered by a star.

Getty Images

12/14 Benoit Assou-Ekotto

We're not sure if the hairband at the front of Benoit Assou-Ekotto's hair is to stop his afro getting in his eyes, or to protect his forehead when he decides to butt his Cameroon team-mates.

Getty Images

13/14 Paul Pogba

The coveted French midfielder has gone a bit over the top with the highlighter. Not content with adding a bit of colour to his mohican, Pogba has also added blond streaks to the side of his head and shaved various parts.

Getty Images

14/14 Kyle Beckerman

USA midfielder Kyle Beckerman might be summoning his inner Bob Marley with these long dreadlocks, but it's not working.

Getty Images
In 2006, coach Carlos Alberto Parreira could not impose discipline on a team of all-stars that included Ronaldo, Ronaldinho, Robinho and Adriano. In 2010, again there were difficult characters in the group: Luis Fabiano, Robinho and Elano. But this year the team are united. Scolari is a more established figure and has no tricky egos to deal with. There is no hint of dissent or trouble. If you follow the social media accounts of the Brazilian players you will see a carnival of hugs and smiles. In fact, the use of social media, especially Instagram, by pretty much all the Brazilian squad (Neymar has 6.4 million followers, Daniel Alves 2.1 million and Thiago Silva 1.2 million) has given fans a more intimate connection with the team than ever before. Some of the images are obviously placed by their staff, but enough are genuine selfies, often with heartfelt messages to the nation, that portray them as lovable and kind.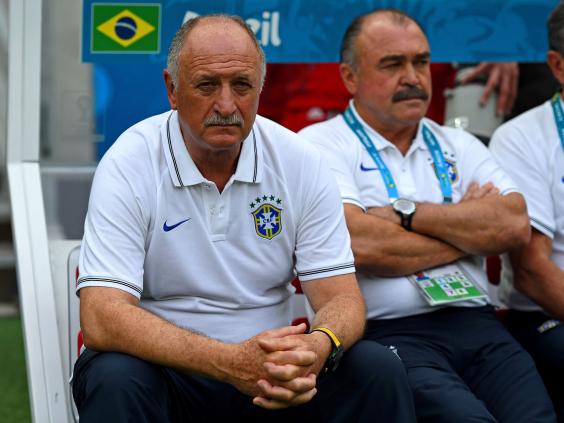 Another uniting feature of the current team is their religiosity. Neymar comes from an evangelical background – he met the mother of his child through church – as does David Luiz, Fernandinho, Fred and others. Unlike in past World Cups, where the evangelical players have prayed separately from the Catholics, in this group religion has added to the sense of a shared experience.
The Brazilian team have yet to convince the country that they have a winning side, but they have already won over their hearts.
Reuse content