It is an old adage that the Football Association, when appointing a new England manager, tend to pick the opposite of the previous incumbent: "Bookies to bishops," as veteran sage David Lacey once said.
The same, it seems, applies to picking a new manager for the England women's team. On Wednesday Mark Sampson unveiled his first squad at his debut public appearance since replacing Hope Powell.
Sampson is 31, as was Powell when she took over, but otherwise he could hardly be more different from his predecessor. It is not just the superficial differences (Sampson is Welsh, male and white; Powell is English, female and black), there are equally large contrasts in background.
When Powell became England manager in 1996 she did so on the back of an outstanding playing pedigree, but had never coached beyond the grassroots level – though she had begun acquiring qualifications.
By his own admission Sampson "wasn't a very good player at all". Having realised at 16 he would not make it as a player, he turned his attention to coaching. He has taught amateur and professional, youth and adult, male and female. The main entries on his CV are Swansea City, where he worked in youth development under Roberto Martinez and helped bring on Joe Allen and Ben Davies, and Bristol Academy, whom he led to runners-up in the Women's FA Cup and FA Women's Super League last season. "I am young, but I have 15 years of studying and working behind me," he said.
Sampson's manner is also a change from that of Powell. She was prickly and intense with the media – and according to reports, many players too. To many, the atmosphere around the England squad was oppressive by the end.
Sampson, on today's evidence, is friendly and eager to please, almost wide-eyed in his enthusiasm for the job. He said he would demand that his players are professional in attitude on and off the pitch but there would be space for "laughs" as well as "blood, sweat and tears".
Sampson paid a warm and justified tribute to Powell's pioneering work and revealed she had congratulated him on his appointment and offered any support he required. He also hopes to tap into the knowledge of Roy Hodgson, whose office at St George's Park is next door.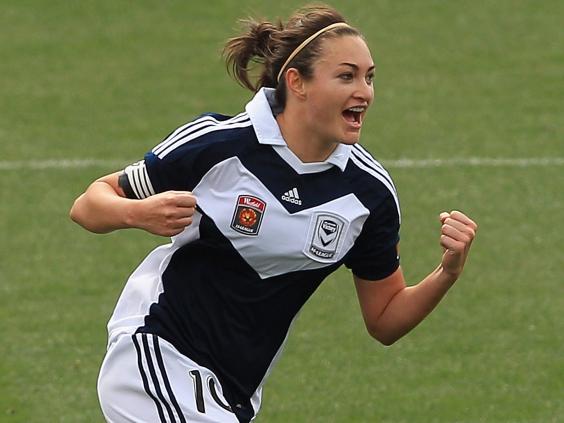 This may be necessary as there is a glaring hole in Sampson's CV when it comes to the international game. He has travelled widely and been involved by the FA (who have clearly had their eye on him for some time) in various international set-ups, but admits there is no substitute for actually participating.
To that end he has brought in Marieanne Spacey as his assistant. Spacey won 91 caps for England, has management and coaching experience and, as Sampson said, "will command instant respect from the players". The experience of Brent Hills, Powell's former assistant, who won all four World Cup 2015 qualifiers as caretaker manager this autumn, will also be available. He has been appointed the FA's first head of women's elite development.
But the buck stops with Sampson and he made clear in his first squad that he will be his own man. The US-based Lianne Sanderson, who fell out with Powell and refused to play for her, has been recalled. Gilly Flaherty and Jodie Taylor, whom many thought should have been introduced to the England set-up long ago, have been called up for the first time.
They are among six uncapped players in a 30-woman squad which will enjoy a week's training in La Manga next month concluding with a friendly against Norway.
One player who will not be there is Rachel Yankey, England's most capped player, male or female. She has been omitted and, at 34, may not return, though she has come back before and Sampson said "the door remains open".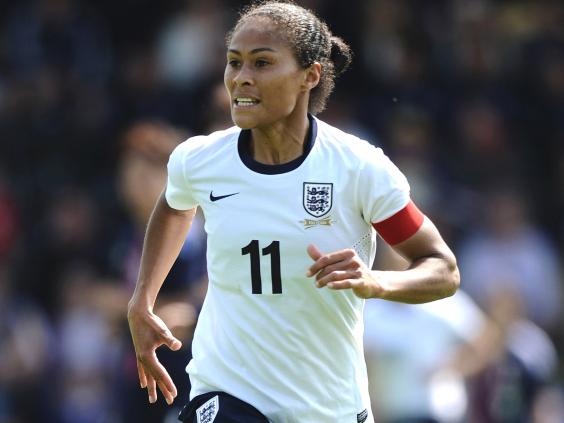 Also absent will be Powell's captain and star player, Casey Stoney and Kelly Smith respectively, but in both cases that is due to fitness issues. Sampson is yet to appoint his captain, but will need a new one, if only temporarily, for the Norway match.
All three of these players are older than Sampson, their absence means all but goalkeeper Rachel Brown-Finnis are younger than the new man. This is, he said with a laugh, a coincidence.
No target has been set, by FA chairman Greg Dyke or himself, but with the growing investment in the game, England will expect to qualify for the 2015 World Cup, then reach the last eight.
England training squad
Goalkeepers K Bardsley (Man City), R Brown-Finnis (Everton), S Chamberlain (Bristol Academy)
Defenders L Bassett, D Susi (both Chelsea), G Bonner, L Bronze (both Liverpool), S Bradley (Notts Co), R Daly (LA Strikers), G Flaherty, A Scott (Arsenal), A Greenwood (Everton), S Houghton (Man City), J Rose, C Yorston (both Bristol Acad), D Stokes (Uni of S Florida)
Midfielders A Asante (Malmo), J Moore (Birmingham), J Nobbs (Arsenal), J Scott (Man City), F Williams (Liverpool)
Forwards E Aluko (Chelsea), K Carney (Birmingham), D Carter, E White (both Arsenal), G Davison, N Dowie (both Liverpool), T Duggan (Man City), L Sanderson (Boston), J Taylor (Sydney)