Bosnia-Herzegovina reached their first World Cup by playing a brazen attacking style of football that resulted in 30 goals in qualifying. Sticking to that strategy in their big-stage debut against Argentina tomorrow would be bold – some would say foolish. But that appears to be coach Safet Susic's plan.
For Susic has a reputation of stubbornly adhering to his attacking strategy regardless of the opponents. Even against an Argentina team led by four-time World Player of the Year Lionel Messi, there is only so much he is willing to tweak in his game-plan.
"It is a dilemma for me, but to sacrifice a player just to man-mark Messi, I don't think it would be good for us," Safic said. "I don't think we have ever played a match having dedicated a player to man-mark a specific opponent, and it's going to be the same  against Argentina."
His words suggest the Group F opener in Rio de Janeiro could be an entertaining affair, with both teams going on the attack.
ARGENTINA: Group F team profile
ARGENTINA: Group F team profile
1/5 How they qualified

Argentina won the CONMEBOL, ahead of Radamel Falcao's Colombia and Alexis Sanchez's Chile. La Albiceleste had trouble getting a result against Venezuela and beating Bolivia, albeit after a 4-1 thrashing of Chile at the opening game. However, the team managed to bounce back with a 2-1 win against Colombia which initiated a 14-match unbeaten streak that led them to the top of the table, even though they fell short against Uruguay in the end. This is the third time Argentina have won the preliminary competition, amassing nine wins and five draws in 16 matches. After setting the pace, the two-time World Cup winners had no problem finishing first whilst tallying 35 goals and only surrendering 15.

2/5 Manager

Alejandro Sabella faced quite a lot of scrutiny over bad results in the early stages of the CONMEBOL. However, he managed to restore trust at the end of the qualifiers and is now aiming for at least the semi-finals. The former Leeds United player is a manager that insists on team unity and with a Copa Libertadores under his belt he might be looking for an impressive World Cup run.

3/5 Star Player

Lionel Messi – Who else? Albeit a season that included injuries, the 26-year-old managed to score 28 La Liga goals and finish second on the goal scoring table. He is still La Albiceleste's deadliest weapon that knows how to convert almost all of his chances. With his manager's full support and Manchester City's Sergio Aguero on his side, the Barcelona striker could finally be on track for World Cup glory.

4/5 Emerging Talent

Although Ezequiel Lavezzi is 29-years-old, he will be playing in his first ever World Cup. The winger's impressive shooting skills and speed contributed greatly in Paris Saint-Germain's second consecutive League title and will be much needed for Argentina's quest for glory.

5/5 How they will line up: (4-3-3)

Romero; Rojo, Fernandez, Basanta, Zabaleta; Mascherano, Di Maria, Gago; Aguero, Higuain, Messi.
Argentina are chasing their third World Cup with perhaps the strongest striking line-up in the tournament. Messi, Sergio Aguero, Ezequiel Lavezzi and Gonzalo Higuain scored more than 100 goals for their clubs last season.
The Argentina coach, Alejandro Sabella, is likely to let either Lavezzi or Higuain join up with Messi and Aguero in a three-man attack, with Angel di Maria surging from midfield to add even more firepower.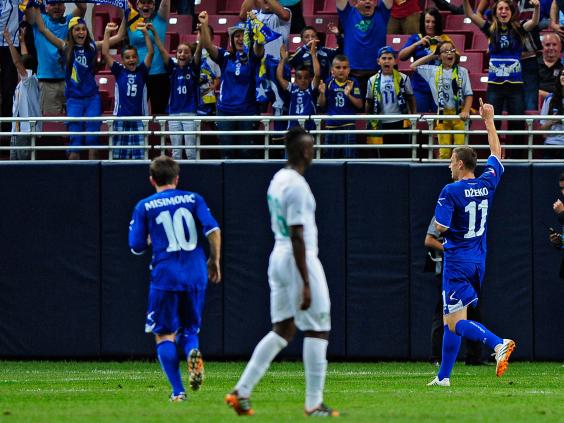 Bosnia played their first match as an independent nation in 1995 as the war ended following the violent break-up of Yugoslavia. They came close to qualifying for the previous World Cup and the European Championship in 2012 before finally reaching a big tournament with this World Cup.
Nevertheless, 1978 and 1986 World Cup winners Argentina will still head into the match as the overwhelming favourites.