The Dutch national manager Louis van Gaal last night complained to Fifa about a dug-out below pitch level which he said would require him getting "a barstool" to watch his side's game against Australia.
The straight-talking Dutchman, who will take up the reins at Manchester United after this tournament, remonstrated with a stadium official at the Estadio Beira-Rio here during open training on Tuesday, after he found a camera position also obscured his view.
"I'll need a barstool to watch the game properly," Van Gaal said. "The dug-out is at a lower level than the pitch and from where I sit there is also a camera directly in front so I will be like this [motions from side to side] to try to watch the game. The cameraman deprives me of the view - and with me all the coaches and managers sitting on the ground because we are dug under rather than dug out. That obliges us to stand up. I'm a sitting down coach, not a standing up coach. The person in charge of this should ask so I've done my very best, as he will."
It is difficult to see how Fifa can resolve the issue 24 hours before the game which could see the Netherlands through to the knock-out stage if Spain and Chile draw. But asked if he felt Fifa could resolve it, he said pointedly: "I am a man of trust", apparently meaning that he trusted them to deal with it.
Van Gaal was clearly irritated by the lack of "euphoria" in the Dutch nation for his new 5-3-2 system, despite the win 5-1 over the Spanish which it delivered. "There will always be criticism," he said. "If I use 4-3-3 there would be criticism as well. Some things positive and negative. And when I'm involved, it's generally negative."
Spain 1 Netherlands 5 player ratings
Spain 1 Netherlands 5 player ratings
1/22 SPAIN: Iker Casillas 3/10

Lack of club football evident with tournament's most capped player beaten five times in a horror show.

GETTY IMAGES

2/22 Cesar Azplicueta 4

Not individually at fault for any of the goals but part of a woeful Spanish defence.

GETTY IMAGES

3/22 Sergio Ramos 2

Embarrassed by Robben, particularly for the fifth goal. Abysmal.

GETTY IMAGES

4/22 Gerard Piqué 3

Equally culpable and totally failed to deal with the Dutch attack

GETTY IMAGES

5/22 Jordi Alba 4

Flashes of quality going forward but defensively very poor.

GETTY IMAGES

6/22 Sergio Busquets 5

Started confidently but disappeared after half an hour. Constantly overrun on the break

GETTY IMAGES

7/22 Xabi Alonso 5

Converted the penalty but offered little else and couldn't hold back the Dutch tide.

GETTY IMAGES

8/22 Xavi 6

Made more passes than any other player but failed to dictate the game.

GETTY IMAGES

9/22 David Silva 6

Showed some nice touches but little penetration. Anonymous in the second half.

GETTY IMAGES

10/22 Andres Iniesta 7

Comfortably Spain's best player. Produced the pass of the match in the first half with wonderful disguised ball to Costa.

GETTY IMAGES

11/22 Diego Costa 6

Provided Spain with a useful outlet early on and pinned Dutch defence back, but let down by poor finishing. Lucky not to be sent off for petulant headbutt.

GETTY IMAGES

12/22 Jasper Cillessen 7/10

Went the right way for the penalty but couldn't keep it out. Saved well from Silva at vital stage.

13/22 Daryl Janmaat 5

Lucky to not get booked for late early foul on Alonso. Gave ball away too much.

14/22 Daley Blind 9

Sharp in the tackle and got forward well, putting in some dangerous crosses. Superb balls for the Van Persie and Robben goals, and dominated the whole left flank

15/22 Martins Indi 7

Strong in the tackle and composed in possession. Wound up Diego Costa, who was lucky not to be sent off.

16/22 Ron Vlaar 8

Marshalled defence superbly and made some vital tackles

17/22 Stefan de Vrij 6

Gave away penalty and booked for cynical challenge on Silva. Much improved second half capped with somewhat fortuitous goal.

18/22 Jonathan De Guzmán 7

Neat and tidy in possession and battled well, winning headers and tackles.

19/22 Nigel De Jong 6

Pressed well to deny Spanish midfield space but distribution poor.

20/22 Wesley Sneijder: 5

Missed glorious early chance. Failed to impose himself on the game and was a largely anonymous presence.

21/22 Robin van Persie 8

Anonymous until the goal, which he took superbly, and was a menace throughout after that. Added a second and only the crossbar denied him a hat-trick.

GETTY IMAGES

22/22 Arjen Robben 8

Good early through ball to send Sneijder clean through, and the Dutch's most dangerous player. Took his goals superbly
There has been criticism during the World Cup build-up to the new system, designed to get the best out of Arjen Robben and Robin van Persie, with many observers feeling that it was deviation from the nation's 'Total Football' ethos.
"We have played Total Football. Nothing has changed in that respect," Van Gaal said. "This is something I tried to explain. I tried to convince them of this but it proves very difficult. Whenever I say we're applying the Dutch principles it's interpreted differently. In the Netherlands it's assumed if you use three forwards, that's tradition. I have a different view."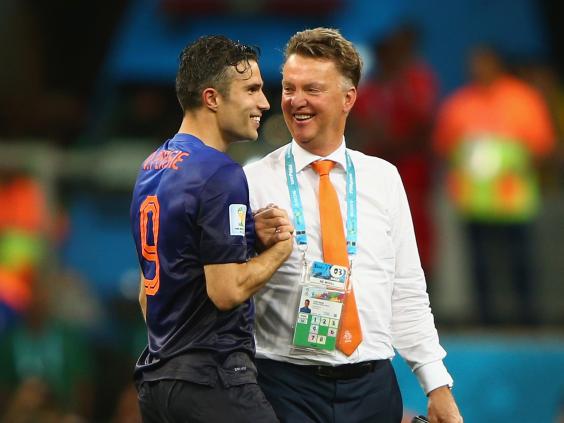 He faced a personal battle with the headphones required to understand the stadium translation service, trying his own on a number of occasions, then trying them on Wesley Sneijder, before giving up.
Van Gaal may bring in Jeremain Lens on the right side of  a three-man front line and revert to a 4-3-3 because Australia, the world's 62 rated nation, pose less of a threat.
He was asked if his country's lack of accomplishments in this tournament – which they have never won – created a need to win it, to bring the Netherlands respect. 
He said: "I think that's in your mind. If you don't show respect to Dutch football, that's in your head. There's a lot of respect for Dutch football in the world, Even that we play attractive football and that as a small country we have gone a long way. We have reached the final three times. I didn't think it's a bad performance for such a small country."
Reuse content