Belgium have at least done the hard part, but made very hard work of it. Fabio Capello, meanwhile, is not finding World Cups any easier. His Russia need quite a reversal to prevent another underwhelming early elimination.
By beating the Italian's side 1-0 with a late Divock Origi goal, Belgium have reached the second round and all but secured first place in the group. They cannot now be labelled the flops some had predicted they would be after so much pre-tournament hype. At the same time, they are still not the fluent attacking side they can be.
It certainly wasn't the most fluent match. Other than occasional Russian breaks, the only real moment of sleek quality to match the rest of this World Cup came when Eden Hazard shook off the tactical shackles to brilliantly tear down the left and set up Origi for the  88th-minute winner.
It was flash of premium quality in a game that had the Maracana crowd chanting "second division" out of sheer boredom. That was another parallel with previous tournaments for Capello, given the dreariness of England's football in 2010. Yet, when the chants were put to him, his response raised eyebrows: "I thought it was an excellent match, played at a great pace and great intensity."
Belgium 1 Russia 0 player ratings
Belgium 1 Russia 0 player ratings
1/23 Thibaut Courtois

Wasn't called upon on many occasions but stood up firm when asked to. Was a commanding figure at the back and earned his clean sheet. 6

GETTY IMAGES

2/23 Toby Alderweireld

Very lucky not have given a penalty away, after his clumsy challenge on Maksim Kanunnikov, the Atletico Madrid man had an ineffectual game. 6

GETTY IMAGES

3/23 Daniel Van Buyten

Firm at the back, just like he has been for Bayern Munich for so long, this was a strong display from an important player for Belgium. 7

GETTY IMAGES

4/23 Vincent Kompany

This was a typically Vincent Kompany performance from the Manchester City captain. A man mountain at the back, Russia ran scared. 7

GETTY IMAGES

5/23 Thomas Vermaelen

Bitterly unlucky to be injured in the warm-up and probably shouldn't have started. 6

GETTY IMAGES

6/23 Axel Witsel

His work rate was evident throughout but lacked the penetration to make any real difference. One of the reasons for Belgium's timid display. 7

GETTY IMAGES

7/23 Marouane Fellaini

Initially pushed forward to support Romelu Lukuko, the Manchester United midfielder endured a difficult afternoon. Flashes of brilliance were overridden by his poor distribution. 6

GETTY IMAGES

8/23 Kevin De Bruyne

One of the best performing Belgians of the first half, the former Chelsea man faded in the second period. Was initially adventurous and strived to create chances. 7

GETTY IMAGES

9/23 Dries Mertens

Excellent in the first half but, like De Bruyne, was seemingly invisible in the second. Was a fearsome threat early on. 7

GETTY IMAGES

10/23 Eden Hazard

The reason why Belgium won the game. After a poor showing for the first seventy minutes, Chelsea's enigmatic winger made all the difference. A frightening force in the latter stages. 8

GETTY IMAGES

11/23 Romelu Lukaku

A non-existent performance which resulted in him being substituted half-way through the second half. Was clearly (and rightfully) unhappy with his shift today. 4

GETTY IMAGES

12/23 Best of the bench: Divock Origi

Provided a clinical finish for his goal, and far more effective than Lukaku today. 7

GETTY IMAGES

13/23 Igor Akinfeev

Recovered well from his nightmare showing against South Korea last week. Will be bitterly disappointed to have surrendered a clean sheet though. 6

GETTY IMAGES

14/23 Aleksei Kozlov

Initially a threat down the flanks, Kozlov disappeared in the second half. Was taken off by Fabio Capello as a result. 6

GETTY IMAGES

15/23 Sergey Ignashevich

A rock at the heart of Russia's defence, Romelu Lukaku had no answer for his physicality. Desperately unlucky to have been on the losing side. 7

GETTY IMAGES

16/23 Dmitry Kombarov

Alongside his defensive partner Ignashevich, the Russian centre-back was a force to be reckoned with. Belgium struggled to pick the lock. 6

GETTY IMAGES

17/23 Dmitry Kombarov

Was impotent whenever he ventured forwards and lacked the pace to get back once caught out. A poor showing. 6

GETTY IMAGES

18/23 Denis Glushakov

Tasked with sitting in front of the defence, Glushakov did his job well. Managed to contain Axel Witsel with ease and attacking moves were built from his distribution. 7

GETTY IMAGES

19/23 Oleg Shatov

While football writers will undoubtedly use his surname as inspiration for less than complimentary headlines in the morning, this was a decent display on the left wing. 6

GETTY IMAGES

20/23

GETTY IMAGES

21/23 Alexander Samedov

Rarely threatened the Belgium backline and struggled to keep the ball once he had hold of it. An average, if uncompetitive, display. 6

GETTY IMAGES

22/23 Alexander Kokorin

Unlucky not to get on the score sheet, Kokorin's game will be remembered for his awful miss in the first half. Worked well alone up front, however, and deserves credit for doing so. 7

GETTY IMAGES

23/23 Victor Fayzulin

Showed ambition to get forward throughout and launched a series of dangerous counter-attacks on the Belgian goal. A menace. 7

GETTY IMAGES
The defeat will intensify questions about the disparity between Capello's supreme club achievements and suspect international career. At the same time, he was absolutely correct when he claimed the result was "unfair" and Russia had been unlucky.
There were some elements of fortune to Belgium's eventual win. For one, there was Alexander Kokorin's awful miss just before half-time. The striker somehow headed wide from just yards out. Had that gone in, it might have been different, especially given how flat Belgium had been up to that point.
Then there was the nature of the winning goalscorer's very selection, even if the  19-year-old Origi is obviously such a lively talent. Marc Wilmots, the Belgium manager, specifically mentioned that the Lille forward would not have been selected had Christian Benteke been fit.
"Without Benteke's injury, Divock would not be here," Wilmots admitted. "I'm not surprised he did well. You can see his qualities: technical, quick."
Similarly, Origi might not have come on had Romelu Lukaku managed to replicate his Everton form. The on-loan Chelsea striker was hauled off shortly after half-time for the second game in a row. Lukaku was enraged with his manager's decision, but Wilmots sought to play his reaction down. "Yes, and so what?" the Belgian coach said when asked in his press conference. "It's not a problem. That's normal. It happened to me as well [as a player]. He had to go to the bench after 55 minutes, of course he's not happy.
"I haven't talked to him yet... but the truth of today is not always the truth of tomorrow. We'll have to wait and see. Of course, if he scores a goal, everybody would be pleased with him."
That conditional does perhaps point to a deeper concern. Lukaku may have verbally expressed himself on being taken off, but he could not express himself on the pitch. The system may not allow it. This Belgium team still feel like a loose collection of individuals rather than an actual side. There remains some doubt about Wilmots' ability to truly maximise their talent, as he continues to place some lively players in a flat 4-2-3-1.
It was not just Lukaku who did not look himself. Dries Mertens was trying to make things happen on his own, Hazard was completely  isolated until finally bringing himself into the game late on almost through his own force.
"We didn't play a very good match," the Chelsea playmaker conceded. "The last 10 minutes were good, that's all."
Wilmots couldn't deny that, but did argue that it points to his side's resilience. Similarly, there was their freshness. The manager deserves credit for the way in which his substitutes changed the game, but also hinted that they may have been better prepared than Capello's team.
"Physically we were stronger," Wilmots said. "You could see some of the Russian players were looking at their feet. We were fresher, better in the last 10-15 minutes. We've prepared our players for the last four weeks and we could see our players were fresher until the end."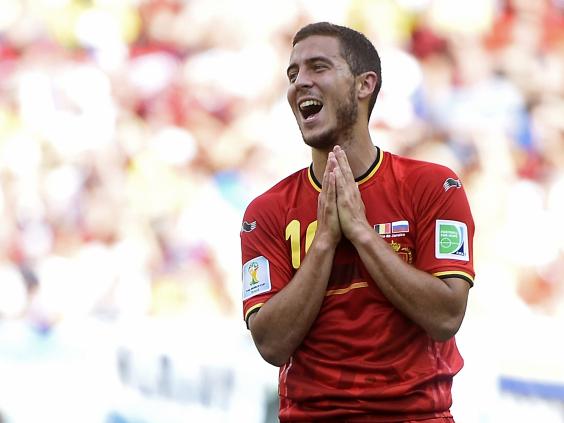 That could be another echo with 2010, given how jaded Capello's England appeared four years ago. The Belgians were not completely energetic throughout, it has to be said but, as their manager pointed out , youth is also on their side.
"This is the second youngest team in the World Cup but we are mature. I tell them not to be nervous, to be patient."
They don't have to wait for qualification. They are in the last 16. Everyone else, however, is waiting for them to show their best.
Reuse content