The hardest thing for an international side to do is to play like a club side, with that same unity and cohesion, the ability to attack and defend as one. Even as they went out last night, after two hours of heroic effort, Jurgen Klinsmann's United States showed that they managed this better than almost anyone else.
Despite the quarter-final line-up, which will include Belgium but not the US, this has been a tournament of overachievers so far, of teams who have found a shared way of playing to take them beyond the limits of their combined individual resources. Costa Rica, who have reached the last eight, are the standard-bearers of these sides but the United States, who produced yet another stirring performance in defeat, have been just as impressive.
That is how the least talented team in Group G got to this stage, managing to scrap their way past Germany, Portugal and Ghana with three admirably cussed, focused performances, just like the one they produced last night.
Klinsmann, who spent much of his playing career in England, has inculcated a playing style recognisable to fans of the British club game.
Belgium 2 United States 1 player ratings
Belgium 2 United States 1 player ratings
1/23 Thibaut Courtois

Denied Dempsey with just minutes remaining to complete Belgium's victory. Good throughout but had little to do in normal time. 7

GETTY IMAGES

2/23 Toby Alderweireld

Good energy throughout the game but lack a bit of attacking thrust. 6

GETTY IMAGES

3/23

GETTY IMAGES

4/23

GETTY IMAGES

5/23 Vincent Kompany

Superb again, a real leader. Could have even won it in normal time but mistimed his effort. 7

GETTY IMAGES

6/23 Axel Witsel

Good in the tackle and vital for Belgium in the next round. 7

GETTY IMAGES

7/23 Dries Mertens

Poor game and taken off on the hour mark. Missed one very good chance. 4

GETTY IMAGES

8/23 Marouane Fellaini

Surprised to play the entire game after being pretty ineffective throughout. 5

GETTY IMAGES

9/23 Kevin De Bruyne

Top, top game crowned with his well taken goal and fine through-ball for Belgium's second. 9

GETTY IMAGES

10/23

A true threat throughout normal time and should have scored at least once. 8

GETTY IMAGES

11/23 Eden Hazard

Not at his best but glimpses of brilliance. Belgium will need more from him against Argentina. 6

GETTY IMAGES

12/23 Best from the bench: Romelu Lukaku

Emerged from the bench in the 90th-minute and looked back to his usual, terrorising self. 8

GETTY IMAGES

13/23 USA: Tim Howard

Did not deserve to be on the losing side at all. Save after save, 15 in total and a top performance. 9

GETTY IMAGES

14/23 Fabian Johnson

Injured on 30 minutes after promising start. 5

GETTY IMAGES

15/23 Geoff Cameron

Did well at the back to keep out Belgium in normal time but just lacked concentration for De Bruyne's goal. 7

GETTY IMAGES

16/23 DaMarcus Beasley

Tireless effort and put in a really good shift. 7

GETTY IMAGES

17/23 Omar Gonzalez

Like defensive partner, played well throughout. 7

GETTY IMAGES

18/23 Matt Besler

Did fine but lacked that real quality at times. 6

GETTY IMAGES

19/23 Graham Zusi

Tired early on and found it hard to cope with Belgium's midfield. 5

GETTY IMAGES

20/23 Clint Dempsey

Had one chance right at the death to level the game but missed. Wasn't has influential as USA would have hoped. 6

GETTY IMAGES

21/23 Alejandro Bedoya

Didn't have the real weapons to hurt Belgium but still played well. 6

GETTY IMAGES

22/23 Jermaine Jones

Had one or two half chances and looked good once again. 7

GETTY IMAGES

23/23 Michael Bradley

Lovely through-ball for USA's goal and had a fine game all round. 7

GETTY IMAGES
The United States play hard, high up the pitch, snapping into tackles, not holding onto possession for much longer than they need to and moving the ball wide and forward as briskly as possible. They do what any good football team does and play to the strengths of the players that they have.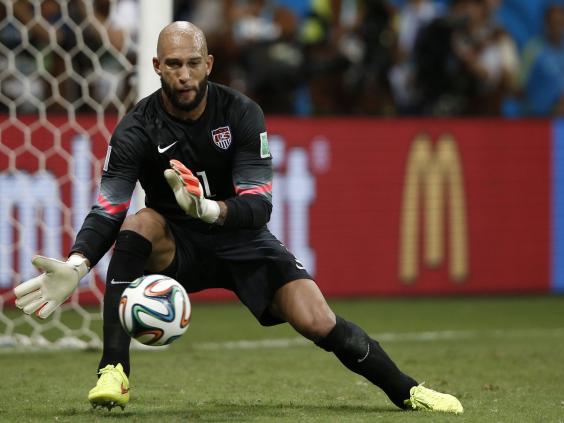 The approach is not just enjoyable but efficient. It has produced more from his players than any other approach would and so Klinsmann took it with him to Salvador last night, against a Belgian side with far more talent but far less cohesion.
The United States eventually faded but they gave Belgium one of the contests of the tournament, all relentless pressure from the start. Clint Dempsey had their best chance of the first half after he and Michael Bradley chased the Belgian defence off the ball and forced a save from Thibaut Courtois.
Bradley, playing in an advanced midfield role, typified the approach. He is a not a desperately subtle player but he has run further than anyone else at the tournament, and he charged around last night with unquestionable commitment to his team and his manager, not allowing Axel Witsel, Marouane Fellaini or even Vincent Kompany a minute to settle and pick their passes.
Dempsey and Bradley are two of the most experienced players – along with DaMarcus Beasley, who was relentless, selfless and energetic at left-back last night.
But the strength of the Klinsmann vision is not just evident in those players who have worked with him for the longest. Every man in his squad buys into his approach, which is more than can be said of some teams in Brazil.
DeAndre Yedlin, the 20-year-old Seattle Sounders right-back, arrived at this World Cup with just a few minutes of international football to his name and yet when he came on for the injured Fabian Johnson he was excellent, tearing down the right flank, crossing to make openings for Dempsey and Graham Zusi, and dealing impeccably with Eden Hazard – a better player than he will ever have faced before – on the Belgian left-wing.
Even as Belgium started to assert themselves – for the fourth match in a row, they needed second-half substitutes to improve, suggesting that Marc Wilmots is incapable of picking the correct first XI – the United States hung on.
Omar Gonzalez and Matt Besler had even more defending to do than they did in the group matches and yet, against a growing Belgian storm, Tim Howard produced one of the goalkeeping performances of the tournament with a dozen saves, many of them excellent.
Howard, immense as he was all game, could do nothing about Kevin de Bruyne and Romelu Lukaku's goals in extra-time, and the United States are out, but not many teams in Brazil – including some who have progressed to the quarter-finals – have produced anything as admirable and impressive as this.