Neymar knows the weight on his shoulders as the poster boy for a nation, in tears again during the national anthem in Fortaleza last night. But no player, even one this good, can be asked to carry a team so lacking in the skills that he brims with.
Against a stubborn Mexican side, Neymar needed someone to go with him, to try things, to play with this massed defence. Instead he was surrounded by ineptitude, imprecision, immobility and inertia, as Brazil failed to find a way through. Neymar took on Mexico almost by himself, and although it nearly worked, it did not.
It was very clear through a disjointed first half that Luiz Felipe Scolari is still in the murky search for his best combination, even now, two games in. Scolari cannot have been thrilled with the performance in the opening game, when they needed a generous intervention from Japanese referee Yuichi Nishimura so they could overcome Croatia.
He replaced Hulk with Ramires but there was little to suggest it was the right decision. There have been Brazil teams before, of course, who needed more focus, more discipline and more attention to detail. But this is not one of them. This is a Brazil team curiously lacking in the old skills, the imagination, pace, bravery and simple skill that has made them so powerful in the past.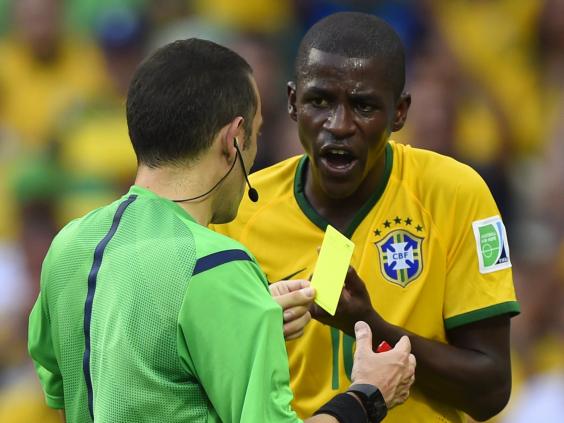 Last night Scolari started with just two attacking players easily capable of picking apart a well-organised, enthusiastic and purposeful attacking side. Neymar and Oscar are both special footballers, even at 22 years old.
But those two received some help – from the referee, not from their team-mates – on Thursday against Croatia and last night they received none at all. The selection of Ramires, in fact, compromised Oscar, taking away his brilliant delivery wide from the right that was one of Brazil's best approaches in Sao Paulo.
It took Dani Alves, Brazil's one other exciting starter, to set the chance up that began Neymar's duel with Mexico goalkeeper Guillermo Ochoa that dominated Brazil's frustrated attacks. The first was a dive from Neymar's far-post header. The second when David Luiz tried to stab in the second ball from Neymar's long free-kick. Ochoa's third, halfway through the second half, was from another Neymar free-kick from distance.
Neymar looked like he was almost fighting a one-man battle against Mexico's back five, which was precisely the problem. Against three centre-backs Brazil's front line would have to work even harder to disrupt them and make space for Neymar. What they got, instead, was a performance from Fred that – given the stakes, the stage and the expectation – must have been one of the most disappointing produced by a Brazil forward at a World Cup.
There was a better tempo and more threat about the final 20 minutes, and Ochoa was called upon yet again to block Thiago Silva's header from Neymar's free-kick. But when the game was in the final minutes, and Brazil were pushing for a win that would have been desperately undeserved, it was Neymar running, again, into a forest of red shirts.
There was just Jo, in front of him, trying to find the pace of the game after too much time on the bench. Bernard made one good dart down the right in the whole of the second half.
Oscar was taken off late on, run into the ground. And Neymar was isolated, with no allies in sight, no one on his level or on his wavelength, trying somehow to drag this team to where they need to be.