Julio Cesar told his team-mates that he would be the hero before the dramatic penalty shoot-out which saw Brazil edge out Chile and reach the World Cup quarter-finals.
Cesar saved efforts from Mauricio Pinilla and Alexis Sanchez as the hosts won the shoot-out 3-2 after the last-16 match had ended 1-1 after extra time.
"Before the penalties Julio said, 'hit them with confidence and I'll stop three'," said Brazil's captain Thiago Silva.
"It was preordained. Chile were a great team but we found strength. The most important thing is that the group is united, independent of any mistakes."
Chile lost when the former West Bromwich Albion and Nottingham Forest defender Gonzalo Jara hit the post.
Brazil 1 Chile 1 (Brazil win 3-2 on penalties) player ratings
Brazil 1 Chile 1 (Brazil win 3-2 on penalties) player ratings
1/22 Julio Cesar

Had precious little to do in the first half but stood up firm when challenged more often in the second period. Made an emphatic save from Charles Aranguiz after 64 minutes. Made several great saves in the shoot-out! 7

Getty Images

2/22 Dani Alves

Was regularly berated by Luis Felipe Scolari for failing to track back after losing possession. Was tricky to deal with upfront but poor at the back. 6

Getty Images

3/22 Marcelo

Like Dani Alves, Marcelo was more of an attacking threat that a beacon of defensive solidity. 6

Getty Images

4/22 Thiago Silva

Was typically emphatic in the air but struggled to make an impact going forward. The obvious, but only exception, was his flick onto David Luiz for the PSG-bound defender's early goal. 7

Getty Images

5/22 David Luiz

The most passionate man on the pitch, David Luiz wore his heart on his sleeve. Occasionally getting too wrapped up in his emptions, though, he'll need to control his temperament in future. 6

Getty Images

6/22 Fernandinho

Taken off towards the end, this was a decent if unremarkable display from the Manchester City ace. 6

Getty Images

7/22 Luiz Gustavo

Does the unglamorous job of mopping up after his teammates' mistakes but, with their relaxed attitude to keeping possession, this is an invaluable role. 7

Getty Images

8/22 Hulk

A constant menace throughout, gliding through the Chilean defence with relative ease, but will perhaps only be remembered for the poor pass which lead to Alexis Sanchez's equaliser. 6.5

Getty Images

9/22 Oscar

Had a quiet afternoon and, with his reputation climbing an ever steepening gradient, the Chelsea man will have expected to do more today. 6

Getty Images

10/22 Neymar

Carried a nation's hopes on his shoulders with relative ease. Worried the Brazilian faithful with an early injury but kept running until the very end. 7

Getty Images

11/22 Fred

Ineffectual for large periods, like he has been for much of this World Cup, Fred showed little desire to make chances out of nothing. Expected his teammates to do the work. 5

Getty Images

12/22 Claudio Bravo

Will have been expecting a far busier afternoon but, thanks to his defence, was well protected all game long. 6.5

Getty images

13/22 Eugenio Mena

Despite being foolishly booked in the early exchanges, earning himself a one game ban, Eugenio Mena was a rock at the heart of the Chilean defence. Heading every ball, blocking every shot and tackling any Brazilian which dared stray too close – this was a masterful defensive display. 8

Getty images

14/22 Gonzalo Jara

A thoroughly impressive shift at the back of Chile's system. While many question his inclusion in their squad, Gonzalo Jara continues to prove his doubters wrong. 7

Getty images

15/22 Gary Medel

Nicknamed the 'Pitbull', Cardiff City's midfield general raced across the central areas with a canine desire to chase the ball. Delivered an effective performance. 7

Getty images

16/22 Mauricio Isla

Galloped forward at any opportunity with a performance which defined a breathless first half. Became more defensively minded in the second period but his work-rate was unrivalled. 7

Getty images

17/22 Francisco Silva

Perched just in front of the Chilean defence, Francisco Silva's job was simple and he made it look so. Dealt with the threats of Hulk and Neymar with an effortless swagger. 7.5

Getty images

18/22 Marcelo Diaz

Remaining composed in the midst of a packed Chilean midfield, when Brazil relentlessly piled on the pressure, Marcelo Diaz is the reason the hosts were contained for so long. 7.5

Getty images

19/22 Arturo Vidal

It is no surprise that Arturo Vidal has been linked with a £44million move to Manchester United of late. Kept possession well but his tackles had a worrying bite to them. Could have been dismissed on more than one occasion. 7

Getty images

20/22 Charles Aranguiz

A thorn in every Brazilian defender's side, Charles Aranguiz was regularly seen racing down the flanks with menace. A peerless display. 8

Getty images

21/22 Alexis Sanchez

Played the role of controller for much of this tie. Ran the midfield single-handedly and drove his side forward along with him. Deserved his goal and more. 8

Getty images

22/22 Eduardo Vargas

Not as threatening as his colleagues but still put in an admirable shift. 6

Getty images
After the game Cesar, who spent much of last season sittingh on the bench for Queens Park Rangers, said the result would lift the whole nation. "I'm very, very happy. I believe the Brazilian people just needed this," he said. "We all needed this.
"We all knew it was going to be a very tough game. Chile deserve all our respect and that's the way it's going to be.
"I just hope the games that come now aren't decided by penalties, otherwise our friends and families might have heart attacks," he added.
"This is something I've been saying over and over again. Many people were challenging my being selected. This shows I was well training for the World Cup.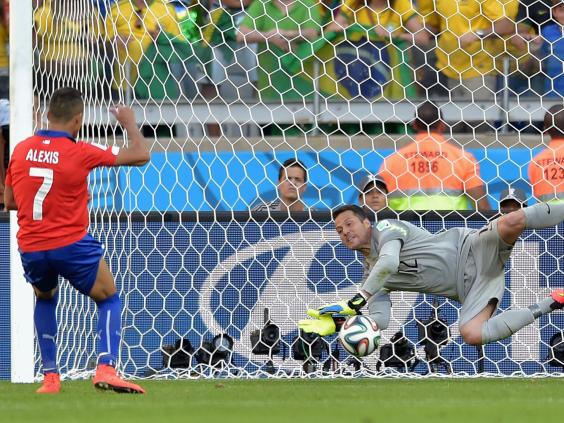 "I must thank Felipao [coach Luiz Felipe Scolari] and the staff for all the training they have done for me. After what happened in 2010 I see how may people are just cheering for me and hoping for me after what happened.''
Cesar referred to the quarter-final against the Dutch four years ago when he misjudged a cross for Holland to equalise – they went on to win. "After the [last] World Cup, to be labelled as the villain, it was very bad. I got the support of my family, who just supported me. This gives me the necessary strength. I apologise if I talk too much. I am trying to sum up four years' work.
"My crying before the penalties? People saying nice things to me and I became very emotional. This was very special after what happened after the last World Cup."
The Chile coach, Jorge Sampaoli, said his team had "made history" in spite of the defeat. He said: "The performance was okay but we are sad because of the result. We have played a South American rival for 120 minutes and it is very harsh for us to lose even if we have given everything.
"Of course we are proud. I am very proud of my players. I'm very proud of Chile as well because I think the national team has represented the country very well. Listen, penalties is something that you always train for but when you are on the field the situation is completely different. We thought the game would end differently. We have to analyse our performance.
"I think the players have made history because they have represented our country in a beautiful, amazing way. They even risked injuries and they kept fighting and running. We are sad and we are hurt but after some time we will be able to appreciate the value of the team against the local favourites.
"I don't think Brazil risked anything and they didn't create many opportunities. We were able to neutralise Neymar, marking him so he couldn't really benefit from any spaces. But I don't believe in moral victories. We didn't get any points for that. We are no longer in the competition.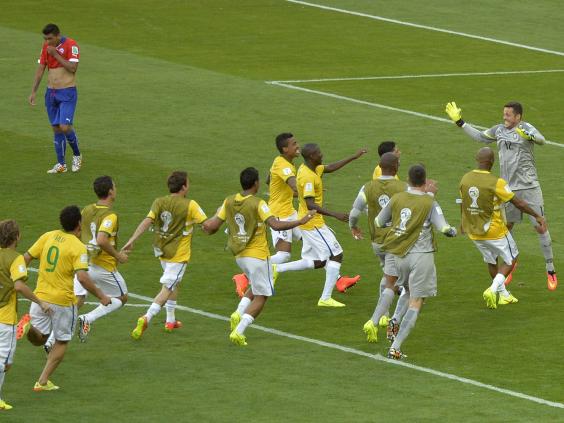 "We were at the level of these top teams but unfortunately we weren't able to win today," added Sampaoli. "I told my players to fight and defy history and these big names we were playing. Looking to the future we have to keep going on that path. At this World Cup my players have performed with style and bravery."
Reuse content