It wasn't so much the jostling queue for press conference tickets that resembled a night club entrance, or even the hundreds of locals fluttering around outside the Estadio Mineirao like a flock of canaries with 24 hours still to kick-off. Instead, if you want to know the pressure the hosts are under, Belo Horizonte airport was the place to be on Thursday night. As regular passengers were moved from a plane to the terminal, a sudden roar came from the back of the bus. "E a Selecao – os campeoes do mundo," or "It's the team – champions of the world." Songs and violent shaking of the vehicle followed because right beside, Brazil had landed.
Even on the long, snaking drive to the city, the favelas washed out on to the motorway, hoping to catch a glimpse of their heroes as they journeyed to a hotel. Usually an area where you're told to close your windows and lock your doors when passing in your vehicle, just the national team's presence had changed the mood from edgy to joyful. "Playing at home pushes you forward," said Thiago Silva yesterday morning ahead of today's last-16 meeting with Chile.
"In the car coming here now, there was another car that came beside us and asked us to stop for autographs. Obviously we didn't stop but those situations show how much they love their Selecao. We like to be here but there's another team with the same dreams and we must respect them."
Much of the talk has been of that other team since the groups played out. Indeed, the Brazil manager, Luiz Felipe Scolari, had said in an interview in December that the last country he wanted to face in the second round was Chile and some of their players have been boasting in the lead-up that this will be a landmark moment in their history. "Well, there's a new dynamic and better performances since Jorge Sampaoli took over," said Scolari of his counterpart who has been in the role since 2012. "I think the players have adapted perfectly to his scheme."
World Cup 2014: Group stage best XI
World Cup 2014: Group stage best XI
1/11 Guillermo Ochoa - Goalkeeper (Mexico)

The Mexican goalkeeper produced a man of the match display to keep Brazil at bay and has been at the heart of a resolute defence that has helped put the side in the knockout stages.

GETTY IMAGES

2/11 Serge Aurier - Right-back (Ivory Coast)

Reportedly on the radar of several Premier League clubs and you can see why. Provider of some crucial assists already, he has looked a serious talent.

Getty Images

3/11 Rafael Marquez - Centre-back (Mexico)

The veteran centre-back has turned back the years to marshal a disciplined Mexican defence and lead his side into the knockout rounds.

GETTY IMAGES

4/11 Mario Yepes - Centre-back (Colombia)

Another old-timer who many thought had his best years behind him. Yepes has looked solid for Colombia and even managed a marauding run through midfield at one point.

5/11 Daley Blind - Left-back (Netherlands)

The Netherlands man provided the superb assist for Robin van Persie's magnificent header, and Blind has offered a different option with his charges forward down the left-flank. Has the most assists in the tournament so far alongside Juan Guillermo Cuadrado.

Getty Images

6/11 Philipp Lahm - Defensive midfielder (Germany)

The Germany captain had a quiet start to the tournament as he let the attacking-minded players take the plaudits against Portugal. But he has controlled the strings since, completing more passes than any other player, and his versatility means Muller, Mesut Ozil and the likes can push on to leave Lahm marshaling the back-four.

Getty Images

7/11 Arjen Robben - Right-wing (Netherlands)

Robben's pace to blow away Sergio Ramos summed up his performance in the 5-1 dismantling of Spain, as he starred throughout the Netherlands' group campaign. Three goals from his eight shots represents a very solid return.

Getty Images

8/11 James Rodriguez - Right-wing (Colombia)

One of the stars of the World Cup so far, Rodriguez became the Colombian to score in all three of their group games, helping the South Americans to progress to the second round as winners of Group C.

Getty Images

9/11 Lionel Messi - Central midfield (Argentina)

How can you leave Messi out of any best XI? Answer - you can't. Proving the doubters wrong, Messi put in three match-winning performances to help Argentina improve as the tournament goes on and book their spot in the last 16. He takes a roaming midfield role in our XI, but with the way he is playing at the moment, we'll let him play where he wants!

Getty

10/11 Neymar - Left-wing (Brazil)

Brazil's poster boy for the World Cup has dominated the headlines since the tournament began. Two goals against Croatia in controversial circumstances, and another brace against Cameroon sees Neymar level with Messi and Muller on four goals so far. Can the golden boy go on to claim the golden boot as well as the golden trophy?

Getty Images

11/11 Thomas Muller - Centre forward (Germany)

With no recognised striker in their starting line-up, Muller has flourished spearheading a German attack that interchanges position at will. If Germany are to be knocked out, Muller will have to be marked out of the game, as he has already shown this prowess in front of goal if he is given the chance.

Getty Images
It's not all that different to how Chile played under Marcelo Bielsa although now there's a better emphasis on defence. They raid fast as a unit but have also improved as individuals. Take Charles Aranguiz against Spain as an example of that as his performance surmised the idea of increasing influence. He was almost perfect, even aside from a goal and an assist. But whereas Spain dominated possession and were picked off, the Dutch found a solution. They sat back, counter-punched and landed knock-out blows. Whether Brazil have the players to set up in such a way is doubtful, although what they do have on their side is a superiority complex.
Scolari rubbished the past saying these are different players. "The statistical date, it is only good for you. This is not the team that played in '62 or '80, this is the team of 2014. It's different." But they are the same nation and psychologically Chile must firstly overcome the sort of issue so many South American sides are met with when facing the behemoth beside. Granted, that's not to say Brazil don't have their own issues and while Neymar is turning into a special player before our eyes – "He doesn't play to be the best in the world, he plays for Brazil and by Brazil because he wishes to be the world champion," said Scolari when asked about a comparison with Lionel Messi, with Silva adding, "He's growing towards a crescendo" – it is far from a special team.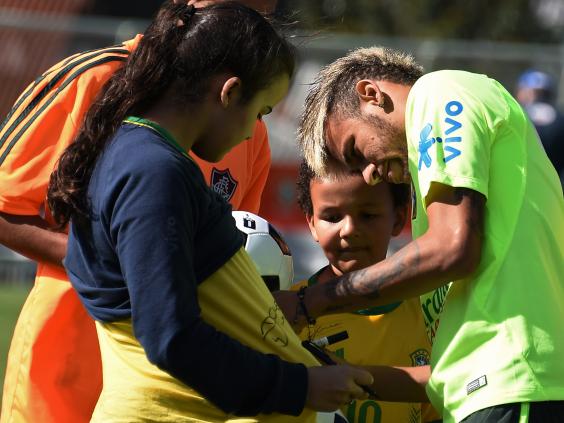 Yet as cerebral as he is grouchy – which is saying quite a lot – you got the feeling Scolari planned for this and that's crucial to Brazil at this tournament. For all their flaws in defence and for all the disappearing acts from the striker Fred, the Chelsea midfielder Oscar and Hulk, who has been struggling with injury at this tournament, you expect the side to evolve as the World Cup progresses.
"Well, we just came in from looking at the pitch and we were saying how some things can affect your day-to-day life in a strong way, even if you've experience them before," noted the manager. "I said to Thiago: 'You already played a World Cup'. He said: 'Yes, but professor, it's normal for us to feel we have something that makes us anxious, especially when we start the knock-out phase where we can't make a mistake, where we can't lose'.
"We become more involved in a different manner, slightly more afraid or nervous. It's not because it's in Brazil, it's because it's a World Cup and we've got a great chance to get to the final. So there are many psychological aspects to getting ready. No one can be at ease, it's impossible and that's what Thiago said of our first game here, too. For me, after your conversation with a player before a match I think to myself, 'Yes, it'll be OK, everything is in place'. But whenever you start there is doubt."
It was an admittance backed up by Silva who recalled the opening game of the tournament. "I didn't look like Thiago Silva, I wondered if I stopped playing football and what happened . But this guy beside me [Scolari] is very special for us, even at a difficult moment, family issues, he's always with us. I'll stop talking because I'm a big cry baby and it might happen here when I think about what he means to us."
In trying to overcome their flaws and Chile, Scolari means everything. And if he fails, there'll be a lot more than Silva reduced to tears.
Reuse content