There is bravado among Brazilians this weekend. "E que a historia se repita!" (May history repeat itself) a headline in the local Diario Gaucho proclaimed, recalling Brazil's three previous World Cup wins over Saturday's second-round opponents, Chile.
But the city of Porto Alegre, deep in Brazil's south-east, wears a furrowed brow. Here is where they will tell you that an imperfect striker – Fred – will lead the nation's front line against La Roja today, when it could have been one of their own, the boy they once called "the next Pele".
That title has sat heavy on the heads of many a young Brazilian. The nation still cannot quite fathom why Robinho – last remembered in England for Roberto Mancini sending him on as a Manchester City substitute at Everton and then substituting him – was not in Luiz Felipe Scolari's squad for this World Cup.
But Alexandre Pato was different. The mere mention of his name outside the Internacional club's ground here on Friday prompted cries of "rei, rei" (king, king) from one individual, gesturing that the boy was so very small when he first seemed so very great.
Even at 14, everyone knew about the boy who was born at Pato Branco, in the Parana state near Curitiba, and was spotted first by Internacional. So fervent was the wish of the Europeans to acquire his goalscoring talents that Milan signed him up even before he was legally old enough to play for them.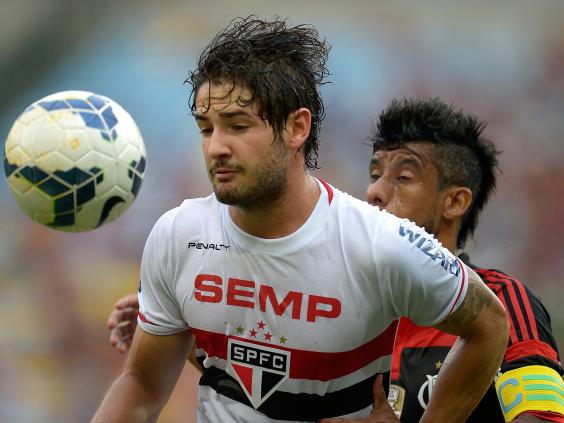 Italian journalists still remember the day he first appeared at the Milanello training ground. "He was delicious. So talented. Like a Brazilian Messi," says one witness to that occasion. "We compared him to Zico."
Pato's emigration did not leave Brazil entirely bereft of memories, either. He was 17 when he broke Pele's record as the youngest goalscorer in a Fifa competition – netting during a one-hour role which helped Internacional to eclipse Barcelona 1-0 and win the Fifa Club World Championship in Yokohama, Japan.
He played in an international friendly against Sweden, too, to mark the 50th anniversary of Pele's arrival on football's world stage as the young player of the 1958 tournament. This time he arrived from the bench to score with an exquisite lob. "The comparisons make me happy," Pato said then of being likened to Pele. "He is an idol to me."
But the challenge for so many Brazilians who leave for the old continent is a physiological one. Romario, Ronaldo and Robinho all ballooned in weight when they went west.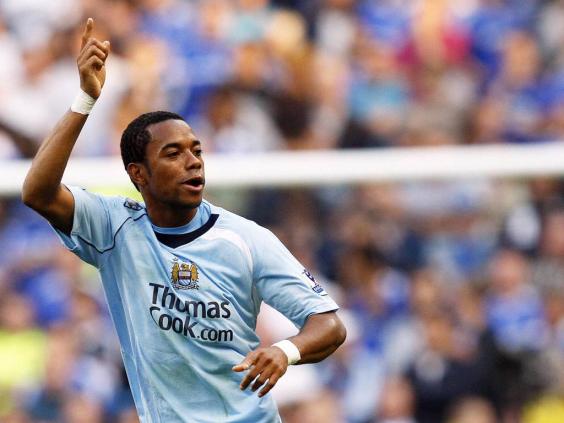 "This change to another country and everything seems to affect them [that way]," says Lima, one of Pele's peers who worked with Robinho at Santos. For Pato, it was a case of wanting to be a man before he had stopped being a boy.
Though the Milanello promise bore fruit, his time in the gym bulking out developed his unhealthy muscularity. It made him prone to muscular trouble every time he drew on the bursts of speed which were integral to his game.
He certainly lived the high life while it lasted. Those here who know him best talk of a keen mind. "He was smart, interesting. It was a fantastic interview," says one of the Italian journalists who sat down with him to talk.
That seems to have formed part of the background to the relationship which absorbed and obsessed the Italian gossip magazines from the end of 2010. Pato took up with Barbara Berlusconi – daughter of Silvio, Milan's proprietor – who took her philosophy degree into football when her father installed her in the San Siro boardroom to keep chief executive Adriano Galliani in check.
World Cup 2014: Group stage best XI
World Cup 2014: Group stage best XI
1/11 Guillermo Ochoa - Goalkeeper (Mexico)

The Mexican goalkeeper produced a man of the match display to keep Brazil at bay and has been at the heart of a resolute defence that has helped put the side in the knockout stages.

GETTY IMAGES

2/11 Serge Aurier - Right-back (Ivory Coast)

Reportedly on the radar of several Premier League clubs and you can see why. Provider of some crucial assists already, he has looked a serious talent.

Getty Images

3/11 Rafael Marquez - Centre-back (Mexico)

The veteran centre-back has turned back the years to marshal a disciplined Mexican defence and lead his side into the knockout rounds.

GETTY IMAGES

4/11 Mario Yepes - Centre-back (Colombia)

Another old-timer who many thought had his best years behind him. Yepes has looked solid for Colombia and even managed a marauding run through midfield at one point.

5/11 Daley Blind - Left-back (Netherlands)

The Netherlands man provided the superb assist for Robin van Persie's magnificent header, and Blind has offered a different option with his charges forward down the left-flank. Has the most assists in the tournament so far alongside Juan Guillermo Cuadrado.

Getty Images

6/11 Philipp Lahm - Defensive midfielder (Germany)

The Germany captain had a quiet start to the tournament as he let the attacking-minded players take the plaudits against Portugal. But he has controlled the strings since, completing more passes than any other player, and his versatility means Muller, Mesut Ozil and the likes can push on to leave Lahm marshaling the back-four.

Getty Images

7/11 Arjen Robben - Right-wing (Netherlands)

Robben's pace to blow away Sergio Ramos summed up his performance in the 5-1 dismantling of Spain, as he starred throughout the Netherlands' group campaign. Three goals from his eight shots represents a very solid return.

Getty Images

8/11 James Rodriguez - Right-wing (Colombia)

One of the stars of the World Cup so far, Rodriguez became the Colombian to score in all three of their group games, helping the South Americans to progress to the second round as winners of Group C.

Getty Images

9/11 Lionel Messi - Central midfield (Argentina)

How can you leave Messi out of any best XI? Answer - you can't. Proving the doubters wrong, Messi put in three match-winning performances to help Argentina improve as the tournament goes on and book their spot in the last 16. He takes a roaming midfield role in our XI, but with the way he is playing at the moment, we'll let him play where he wants!

Getty

10/11 Neymar - Left-wing (Brazil)

Brazil's poster boy for the World Cup has dominated the headlines since the tournament began. Two goals against Croatia in controversial circumstances, and another brace against Cameroon sees Neymar level with Messi and Muller on four goals so far. Can the golden boy go on to claim the golden boot as well as the golden trophy?

Getty Images

11/11 Thomas Muller - Centre forward (Germany)

With no recognised striker in their starting line-up, Muller has flourished spearheading a German attack that interchanges position at will. If Germany are to be knocked out, Muller will have to be marked out of the game, as he has already shown this prowess in front of goal if he is given the chance.

Getty Images
Once news of the affair was out – it coincided with Barbara announcing the end of a relationship with the father of her two children, Edoardo and Alessandro – it became a very public love-in. Pato would dedicate his goals to her, signalling with heart-shaped hands towards her in the VIP seats. They dined together, with bodyguard in tow, at salubrious Milanese restaurants. They were pictured at La Scala in April 2011, on the opening night of the opera Turandot. At the end of 2010-11 season, they holidayed in Sardinia and then on Rio's Ipanema beach.
The romance disguised the real story of Pato's wrecked hamstrings. He became a hugely significant player at San Siro, at 22 becoming the youngest ever player to score 50 Milan goals as they won Serie A with two games in hand. But his injuries began to make the Portuguese translation of his name – "duck" – seem appropriate. Silvio Berlusconi let it be known the boy was on the market.
Paris Saint-Germain made their move at the end of September 2011, when it had been announced that another hamstring injury would keep him out for seven weeks. The Parisian deal was done: €28m plus bonuses to Milan and a three-year contract for Pato at between €6m and €7m per season. Galliani travelled to London, finalising the acquisition of Carlos Tevez from Manchester City, which the Pato money would pay for. And then Pato made an announcement. He and Barbara had blocked the move "for love." Galliani was incandescent.
When Pato scored on a characteristically brief return from injury on 20 October 2012, it broke a 293-day goal drought. His injury toll between January 2010 and January 2012 was 14 – 11 of which were of a muscular nature. Not even Barbara could prevent the sale which brought him back to Brazil for €15m three days into 2013. After 150 games and 63 goals for Milan – but just 15 Serie A games in two years – he joined the Sao Paulo club Corinthians.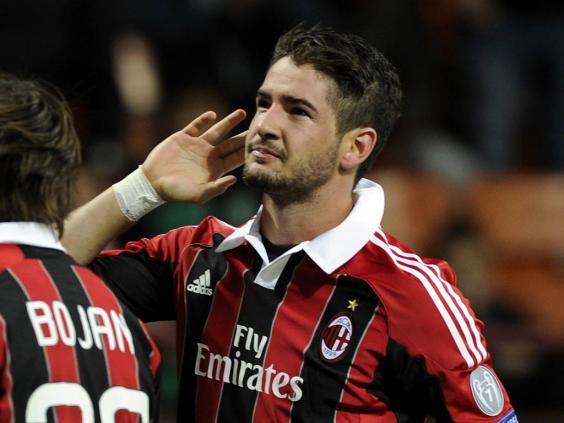 The Berlusconi affair quickly ended when he started spending time with Patrizia Abramavel, a Brazilian TV journalist who happens to be the daughter of a local media tycoon (for a change).
The nation's love for him seemed to have been extinguished too. Any hope that the 23-year-old's return home would restore the Pato Scolari needed for the World Cup proved forlorn. He and Corinthians were so poor that a group of more than 100 of the club's ultras, armed with steel bars, stormed the team's training base in Sao Paulo on 1 February this year. Their target was the under-performing Pato, cowering in a side room after barricading himself in; his team-mate Paolo Guerrero was assaulted instead.
It was an encounter Pato would not risk again. He has since shipped himself out across town on loan to Sao Paulo FC, a highly controversial move in a metropolis of such rabid football loyalties, and has had to hire bodyguards to avoid further attacks. He is a prisoner in his own country – a mercenary, in the minds of many Brazilians. A place in the Brazil squad did not even form part of the national conversation, though he did score in last September's 6-0 friendly thrashing of Australia.
"He went too soon. They all go too soon. We only saw him for a few months and then he was gone," says Leonardo Paulista, an Internacional supporter, yesterday. "He was young. They didn't care for him. I don't blame him."
Scolari is not interested in recriminations either. Where Pato is concerned, he has only regrets.
Reuse content