In the small hours of 2 July 1994 came the moment that defined Colombian football for a generation.
As the squad returned from a disastrous World Cup, Andres Escobar, whose own goal had set them on the path to elimination by the United States, told his team-mates not to go out. The mood in Colombia was poisonous.
Escobar, however, ignored his own advice and went to a bar, the Padua Disco in Medellin, where he was shot dead. The assassin, a chauffeur for one of Medellin's gangster  families, screamed "own goal" six times, one for each bullet that he fired into the defender's body.
The author Jon Spurling, who investigated the murder in his book Death or Glory, succeeded in tracking down a policeman, Juan Carlos Metiche, who had also looked into the killing.
Colombia 2 Uruguay 0 player ratings
Colombia 2 Uruguay 0 player ratings
1/21 David Ospina

Stopped everything that Uruguay could muster and looked good throughout. 7

Getty Images

2/21 Camilo Zuniga

Solid at the back and even managed a few efforts on goal. 7

Getty Images

3/21 Pablo Armero

Got up and down from left-back for the full 90 minutes, top game. 8

Getty Images

4/21 Mario Yepes

The 38-year-old looked good again and never trouble. 7

Getty Images

5/21 Cristian Zapata

Like his defensive partner, was fantastic at the back all game. 7

Getty Images

6/21 Carlos Sanchez

Not too much impact going forward but good throughout. 6

Getty Images

7/21 Abel Aguilar

Not quite the same impact of other games this summer but still good work. 6

Getty Images

8/21 Juan Cuadrado

Top, top player once again, a real highlight for Colombia. 8

Getty Images

9/21 James Rodriguez

Superb performance. Goal-of-the-tournament contender and another well taken goal. Real superstar in the making. 9

Getty Images

10/21 Teofilo Gutierrez

Played well throughout until being taken off on 70 minutes. 7

Getty Images

11/21 Jackson Martinez

Not the impact he would have hoped for but still did well. 6

Getty Images

12/21 Fernando Muslera

Made a couple of good stops but couldn't do anything for either goal. 6

Getty Images

13/21 Maxi Pereira

Looked frustrated at times but did ok on the whole. 6

Getty Images

14/21 Diego Godin

Had a chance to get a goal from a corner but headed wide. Not bad at the back but not great. 6

Getty Images

15/21 Alvaro Pereira

Poor evenings work from him and taken off on 53 minutes. 4

Getty Images

16/21 Egidio Rios

Doged and determined as ever but lacked real quality going forward. 6

Getty Images

17/21 Alvaro Gonzalez

Did ok but not the impact Uruguay wanted, taken off after an hour. 6

Getty Images

18/21 Jose Gimenez

Yellow carded for a cynically foul and a tough game throughout. 4

Getty Images

19/21 Cristian Rodriguez

Was busy throughout but failed to test Colombia properly. 6

Getty Images

20/21 Edinson Cavani

Missed the couple of half-chances that came his way. 5

Getty Images

21/21 Diego Forlan

Hardly had a touch of note in his 53 minute of action, poor. 4

Getty Images
He said the popular story that Escobar had been targeted by two gangsters, the Gallon brothers, whose chauffeur, Humberto Munoz, had done the killing because they had bet $160,000 on Colombia winning the World Cup were almost certainly untrue. He was astonished that an educated, intelligent man like Escobar had chosen a dive like the Padua for his first outing.
The Gallons had encountered Escobar by chance in the car park and begun taunting him about the own goal in Pasadena. Escobar, who had been drinking aguardiente, a local spirit distilled from cane sugar that one reviewer said "will make you want to punch someone in the face", gave as good as he got. Munoz ended the argument with his pistol. Escobar lay dying on the concrete.
Jose Pekerman, who has orchestrated the great revival of Colombia that sees them face Brazil in Fortaleza for a place in a World Cup semi-final, also played his football in Medellin, albeit for Independiente rather than Escobar's club, Atletico.
Pekerman's playing career was less distinguished – he combined work as a taxi driver in Buenos Aires with coaching Argentinos Juniors.
As the grandson of Jewish immigrants from Ukraine, he was an outsider in Argentina. The man who appointed him to manage the national team in 2004, Julio Grondona, the president of the Argentinian Football Association, caused outrage when he commented: "Jews don't like it when things get tough."
His appointment had been opposed by three figures who dominated Argentinian football: Cesar Menotti, who had won the 1978 World Cup as coach; Carlos Bilardo, who did the same in 1986; and Diego Maradona. All pointed out that at senior club level, Pekerman had achieved nothing of note.
He was, however, a superb youth-team coach who had taken Argentina to three World Youth Championships and named his dogs after the places where they had won – Qatar, Malaysia and Argentina. And yet his time with Argentina's senior squad came to an end in Berlin's Olympic Stadium, which given that it had staged Hitler's Games, had an irony that would not have been lost on a Jewish manager.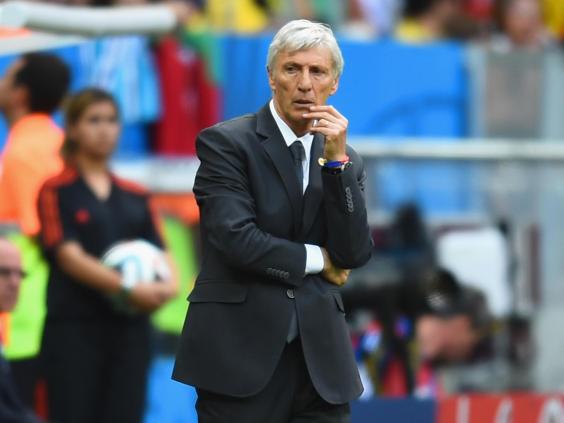 But for Miroslav Klose's late equaliser and the inevitable Germany victory in the penalty shoot-out, he would have taken Argentina to the semi-finals. Instead, he found himself pilloried, first for omitting the teenage Lionel Messi – a strange decision for a man who made his name in youth-team football – and dropping Javier Zanetti.
Pekerman is distantly related to the Hollywood great Gregory Peck and has the same dignified bearing Peck displayed in To Kill a Mockingbird. He resigned. Maradona, appointed to succeed him, faced Germany in another World Cup quarter-final in Cape Town four years later. His tactics consisted of little more than pumping the air with his fist. Argentina were humiliated 4-0. Maradona was not given the chance to quit.
Two years ago, after a couple of undistinguished spells in club football, the man known as El Professor took charge of Colombia's national team three matches into qualifying. They were 35th in Fifa's rankings then and fifth when the draw was made.
Radamel Falcao, who but for injury should have spearheaded Colombia's first World Cup in 16 years, said of Pekerman: "He tried to give us the necessary self-belief to go out there and play the kind of football we are used to. We always seek to win but without throwing caution to the wind. We have become a more balanced and mature team."
Maturity, or the lack of it, has always been the undoing of Colombia. Rene Higuita's disastrous attempt to run 40 yards out of his goal in Naples and take the ball past Cameroon's Roger Milla was a prime example, although Higuita's links to the Colombian narcotics cartels afforded him a protection of sorts in the fall-out from the 1990 tournament.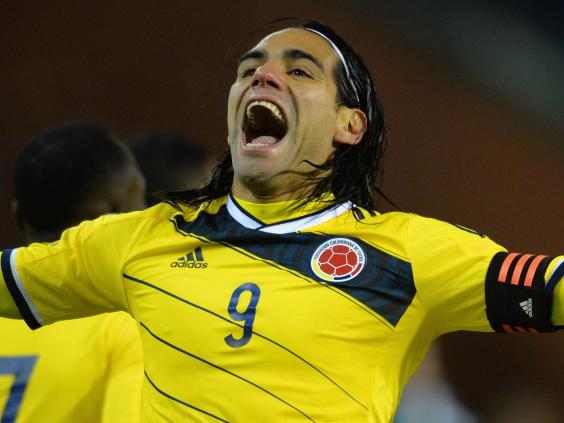 The injury to Falcao should have put an end to the dreaming in Bogota and Medellin but it may have benefited Colombia. The boys of 1994 had been undermined by the crushing expectations of a country that had seen them thrash Argentina 5-0 in qualifying in Buenos Aires and been tipped by Pele to win the tournament.
But Colombia without Falcao were like Argentina without Messi. And yet, in qualification, Pekerman had experimented ceaselessly and in Falcao's team-mate at Monaco, James Rodriguez, he had a forward who could play almost anywhere.
When, in the round of 16, Pekerman faced Uruguay, his counterpart and friend, Oscar Tabarez, would have expected Jackson Martinez, who had scored twice against Japan, to lead the Colombian attack in the Maracana. Instead, Pekerman pushed him out wide, allowing Rodriguez to run into the space left by Martinez's markers with devastating consequences.
The 2-0 humbling of Uruguay coincided with Colombia's presidential elections. Pekerman, who was given Colombian citizenship after qualification, received 400,000 votes, although his name was  not on the ballot paper.
Expectations are now as high as they ever were in 1994 but before Colombia face Brazil at the Castelao, it is worth remembering Escobar's words at his final press conference after the team flew home. "Don't let defeat affect your respect for the spirit of the game because life goes on."
Reuse content