Bastian Schweinsteiger, the Germany midfielder, has challenged the Mexican referee for Tuesday's World Cup semi-final against Brazil to come down hard on what he believes is the host nation's persistent fouling.
Schweinsteiger became the latest critic of the Brazilian approach after their outcry at the foul on Neymar in the previous round against Colombia which resulted in the player's fractured vertebrae. It has been pointed out that despite Neymar's injury, which rules him out the remainder of the tournament, Brazil committed more fouls, 31 to 23, than Colombia. In fact, in all Brazil have done 96 fouls in five games, significantly more than Germany's 57. Brazil players have received 10 yellow cards, six more than Germany players.
Schweinsteiger said: "I am all for a healthy hardness but some of Brazil's fouls were over the limit. Brazilians are not only football magicians, hard tackling is part of their game. We have to be careful and so does the referee."
The Mexican Marco Rodriguez will referee the game. Germany's assistant coach Hansi Flick said: "Brazil is  an outstanding team that  plays at the limit of the allowed and will go over the limit if necessary."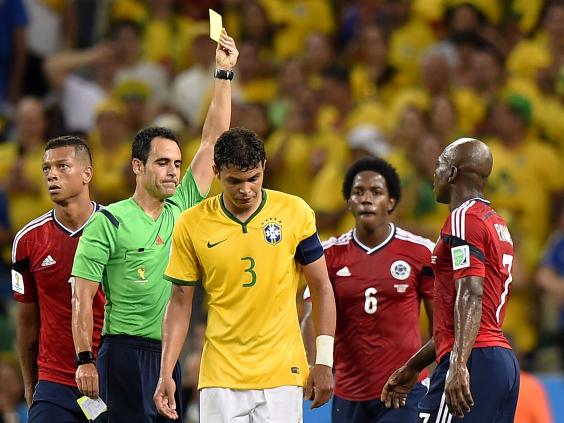 Fifa rejected an attempt by Brazil to overturn the suspension of their captain Thiago Silva, booked for the second time against Colombia, for Tuesday's game. They also rejected a move by Brazil to punish Juan Zuniga, the Colombian responsible for the foul on Neymar.
Silva's absence means that the former Chelsea defender David Luiz will captain the Brazil side against Germany.
Video: Schweinsteiger discusses Brazil semi-final
Luiz's team-mate Hulk said that Luiz was "just the best". He added: "He [Luiz] is very caring and very attentive, no matter who he's with. It's not every day that you come across someone like him.
"The whole world knows what he has to offer on the pitch – and to my mind, he and Thiago are the best central-defensive partnership in the world – but as his team-mates, we also know what a great person he is too."
Neymar's best and worst moments of the 2014 World Cup
Neymar's best and worst moments of the 2014 World Cup
1/9 Neymar scores his first against Croatia

After going a goal behind in the very first match of the tournament courtesy of a Marcelo own goal, Neymar got his tally off the mark as he scored from long range to drag Brazil level.

GETTY IMAGES

2/9 He adds his second in controversial circumstances

Despite a stop-start, jerky run up, Neymar converts from the penalty spot to give Brazil the lead and they would go on to secure a 3-1 victory. However, the Croatians were infuriated by what they perceived as a dive from striker Fred to win the penalty. Not that it mattered to Neymar, who duly took his chance from the spot.

GETTY IMAGES

3/9 But was he lucky to be on the pitch?

A stray elbow on Luka Modric could have warranted a red card for Neymar, but he escaped with a yellow and was on hand to score later in the match when the opportunity arose.

Getty Images

4/9 Tears of pride

Neymar in tears during the Brazil national anthem before the game with Mexico, such is the importance of the occasion

GETTY IMAGES

5/9 Neymar left frustrated against Mexico

An unimpressive Brazil side were left hugely frustrated by Mexico goalkeeper Guillermo Ochoa. In a man-of-the-match display, Ochoa kept out a close range header from Neymar to see the match end as a goalless draw.

GETTY IMAGES

6/9 Back on form and back in the goals

You can't keep a quality player quiet for long though, and unfortunately for Cameroon, their dismal World Cup campaign came to an end at the hands of another Neymar brace. Taking his tally to four goals, Neymar put himself in the reckoning for the Golden Boot, although his injury has put paid to that dream for now.

Getty Images

7/9 Caught with his pants down

Despite being the poster boy of Fifa's World Cup, the governing body confirmed that they were investigating Neymar for allegedly breaching sponsorship rules by partially showing the top of his underwear that may or may not have been part of a sponsorship stunt. Eventually, Fifa conformed they would take no further action.

GETTY IMAGES

8/9 Neymar's penalty prowess sees off Chile

After a hard-fought 120 minutes, Brazil and Chile were locked at 1-1 courtesy of David Luiz and Alexis Sanchez strikes. Mauricio Pinilla and Sanchez both saw their penalty shootout efforts saved by Julio Cesar, but Willian and Hulk followed suit. With the weight of a nation on his shoulders, Neymar coolly slotted home from the spot, which turned out to be the match-winner as Gonzalo Jara then hit the post to send Brazil through to the quarter-finals.

9/9 One assist, no goals and a trip to hospital sees Neymar done

The forward had seen his impact in the quarter-final against Colombia somewhat limited due to the rough and tumble nature of the match – although the Brazilians were just as guilty of using the tactic against James Rodriguez. His corner allowed Thiago Silva to bundle the ball across the line for the opener, before Juan Camilo Zuniga's ill-timed knee in the back cracked on of Neymar's vertebrae and ended his run at this year's World Cup.

GETTY IMAGES
However, Flick felt that though Neymar was not playing, his absence could help galvanise Brazil. "It's definitely a loss for Brazil," he said. "Neymar has lived up to expectations, but his absence can unite the team more and we expect a very strong opponent."
Schweinsteiger agreed. "We are all very sad that Neymar is not playing," he said but he felt Brazil's team will bind even more closely "and will try to win the title for Neymar".
The Bayern Munich midfielder was also complimentary about Brazil's coaching staff of coach Luiz Felipe Scolari and his assistant Carlos Alberto Parreira. "They are two coaches with a lot of experience who have both won the World Cup," he said. "They are clever coaches and you need intelligent coaches to win the title."