This German generation faces its third semi-final on Tuesday night, a moment to finally realise years of promise.
Joachim Löw's team have been in long-term development. They reached the last four of World Cup 2010 and Euro 2012 but were beaten both times. What they had gained in style and pace they had lost in nous and nerve, missing the experience of players like Jens Lehmann and Michael Ballack, who took them all the way to the final of Euro 2008.
In Belo Horizonte, against Brazil, Germany have the chance to take the step they missed the last two times. This is the moment for the spine of the side – Manuel Neuer, Philipp Lahm and Bastian Schweinsteiger – to assert themselves as experienced, serious, decisive winners. The new generation of young attackers – Toni Kroos, Mesut Özil and Thomas Müller – must deliver on what has been, at senior international level, merely promise.
France 0 Germany 1 player ratings
France 0 Germany 1 player ratings
1/22 Hugo Lloris

Very little the Tottenham goalkeeper could have done about Mats Hummels' magnificent header in the first-half. An otherwise flawless display. 7

Getty Images

2/22 Patrice Evra

Playing with much more pride than he did four years ago in South Africa, the Manchester United left-back tried tirelessly until the very last. 7

Getty Images

3/22 Mathieu Debuchy

Has been a menace this summer but lacked the conviction to get forwards today. Ultimately left his teammates with no cover in offensive positions. 6

Getty Images

4/22 Raphael Varane

One of the few French players to blend passion with composure, Raphael Varane was an outlet in attack and a rock at the back. 7

Getty Images

5/22 Mamadou Sakho

Renowned for his Jekyll and Hyde performances, this was a decidedly shaky outing from the Liverpool man. 6

Getty Images

6/22 Blaise Matuidi

With a distribution which could have proved so much more damaging to the German defence, Blaise Matuidi delivered a decent shift but could have done more. 6.5

Getty Images

7/22 Yohan Cabaye

Composed on the ball, the former Newcastle United midfielder was typically adventurous and mobile in the middle. 7

Getty Images

8/22 Paul Pogba

Like many of his teammates, Paul Pogba was impressive in the first half but impotent in the second. Just when France needed him, he faltered on the big stage. 6

Getty Images

9/22 Antoine Griezmann

Ran the line admirably in the first half but disappeared into backdrop in the second period. 6.5

Getty Images

10/22 Mathieu Valbuena

Perhaps France's best player of the afternoon, the Marseille winger showed a desire to get forwards whenever he picked up the ball. 8

Getty Images

11/22 Karim Benzema

Was left isolated for much of the game but managed to carve a series of opportunities out for himself. Should have scored at least one of them. 6

Getty Images

12/22 Manuel Neuer

Proved once again why so many consider the Bayern Munich keeper to be the best in world football. His last minute save from Karim Benzema, as nonchalant as it was brilliant, summed up his day. 7.5

Getty Images

13/22 Philipp Lahm

Moved back into right-back, after Joachim Low had seemingly decided his tactics were failing, the German captain eased back onto place effortlessly. 7

Getty Images

14/22 Jerome Boateng

A decent showing from the former Manchester City defender. 6.5

Getty Images

15/22 Benedikt Howedes

Had a quiet afternoon in left-back for Germany but made a number of valuable interceptions early on. 6

Getty Images

16/22 Mats Hummels

A warrior at the heart of Germany's defence, Mats Hummels deserved his goal and then some. Blocking every ball which came his way, it's no surprise France struggled to score. 8

Getty Images

17/22 Sami Khedira

While many will remember his cynical challenge on Mathieu Valbuena, this was a strong midfield display from the Real Madrid star. 7

Getty Images

18/22 Bastian Schweinsteiger

Sat just in front of the German backline, Bastian Schweinsteiger had an important job to do today and did it well. 7

Getty Images

19/22 Toni Kroos

Like Mesut Ozil, Toni Kroos had the ability to fade into the background today. His assist, however, for Mats Hummels' goal proved invaluable. 7

Getty Images

20/22 Mesut Ozil

Occasionally going missing, Arsenal's playmaker will most likely be disappointed with his efforts. 6

Getty Images

21/22 Thomas Muller

Proved to be a menace whenever he picked up the ball. Tested the French defence regularly and was unlucky not to etch his name onto the scoresheet. 7

Getty Images

22/22 Miroslav Klose

The German legend must wait a while longer to break Ronaldo's World Cup goal-scoring record and he was left wanting by his teammates too. 6.5

Getty Images
Löw knows that this match – and the final on Sunday it could take them to – has been years in the preparation. His team have been good for some time, but now need to win.
"We've been in at least the semi-finals of the last four World Cups and that just shows that we've been playing consistently at the very highest level," Löw said this week, promising that this time his team would not fall at the penultimate hurdle. "One thing's for sure – we desperately want to play in the Maracana in Rio again, on 13 July. We're not done yet."
This Germany team do seem to possess a focus they might have lacked in their past two tournaments. In South Africa in 2010, they thrilled the world with scientific dissections of England and Argentina, cutting them open on the break. Then it was a semi-final against Spain in Durban, where they were picked off by a far more experienced side.
Video: Sam Wallace previews Brazil vs Germany
Two years ago, Germany started almost as well, but the first time they came up against a serious opponent – Italy in the semi-final – they crumbled and lost 2-1.
The big question, then, all tournament, has been whether this Germany side have learnt from that, or whether they will wilt again under the pressure of such a meaningful match. Those looking for negative evidence could point to the Ghana game, an end-to-end classic which ended 2-2, or to their last-16 extra-time defeat of Algeria, a 2-1 win in which they were dragged all the way and hardly convincing.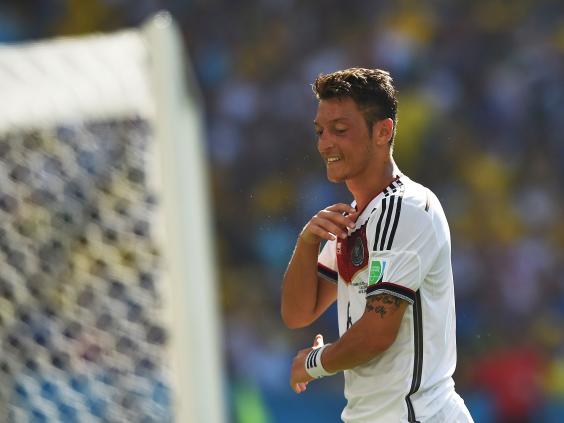 The evidence of Friday afternoon, though, suggests otherwise. In the difficult heat of the Maracana, facing a France team that had been one of the most exciting attacking forces of the tournament, Germany produced a performance of controlled efficiency and economy of effort, which some thought they were no longer capable of.
It is too easy, sometimes, to attribute technical issues to psychological causes. Löw made changes in tactics and personnel for the France game and those frailties evident against Ghana and Algeria disappeared, Germany instead showing the nous and strength many had been waiting to return to the team.
Löw had been playing a  4-3-3, with Lahm sitting in front of an exposed back four, who were themselves at risk given Per Mertesacker's lack of pace on the turn. So, for the France match, Löw switched back to 4-2-3-1, the system he had used in the last two tournaments. Lahm returned to right-back, allowing Schweinsteiger and Sami Khedira to  sit in front of the back four, protecting the centre-backs from France's midfield runners. Mertesacker dropped to the bench, Mats Hummels returned and looked far more comfortable alongside Jerome Boateng at centre-half.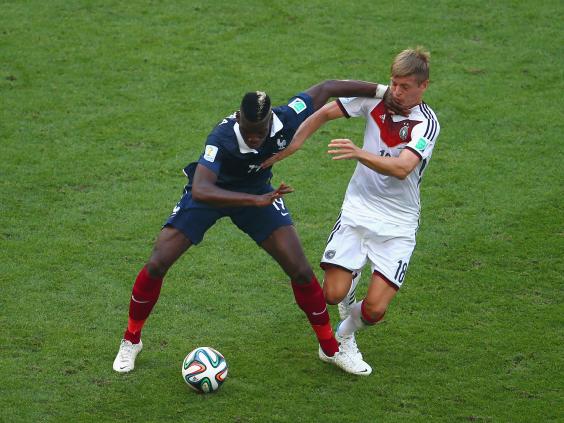 France, who had put five past Switzerland in the group stage, struggled to create anything much of note. Germany went ahead from a set piece – Hummels heading in Kroos's perfect free-kick – and the midfield trio of Khedira, Schweinsteiger and Kroos strangled the game as Germany put in their most assured performance yet.
They will have to put up with emotion, noise and force beyond anything they have faced before. But once that surge is over, there is strikingly little to worry about in this Brazil team who will be without Neymar and Thiago Silva, their two best players. The hosts are nervous, as they showed in the second half against Colombia, and struggle to control games even when they are ahead. Schweinsteiger and Khedira will not be kicked off the ball, while Müller and Özil should be able to work through the gaps in the defence.
This Germany team may never have a better chance to reach a World Cup final. They have the skill and the resources to expose this Brazil side. They just need to show that they have the nous.