Brazil's World Cup humiliation broke so many records that it is nearly impossible to actually recount them all, such was the devastation that the 7-1 defeat inflicted on the tournament hosts.
From Brazil's heaviest ever defeat, to their first home competitive loss in 39 years, Germany rewrote the record books at Brazil's expense.
Here we take a look at the match by numbers:
1 - This is the first time a team have scored seven goals in a World Cup semi-final
2 - Germany scored two more goals in the victory than England have in their past two World Cups combined (five goals).
3 – No host nation has ever lost a World Cup match by more than three goals, with the previous worst record held jointly by South Africa's 3-0 loss to Uruguay in 2010, Mexico's 4-1 defeat to Italy in 1958 and Sweden's 5-2 defeat to Brazil in the 1958 final.
Brazil 1 Germany 7 player ratings
Brazil 1 Germany 7 player ratings
1/22 Brazil: Julio Cesar

Having performed so well before, especially in the last 16 against Chile, must have been distraught at the disaster in front of him. Powerless. 4/10

2/22 Maicon

A 32-year-old with that much experience should be taking responsibility, but Maicon never did, simply making the runs he wanted to make. 3

3/22 David Luiz

Instead of showing discipline and leadership, rising to the role of captain, he was abysmal, playing only his own game and abdicating all responsibility. 2

GETTY IMAGES

4/22 Dante

Always unlikely to replace Thiago Silva adequately, and he provided none of the skill, awareness, leadership or discipline his captain does. 3

5/22 Marcelo

Conceded the corner for the first goal and never looked especially keen on stopping Germany from adding to their tally. 2

6/22 Luis Gustavo

Asked to provide balance in midfield, he was swamped by Khedira and Kroos, as the spine of this Brazil side melted away in the first half. 3

7/22

Utterly outclassed by the German midfield, he could barely get on the ball until scoring his sharp consolation goal. 4

8/22 Fred

Just as anonymous as he had been for the rest of the tournament and once the damage had been done he was booed and jeered by the fans. 2

9/22 Fernandinho

Meant to provide energy and presence in midfield but he was dismal, swamped by German numbers and gifting the ball for the fourth. Off at half-time. 2

10/22 Hulk

Did have an opening or two in Brazil's bright opening but, not for the first time, lacked the skill to take advantage. Did not make the second half. 2

11/22 Bernard

Trusted to fill Neymar's role, by the time he saw the ball Brazil had already lost. At least he wanted to try things in the second half. 4

12/22 Germany: Manuel Neuer

Did in fact have a few saves to make, early in the second half, and he was impeccable again until Oscar's late consolation goal. 7/10

13/22 Lahm

Made one excellent tackle on Marcelo when the game was still 0-0. After that it was all attack, crossing well from the right for the third and sixth goals. 8

14/22 Boateng

Called upon once or twice to defend, which he did very well, and spent the rest of the evening admiring the quality of his team's forward play. 7

15/22 Hummels

His only disappointment, having come off at half-time for Per Mertesacker, is that he could not add to his goal tally for the tournament. 7

16/22 Howedes

Not quite as incisive as Lahm on the opposite side, but was still impressive, never once beaten defensively and providing a useful option out wide. 7

17/22 Kroos

Operating in the oceans of space in front of Brazil's centre-backs, he played the through pass for the second goal and scored the third and fourth. 10

18/22 Schweinsteiger

Can barely have expected such a comfortable evening, winning the ball and moving it forward for his team-mates to do the damage. 8

19/22 Muller

Showed he is one of the best big-game players in the world, with that brilliant nose for goal to score the first. Wonderful movement from then on. 10

20/22 Khedira

The man whose expert shuttling and well-timed runs destroyed Brazil's collapsing system. Made the fourth, scored the fifth and could have had more. 10

21/22 Ozil

Had more than enough space in wide areas to enjoy himself, always moving intelligently and involved in creating two of the first-half goals. 8

22/22 Klose

On the night Germany humiliated Brazil, Klose broke Ronaldo's World Cup scoring record, beating Julio Cesar for the second goal. 8
6 – The goal margin between the two sides was the biggest recorded in the World Cup semi-finals, beating the previous best of five set back in 1930 when Argentina beat the United States and Uruguay beat Yugoslavia by the same scoreline of 6-1.
8 – It is the eighth time that Germany have reached the World Cup final – more than any other country.
13 – Thomas Muller is the 13th player to score 10 career World Cup goals.
16 – Miroslav Klose scored his 16th World Cup goal to overtake Ronaldo as the top goalscorers in World Cup history.
29 - Germany were 5-0 up within 29 minutes - faster than any other side in World Cup history.
39 – The defeat came as Brazil's first competitive home defeat since their 3-1 defeat in the Copa America to Peru on 30 September, 1975 – also at the Belo Horizonte.
51 - Brazil's first shot on target was in the 51st minute.
80 – Brazil have not conceded seven goals in 80 years, with the 8-4 international friendly defeat to Yugoslavia being the one and only other occasion this has happened.
94 – Brazil equalled their worst ever defeat which came 94 years ago in the 6-0 defeat to Uruguay on 20 September 1920.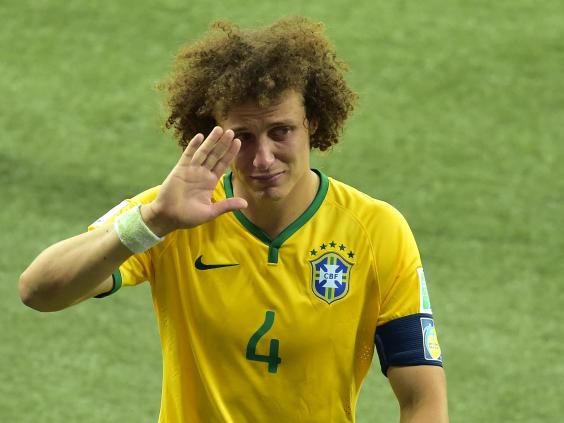 102 –

In 102 matches, Brazil have never trailed by four goals, with Tuesday's defeat representing the first time they have ever been behind by such a margin.
179 - The number of seconds that elapsed between the second and fourth goals.
223 – Germany now hold the record for the most World Cup goals of all-time, with their seven on Tuesday taking them above none other than Brazil and their tally of 220.
200,000,000 – Brazil's estimated population of 200m were left heartbroken at the final whistle (or after 29 minutes, depending on how long they stayed).
Reuse content