While the real Neymar will not be on the pitch for tonight's World Cup semi-final between Brazil and the Netherlands, there are expected to be thousands of him in the crowd.
In a show of support for the injured striker, fans of the host nation are planning to wear masks of the 22-year-old superstar.
While it won't make up for his absence on the pitch, it could make for a brilliant spectacle inside the Estádio Mineirão in Belo Horizonte with up to 60,000 people possibly wearing one.
However some fear it could be a rather terrifying as well owing to the somewhat sinister looking mask. If it is the Germans that are freaked out though and it helps Brazil reach Sunday's final, it will have been worth it.
Brazil federation encourages fans to wear unsettling Neymar mask to World Cup semifinal #BRA vs NED #KBCWORLDCUP pic.twitter.com/9zPQCy5qS4

— KBCChannel1 (@KBCChannel1) July 8, 2014
The initiative was reportedly instigated by a Brazilian couple who came up with the idea along with the hashtag #somostodosneymar (we are all Neymar). Among those to support it is the Brazilian FA.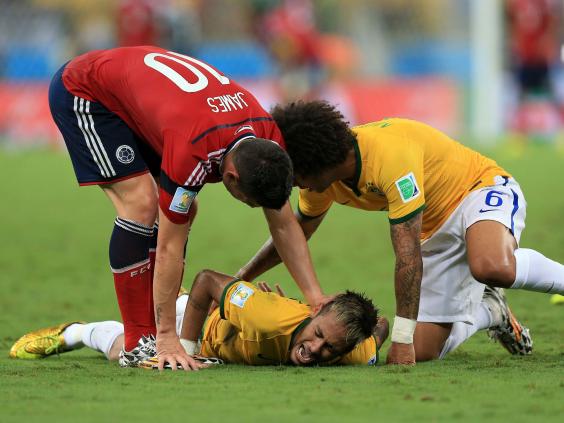 Also absent for Brazil tonight will be captain Thiago Silva who is suspended.
The match kicks off at 9pm.
Reuse content