As Andre Schurrle controlled a perfectly floated chip over the beleaguered Brazil defence to smash home the seventh goal in the 7-1 demolition, Germany completed their night's work, having booked their place in the World Cup final about an hour previous to this thanks to five goals in 27 minutes.
But it could have been more, and unfortunately, it was Mesut Özil who missed a simple chance to extend Germany's lead even further.
Substitute Julian Draxler put the Arsenal star through on goal, and while he beat goalkeeper Julio Cesar, he managed to beat the far post as his effort trickled wide of the goal. 24 seconds later, Oscar scored Brazil's consolation and Germany lost their clean sheet.
But the 25-year-old can be excused for failing to add an eighth goal after he turned in his best performance since arriving in Brazil, and for that matter quite some time. The midfielder showed just how good he can be as he provided the impetus in the German attack, having a hand in the second and fifth goals for his side and demonstrating his full repertoire with perfectly timed passes and silky touches throughout.
He looked like the confident player that starred for Arsenal in the first half of last season, although it's always a welcome bonus when you have team-mates with the quality of Thomas Muller and Toni Kroos on hand and your side scores five goals in 29 minutes.
Watch the miss below:
At least he didn't have the pressure of running through on goal to score the match-winner, otherwise his team-mates might not have been as forgiving come the full-time whistle (although Manuel Neuer was less than impressed with the defending for the goal)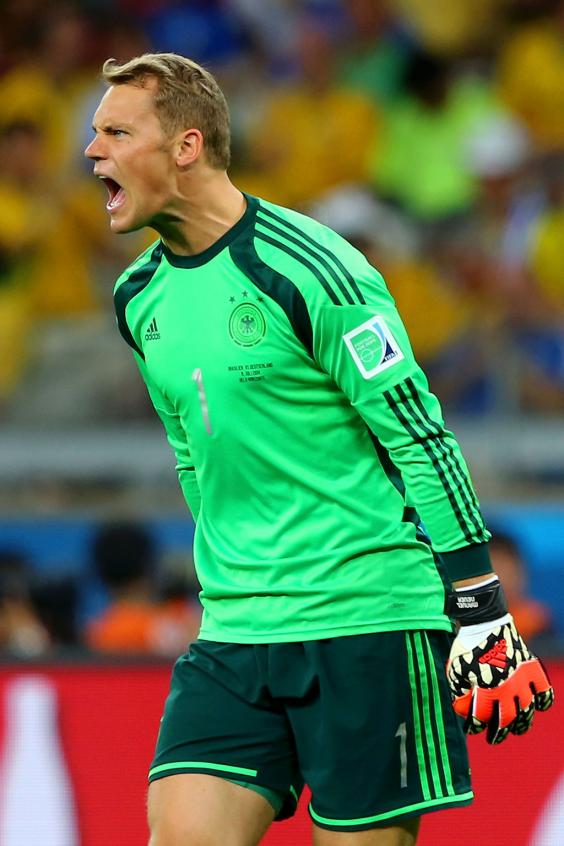 For Germany, the match represents one of, if not the most impressive showing at a World Cup, as they inflicted Brazil's heaviest ever defeat in the tournament's history as well as their first competitive home loss in 39 years after a 63 match run.
Brazil 1 Germany 7 player ratings
Brazil 1 Germany 7 player ratings
1/22 Brazil: Julio Cesar

Having performed so well before, especially in the last 16 against Chile, must have been distraught at the disaster in front of him. Powerless. 4/10

2/22 Maicon

A 32-year-old with that much experience should be taking responsibility, but Maicon never did, simply making the runs he wanted to make. 3

3/22 David Luiz

Instead of showing discipline and leadership, rising to the role of captain, he was abysmal, playing only his own game and abdicating all responsibility. 2

GETTY IMAGES

4/22 Dante

Always unlikely to replace Thiago Silva adequately, and he provided none of the skill, awareness, leadership or discipline his captain does. 3

5/22 Marcelo

Conceded the corner for the first goal and never looked especially keen on stopping Germany from adding to their tally. 2

6/22 Luis Gustavo

Asked to provide balance in midfield, he was swamped by Khedira and Kroos, as the spine of this Brazil side melted away in the first half. 3

7/22

Utterly outclassed by the German midfield, he could barely get on the ball until scoring his sharp consolation goal. 4

8/22 Fred

Just as anonymous as he had been for the rest of the tournament and once the damage had been done he was booed and jeered by the fans. 2

9/22 Fernandinho

Meant to provide energy and presence in midfield but he was dismal, swamped by German numbers and gifting the ball for the fourth. Off at half-time. 2

10/22 Hulk

Did have an opening or two in Brazil's bright opening but, not for the first time, lacked the skill to take advantage. Did not make the second half. 2

11/22 Bernard

Trusted to fill Neymar's role, by the time he saw the ball Brazil had already lost. At least he wanted to try things in the second half. 4

12/22 Germany: Manuel Neuer

Did in fact have a few saves to make, early in the second half, and he was impeccable again until Oscar's late consolation goal. 7/10

13/22 Lahm

Made one excellent tackle on Marcelo when the game was still 0-0. After that it was all attack, crossing well from the right for the third and sixth goals. 8

14/22 Boateng

Called upon once or twice to defend, which he did very well, and spent the rest of the evening admiring the quality of his team's forward play. 7

15/22 Hummels

His only disappointment, having come off at half-time for Per Mertesacker, is that he could not add to his goal tally for the tournament. 7

16/22 Howedes

Not quite as incisive as Lahm on the opposite side, but was still impressive, never once beaten defensively and providing a useful option out wide. 7

17/22 Kroos

Operating in the oceans of space in front of Brazil's centre-backs, he played the through pass for the second goal and scored the third and fourth. 10

18/22 Schweinsteiger

Can barely have expected such a comfortable evening, winning the ball and moving it forward for his team-mates to do the damage. 8

19/22 Muller

Showed he is one of the best big-game players in the world, with that brilliant nose for goal to score the first. Wonderful movement from then on. 10

20/22 Khedira

The man whose expert shuttling and well-timed runs destroyed Brazil's collapsing system. Made the fourth, scored the fifth and could have had more. 10

21/22 Ozil

Had more than enough space in wide areas to enjoy himself, always moving intelligently and involved in creating two of the first-half goals. 8

22/22 Klose

On the night Germany humiliated Brazil, Klose broke Ronaldo's World Cup scoring record, beating Julio Cesar for the second goal. 8
With Germany moving forward to Sunday's final against either Netherlands or Argentina, Brazil must recover,m and recover quickly. The squad will want the ground beneath them to swallow each of them up, but they still have the third-place play-off to compete in when they face the loser of tonight's semi-final in Brasilia on Saturday.
Should the Netherlands win, they would prevent Argentina a chance to win the World Cup in their rival's backyard, yet hand Lionel Messi and Co the opportunity to embarrass Brazil even further. All things considered, it's a lose-lose situation for the Selecao.