On Tuesday afternoon the six football-crazy Müller brothers – Arno, Heinz, Horst, Rubens, Udo and Ralf – will sit down with their wives and children to watch Brazil vs Germany in the World Cup semi-final. They will be wearing football shirts coloured in the black, red and yellow of the German flag. They will be speaking German, drinking beer and cheering on the Fatherland.
Yet this Müller family do not live in Germany and do not have German passports. They live more than 6,000 miles away in Pomerode, which prides itself on being the "most German town in Brazil".
"If it's handball or swimming I support Brazil," says Ralf, the youngest brother aged 48. "But when it comes to football, it's Germany 100 per cent."
Video: Sam Wallace previews Brazil vs Germany
Pomerode is a town of 28,000 people about 500 miles south-west of Rio de Janeiro, situated in an area that was colonised in the mid-19th century by German immigrants, especially from Pomerania, an area now mostly in Poland.
Neymar's best and worst moments of the 2014 World Cup
Neymar's best and worst moments of the 2014 World Cup
1/9 Neymar scores his first against Croatia

After going a goal behind in the very first match of the tournament courtesy of a Marcelo own goal, Neymar got his tally off the mark as he scored from long range to drag Brazil level.

GETTY IMAGES

2/9 He adds his second in controversial circumstances

Despite a stop-start, jerky run up, Neymar converts from the penalty spot to give Brazil the lead and they would go on to secure a 3-1 victory. However, the Croatians were infuriated by what they perceived as a dive from striker Fred to win the penalty. Not that it mattered to Neymar, who duly took his chance from the spot.

GETTY IMAGES

3/9 But was he lucky to be on the pitch?

A stray elbow on Luka Modric could have warranted a red card for Neymar, but he escaped with a yellow and was on hand to score later in the match when the opportunity arose.

Getty Images

4/9 Tears of pride

Neymar in tears during the Brazil national anthem before the game with Mexico, such is the importance of the occasion

GETTY IMAGES

5/9 Neymar left frustrated against Mexico

An unimpressive Brazil side were left hugely frustrated by Mexico goalkeeper Guillermo Ochoa. In a man-of-the-match display, Ochoa kept out a close range header from Neymar to see the match end as a goalless draw.

GETTY IMAGES

6/9 Back on form and back in the goals

You can't keep a quality player quiet for long though, and unfortunately for Cameroon, their dismal World Cup campaign came to an end at the hands of another Neymar brace. Taking his tally to four goals, Neymar put himself in the reckoning for the Golden Boot, although his injury has put paid to that dream for now.

Getty Images

7/9 Caught with his pants down

Despite being the poster boy of Fifa's World Cup, the governing body confirmed that they were investigating Neymar for allegedly breaching sponsorship rules by partially showing the top of his underwear that may or may not have been part of a sponsorship stunt. Eventually, Fifa conformed they would take no further action.

GETTY IMAGES

8/9 Neymar's penalty prowess sees off Chile

After a hard-fought 120 minutes, Brazil and Chile were locked at 1-1 courtesy of David Luiz and Alexis Sanchez strikes. Mauricio Pinilla and Sanchez both saw their penalty shootout efforts saved by Julio Cesar, but Willian and Hulk followed suit. With the weight of a nation on his shoulders, Neymar coolly slotted home from the spot, which turned out to be the match-winner as Gonzalo Jara then hit the post to send Brazil through to the quarter-finals.

9/9 One assist, no goals and a trip to hospital sees Neymar done

The forward had seen his impact in the quarter-final against Colombia somewhat limited due to the rough and tumble nature of the match – although the Brazilians were just as guilty of using the tactic against James Rodriguez. His corner allowed Thiago Silva to bundle the ball across the line for the opener, before Juan Camilo Zuniga's ill-timed knee in the back cracked on of Neymar's vertebrae and ended his run at this year's World Cup.

GETTY IMAGES
Until the mid-1990s almost everyone spoke German or Pomeranian, a dialect now obsolete in Europe, and there was very little marrying out of the community. With the growth of local industry – metallurgy, textiles and plastics – workers arrived from other parts of Brazil and now between 60 to 70 per cent speak German or Pomeranian. Local state schools are bilingual and the town remains very proud of its German heritage.
"Pomerode is a little piece of Germany," says Ralf. "We have 26 shooting clubs, we have German dinner dances, we listen to German music, there are 200 groups who have their own Stammtisch [regular get-together], we have an annual Pomerfest, and we have coffee with cake every afternoon. Here you can't escape it. Every day we do something that is German."
Ralf and his brothers are sporting legends in Pomerode. In 1973 their father, Conrado, founded a football team with the sole purpose of fielding all his sons in it. The team, called Assossiação Desportiva Müller – the Müller Sports Association – won many municipal, regional and state trophies in the 1980s with the brothers as the core players. AD Müller still exists and Ralf trains 70 children in its youth divisions – some of them grandchildren of the initial team. The brothers and their families will be watching today's game in the AD Müller clubhouse.
"When Brazil play we invite everyone to the clubhouse to watch, but when it is Germany only family are invited," he says. "When the World Cup started we didn't want to see Germany v Brazil. For us it would have been better if that was the final."
Ralf says he prefers Germany at football because the German Football Federation is a more serious institution than its Brazilian equivalent. He has none of the sense of national injustice and grief that Neymar is injured and will not play in the game today. "Football is a contact sport. It could have happened to a German, a Nigerian, or whoever. It's part of the game." He is sad about one thing, though: "We would prefer to beat a full-strength Brazil."
On the streets of Pomerode during the World Cup, there are as many German shirts and flags as there are Brazilian ones. Many locals will be watching the game on screens in the town's three bars: Schornstein, Opa Boteco and Curry Wurst.
Gilmar Alfredo Borchardt, the manager of Curry Wurst, thinks that the clientele today will be roughly 50-50 between Germany and Brazil supporters. Usually he works wearing a Germany top, but he has decided against putting it on today so as not to offend potential customers.
"I have to remain neutral since I am a commercial enterprise, even though I lean towards Germany. It is a more developed culture, everything works better than it does here, and the people are more polite," he says.
Pomerode is the most German town in Brazil, but not the only one with a heavy German influence. The main town in the region, Blumenau, which is 20 miles away, has oompah-bands playing in the streets, is a centre of Brazil's beer industry and has an annual Oktoberfest that attracts about 500,000 people, the largest in South America.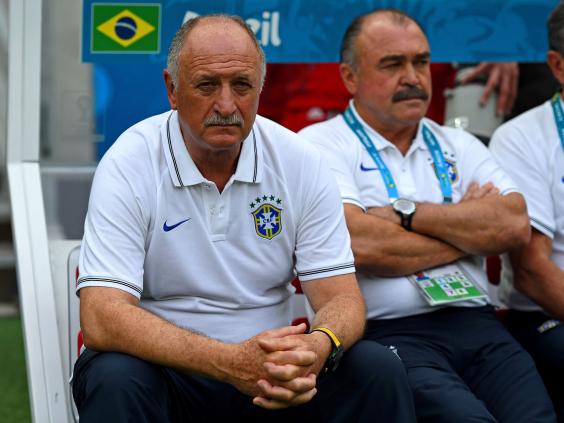 The Oktoberfest is held in the Parque Vila Germanica, the town's main tourist attraction, which is a convention centre-cum-theme park where the buildings have replica German architecture like steep roofs and spires. The Parque will also be hosting a party for the game today, although Ricardo Stodieck, Blumenau's secretary of tourism, suspects that most people will be supporting Brazil.
Stodieck, however, said that there is a huge affection for Germany in the region. He travelled to Porto Alegre, in the neighbouring state, to see Germany v Algeria in the round of 16 last week. "There were many, many Brazilians wearing Germany shirts," he says.
Brazil is a country of immigrants – with large communities of Italians, Spanish, Portuguese, Lebanese and Japanese, among others. Each of these groups has become Brazilian but perhaps none of them has maintained the traditions of their ancestors as much as the Germans. Many prominent Brazilians have German lineage, such as the supermodel Gisele Bündchen.
"What we have here is the most successful example of German immigration in the world," Stodieck says.
Reuse content