As someone who made his international debut against Italy in a Brazil shirt, then in his next game made another international debut, also against Italy, this time in a Spain shirt, things were never going to be straightforward for Diego Costa.
His strange international career has taken another twist during this international break. After failing to score in his first five games with the European champions, his replacement in the Spain team scored after just 17 minutes in a resounding 5-1 win over Macedonia.
Worse for Costa than the fact that 21-year-old Valencia striker Paco Alcacer netted so early, on what was his full debut, and added an assist, was that Spain played far better without Chelsea's centre-forward than they had done with him during the World Cup and in a dire friendly defeat last week to France.
After that failure to beat Didier Deschamps' side in Paris, Costa was defended by coach Vicente Del Bosque who said the team needed to adapt to him. Costa contradicted that, saying he needed to adapt to the team. All efforts to adapt were suspended when he left the squad complaining of a hamstring injury and returned to London before the Macedonia game.
"Without Diego Costa and Raul Garcia, the team went back to its old ways," ran the editorial on Diario AS. For "old ways" read the ways that brought an unprecedented three straight trophies.
Therein lies coach Del Bosque's problem: Spain have somewhat renounced the short passing style based on Barcelona's football – and played best by a team full of smaller midfielders – for a slightly more direct approach that suits Costa… and it hasn't worked.
On Monday at the Cuitat de Valencia stadium it was almost a return to the false nine tactic that saw Spain win the European Championship in 2012. Manchester City's David Silva spent much of the time in centre-forward territory as Alcacer dropped into a wide-left position.
Silva was Man of the Match and scored his 21st goal for Spain. Of non-strikers, only former Real Madrid midfielder Fernando Hierro has scored more for La Roja. Silva, like Cesc Fabregas, is well suited to playing in a team that doesn't have a No 9.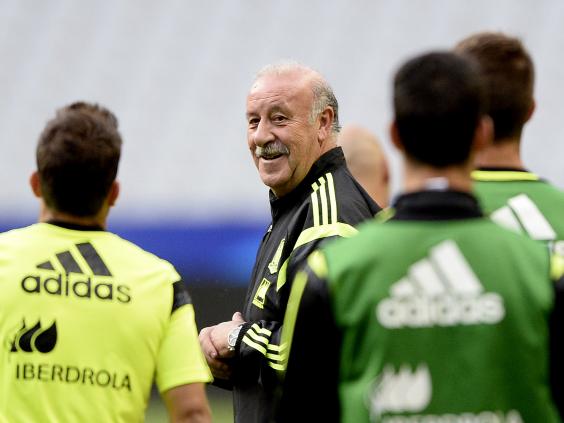 Where does all this leave Chelsea's centre-forward? Having been the man who sat down with Costa in October 2013 in Madrid to persuade him to walk away from the Brazil team, Del Bosque is not about to turn his back on the Brazilian-born Spaniard. Neither does anyone in Spain question just how good the striker – who shot Atletico Madrid to the title and now Chelsea to the top of the Premier League – really is. He will no doubt be in the squad to play Slovakia and Luxemburg in October where both player and adopted team will continue to strive to make this work.
The irony is that having replaced Luiz Felipe Scolari, Dunga would doubtless love the option of calling Costa into his Brazil team. Can you annul an international career if no goal has been scored, the same way you can an unconsummated marriage?
Reuse content