The Project
When Marcelo Bielsa was appointed Chile head coach in August 2007, few would have imagined that 10 years later Chile would be two-time Copa America champions, on course to qualify for their third consecutive World Cup and in the process of preparing for their Confederations Cup debut.
Just a month prior to his appointment, they had bowed out of the Copa America in embarrassing fashion with a 6-1 defeat to Brazil in a listless display the day after a number of players had been caught out partying. More broadly, they had qualified for just one of the previous six World Cups. They had never won a major international trophy.
Harold Mayne-Nicholls had been voted in as the football federation president at the turn of the year and knew that changes were needed, on and off the pitch.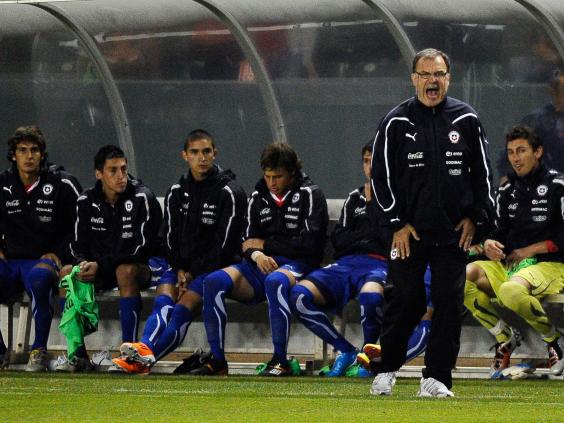 "After the 2007 Copa America, it was very clear that we needed an urgent 'revolution 2.0' in the national team," he told The Independent. "It would not have been good for our players nor our football to continue working in the same way we had been during the previous years. It needed a big shake-up."
Claudio Borghi and Manuel Pellegrini were among the other candidates considered for the position but it was Bielsa who got the job. Mayne-Nicholls had known him since the early nineties and was convinced by the work he had done with club sides and the Argentina national team, despite their failure at the 2002 World Cup. He felt Bielsa was the right man to lead Chile forward and reinstate the country's lost love for its national team.
"We never talked about qualification for the South Africa World Cup," Mayne-Nicholls recalled. "I simply asked him to bring discipline, rigour and humility to our national team."
 At his first press conference, eyes pitched down in his customary style, Bielsa said that he had accepted the offer because he felt he would have the necessary time and space to put together a long-term project. He felt he could make a difference.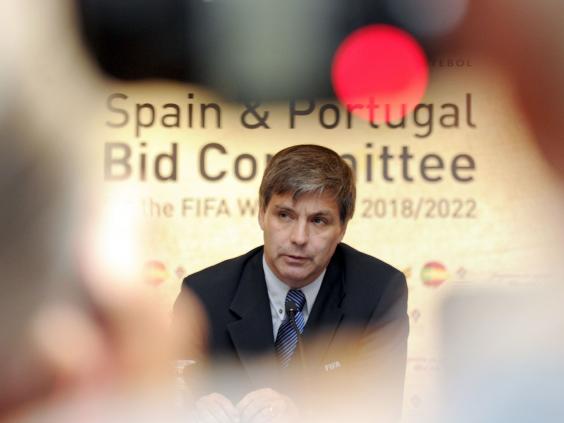 Bielsa is a coach with a singular way of working and his approach was far removed from anything most inside the federation had previously witnessed. Even Mayne-Nicholls was surprised by his commitment to improving the facilities at the national team training centre. No detail was too small, from the quality of the paving to the number of leaves that fell on the pitches overnight.
By the end of his reign, the outdated complex had been transformed into a modern training centre that included a cryotherapy chamber and other contemporary touches. All this while Bielsa himself lived a semi-monastic existence in a sparsely furnished bedroom on site; a flat-screen television to watch films and football, his two great loves, was his only luxury.
It was from those humble quarters that Bielsa transformed Chilean football, revolutionising its playing style and mentality, and laying the groundwork for glory.
The Players
Just a few weeks before Bielsa's appointment, Chile finished third at the Under-20 World Cup in Canada with a team that featured Alexis Sánchez, Arturo Vidal, Carlos Carmona, Gary Medel and Mauricio Isla. Three years later, all five would be starting in the World Cup proper.
Bielsa has never been afraid to put faith in young players. Way back in his first job at Newell's Old Boys in the late 1980s, he was happy to commit to a teenage defensive partnership of Mauricio Pochettino and Fernando Gamboa. So while the talent in that group was undeniable, it is doubtful another coach would have integrated them so quickly.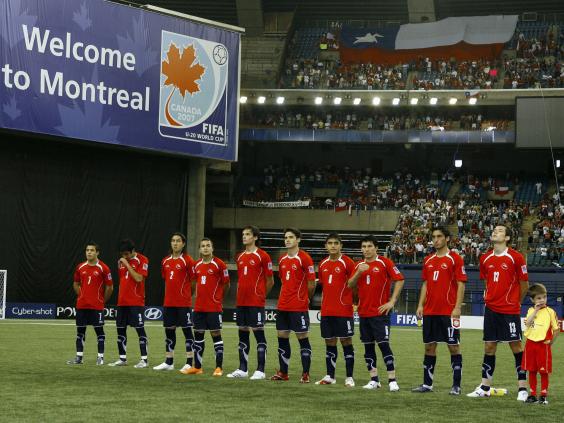 Time is a valuable resource in international football and Bielsa took advantage of each and every opportunity to work with his squad. Chile made a slow start to the World Cup qualifiers and Bielsa felt that his ideas weren't fully connecting with the group. The 2008 Toulon Tournament therefore took on great importance.
With Bielsa at the helm, Chile finished as runners up to Italy. Carmona, Medel and Fabián Orellana jumped straight from there into the squad for the next couple of World Cup qualifiers. Gonzalo Jara had been involved in just one of the first four qualifiers but went on to appear in 12 of the remaining 14. The team was coming together.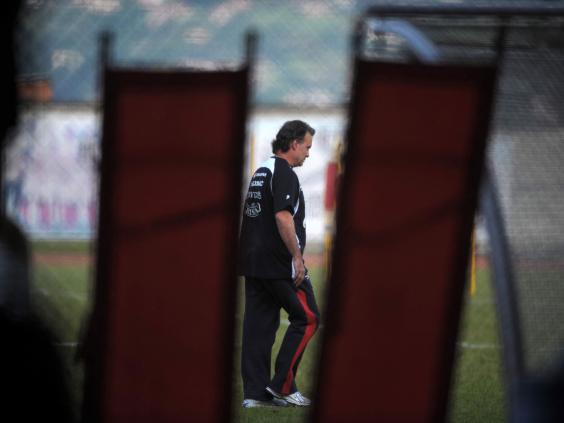 By the time Chile thrashed Colombia 4-0 in September 2009, the spine that has taken them through to the present day was in place: Claudio Bravo, Medel, Jara, Vidal and Sanchez. Jean Beausejour was on the bench that day but was a regular starter throughout the remainder of the campaign.
Bielsa had a significant effect on the development of these players despite his limited time with them. People who have worked with him emphasise the clarity of his ideas and his acute ability to transmit them to his players, both on the training ground and in the dressing room. The work is intense but his players consistently learn and improve.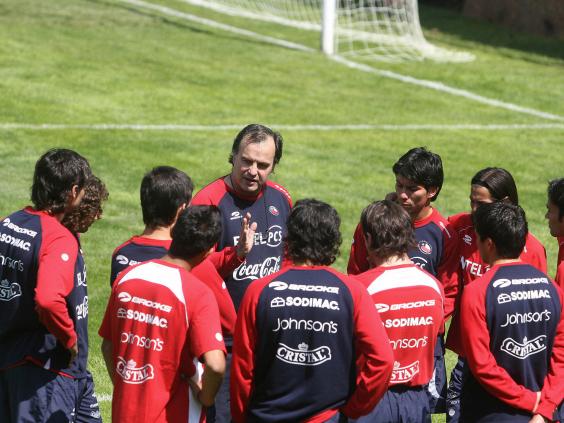 Seeds were planted that changed the mentality of the Chilean players. Bielsa encouraged them to seek new challenges and provided them with a platform to get noticed. It wasn't just the stars who moved to Europe, but others too: Beausejour and Jara to England, Carmona to Italy and Marco Estrada to France.
It wasn't all plain sailing. Isla briefly withdrew from national team contention as he didn't like being shouted at so much, while Vidal had a dust-up with physical preparation specialist Luis Bonini after not showing due attention in training. But in the end, both admitted that Bielsa had a profoundly positive effect on their development.
"Before I was erratic, running around like crazy all over the pitch," Vidal told El Mercurio in 2010. "I didn't concentrate well in matches or in training. He made me realise the importance of the mental side of my game and helped me grow as a person."
The Identity
On 15th October 2008, Chile recorded their first-ever victory over Argentina in a competitive fixture with a 1-0 win in front of a packed Estadio Nacional in Santiago. They dominated territory and the ball in a comprehensive display that yielded victory thanks to Orellana's first-half strike.
The performance represented a further and significant step forward in the development of the group. It also marked the point at which the Chilean public were truly awakened to the possibilities of Bielsa's approach - the point at which they realised he would make good on his promise to create a team that would take the initiative in every match, no matter the opponent, no matter the venue.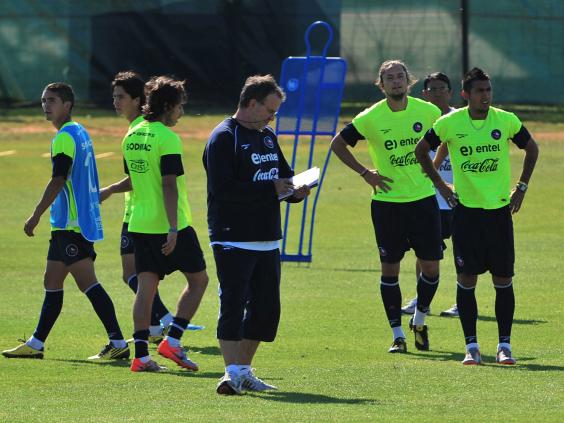 Chile's style of play had traditionally been more conservative. Their players were technically gifted but the team had always played in reaction to the characteristics of their opponents. The boldness and bravery of Bielsa was therefore highly alluring.
"He delivered a message to the Chilean team, Chilean football, Chilean society even," Armando Silva, co-author of the book De Bielsa a Sampaoli, told The Independent. "We can play as equals, we can take on the more historically powerful teams and cause them problems or at least try to, instead of living in constant fear of being thrashed."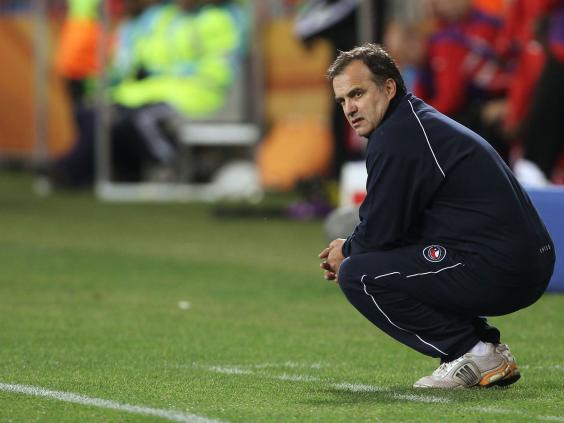 In addition to the win over Argentina, that commitment also carried Chile to their first away wins over Paraguay and Peru since the 1980s. There were a few bad results along the way but they never wavered from it on route to securing their place at the 2010 World Cup. Once there, their opening victory over Honduras represented their first win in the competition since the 1962 tournament on home soil. 
"The current generation had never seen the national team play that way," Silva explained. "My theory is that for a lot of people, the appearance of Bielsa signified a change in their mentality towards life, not just towards football. To be the protagonists of their own lives."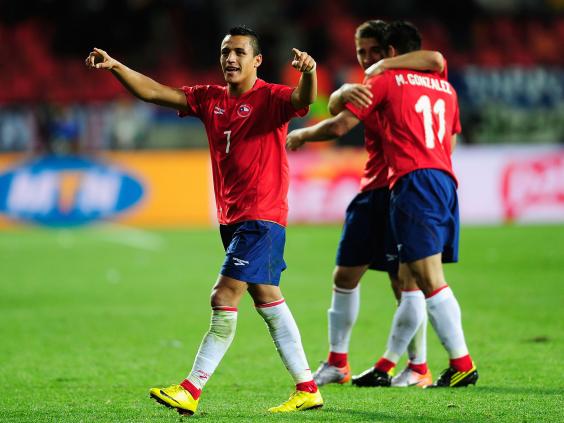 Perhaps this idea was an attractive one precisely because of how many Chileans had been forced to silence their dreams and desires during the years of the dictatorship. The urgency with which thousands of students took to the streets to demand educational reform wasn't directly born from Bielsa's approach but was certainly a reflection of it.
Bielsa's ideas also influenced domestic club football. It wasn't a top-down mandate but something that filtered down organically. Coaches from the Bielsa school became vogue - as Silva notes, at one stage teams seemed keen to appoint anyone who had even so much as set foot in Bielsa's hometown of Rosario.
Results were mixed, and it wasn't until after Bielsa's reign that coaches raised on his approach began to win trophies. In 2013, his former assistant Eduardo Berizzo led O'Higgins to the first league title in their history. The two previous years had been dominated by the Universidad de Chile side of Jorge Sampaoli, an admitted Bielsista.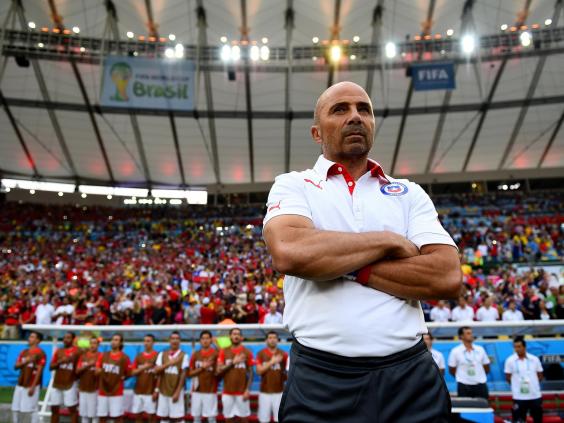 Sampaoli not only won trophies with Universidad de Chile but also provided the national team with a new set of players ready to play the Bielsa way: left-back Eugenio Mena, deep-lying playmaker Marcelo Díaz, box-to-box midfielder Charles Aránguiz and forward Eduardo Vargas.
Bielsa's approach created the conditions in which Sampaoli could succeed domestically and that success in turn provided the national team with the additional impetus that would eventually give Bielsa's project the triumphant end that it deserved.
The Success
Bielsa said goodbye to the Chilean public with a 2-0 friendly win over Uruguay in Santiago on 17th November 2010. He received a rousing reception, so strong indeed that there seemed to be a tear in the eye of outgoing president Mayne-Nicholls when the broadcast shifted to him in the stands.
Bielsa left content after witnessing a controlled and decisive performance, one in which he saw "stability, development and maturity," and which suggested to him that the players were well placed to move forward without him there to direct them.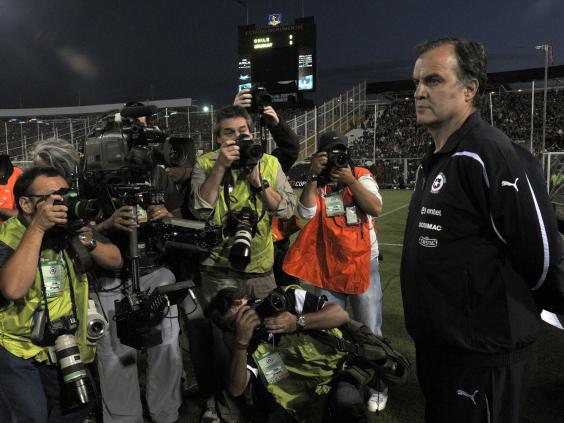 The problem was that there no obvious candidate capable of continuing his work. The appointment of Claudio Borghi therefore seemed a solid one given that he had previously worked with a number of the squad during his successful time at Colo-Colo. In reality, the intensity of the side dropped, he struggled to maintain discipline and results suffered.
Fortunately, by the time his reign came to a premature end, an outstanding option had emerged in the form of Sampaoli, whose rip-roaring strain of Bielsa-ball had led Universidad de Chile to three league titles and success in the Copa Sudamericana.
Sampaoli turned around Chile's faltering World Cup qualifying campaign with five wins in the remaining seven rounds. At the tournament proper, they defeated holders Spain on route to second in their group and then came within a struck crossbar of eliminating hosts Brazil in the last 16 before eventually falling on penalties.
Afterwards, Sampaoli and his team sat down to analyse their performance and plot a way forward for the upcoming Copa America on home soil. This was now an experienced squad. In Europe, the players had been exposed to different approaches and tactical nuances. The time was right to incorporate some new elements into the team's play.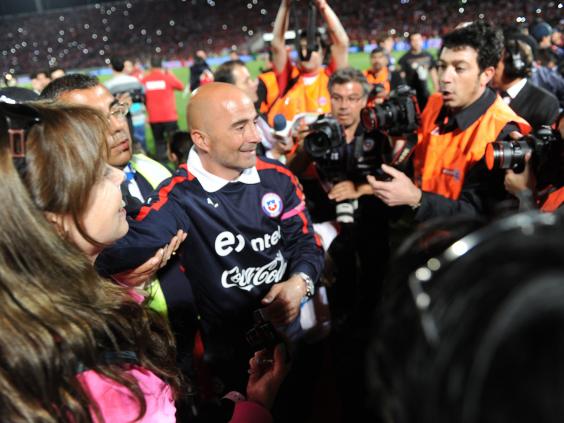 Speaking to members of Sampaoli's coaching staff, they describe a studious atmosphere in which personal and collective development were actively encouraged. Without the day-to-day responsibilities of club work, they had sufficient time to study different playing models and develop a new approach that mixed the schools of the two coaches that had most influenced them: Bielsa and Pep Guardiola.
"I understood that we were too direct - that when we attacked quickly our opponents also came back at us quickly," Sampaoli explained to El País. "We didn't have great defensive specialists, so we tried to defend with the ball, like Pep does, and in this way we mixed bielsismo with guardiolismo."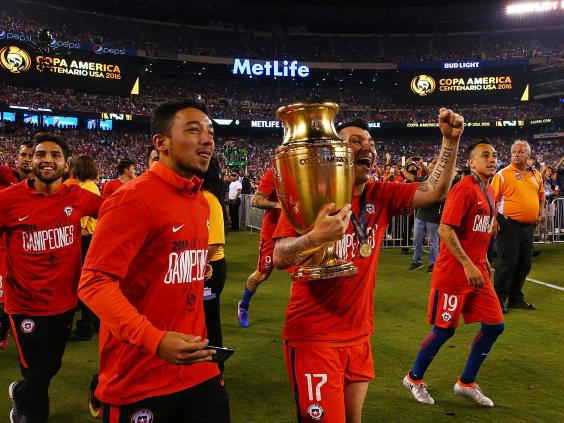 The change didn't immediately gain the approval of the Chilean public. There were murmurs of discontent in their first couple of matches at the Copa America. But as the tournament progressed and its effectiveness became evident, resistance softened.
By the time Bravo hoisted aloft the trophy in front of a jubilant Estadio Nacional following Chile's penalty-shootout victory over Argentina in the final, all doubts had dissipated.
The path had been set, and it is one that Juan Antonio Pizzi has continued on since replacing Sampaoli early last year. Further success followed at the Copa America Centenario, and Chile now have the chance to put down a marker ahead of next year's World Cup with a strong showing at the Confederations Cup.
Chile's transformation has had many authors, but none as important as Marcelo Bielsa.
Reuse content