After all the histrionics, a bit of history is made, all the while offering a glimpse of the future. Colombia reach the quarter-finals of the World Cup for the first time ever but their star man James Rodriguez looks set to grace such stages many times.
They charge on, while the Uruguayans choke, sent home with Luis Suarez.
Without their own star, Oscar Tabarez's team just did not have enough. They could not make a statement quite as abrasive as the manager's pre-game press conference. The intensity of their performance did not match the intensity of their rage.
No-one could match Colombia's No 10. Rodriguez brought all the mercurial brilliance that Suarez could not, without any of the malice. His capacity for the unpredictable again astounded, and it was all the more admirable because of the predictable pattern the game  set in to before his latest wonder-goal.
Colombia 2 Uruguay 0 player ratings
Colombia 2 Uruguay 0 player ratings
1/21 David Ospina

Stopped everything that Uruguay could muster and looked good throughout. 7

Getty Images

2/21 Camilo Zuniga

Solid at the back and even managed a few efforts on goal. 7

Getty Images

3/21 Pablo Armero

Got up and down from left-back for the full 90 minutes, top game. 8

Getty Images

4/21 Mario Yepes

The 38-year-old looked good again and never trouble. 7

Getty Images

5/21 Cristian Zapata

Like his defensive partner, was fantastic at the back all game. 7

Getty Images

6/21 Carlos Sanchez

Not too much impact going forward but good throughout. 6

Getty Images

7/21 Abel Aguilar

Not quite the same impact of other games this summer but still good work. 6

Getty Images

8/21 Juan Cuadrado

Top, top player once again, a real highlight for Colombia. 8

Getty Images

9/21 James Rodriguez

Superb performance. Goal-of-the-tournament contender and another well taken goal. Real superstar in the making. 9

Getty Images

10/21 Teofilo Gutierrez

Played well throughout until being taken off on 70 minutes. 7

Getty Images

11/21 Jackson Martinez

Not the impact he would have hoped for but still did well. 6

Getty Images

12/21 Fernando Muslera

Made a couple of good stops but couldn't do anything for either goal. 6

Getty Images

13/21 Maxi Pereira

Looked frustrated at times but did ok on the whole. 6

Getty Images

14/21 Diego Godin

Had a chance to get a goal from a corner but headed wide. Not bad at the back but not great. 6

Getty Images

15/21 Alvaro Pereira

Poor evenings work from him and taken off on 53 minutes. 4

Getty Images

16/21 Egidio Rios

Doged and determined as ever but lacked real quality going forward. 6

Getty Images

17/21 Alvaro Gonzalez

Did ok but not the impact Uruguay wanted, taken off after an hour. 6

Getty Images

18/21 Jose Gimenez

Yellow carded for a cynically foul and a tough game throughout. 4

Getty Images

19/21 Cristian Rodriguez

Was busy throughout but failed to test Colombia properly. 6

Getty Images

20/21 Edinson Cavani

Missed the couple of half-chances that came his way. 5

Getty Images

21/21 Diego Forlan

Hardly had a touch of note in his 53 minute of action, poor. 4

Getty Images
Within minutes of kick-off, it was Rodriguez himself who picked the ball up near the Colombian box. As he tried to turn inside, he was met with two granite-hard Uruguayan bodies, one of them only too willing to bounce him onto the turf.
It was always going to be one of Tabarez's main strategies. Even with Suarez, Uruguay had looked like a conservative team whose primary outlet was to feed the ball to their star and hope he did something stunning. Without him, they were surely going to be even more prepared to just try to stun the opposition.
Although Uruguay did step out once early on, it only led to Juan Zuniga suddenly bursting through the centre before – of course – being taken down. Tabarez's team were given due warning. They immediately dropped back, and thereafter were only willing to allow Edinson Cavani forward.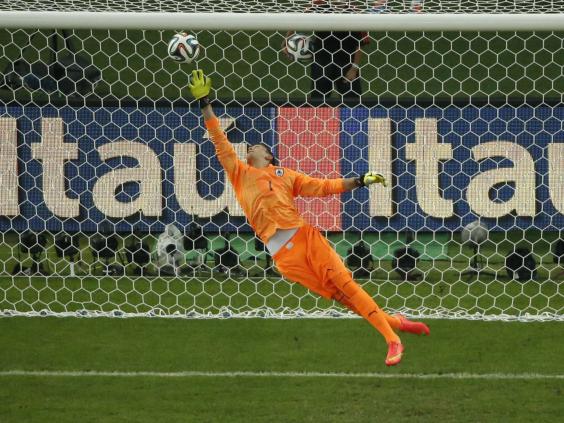 That revealed part of the problem. The Paris Saint-Germain striker's erratic recent form initially continued. When suddenly played through with a superb ball over the top, he could do nothing but get the meekest of touches onto it. That only encouraged Uruguay to dig in even more, and it became clear they were just going to make it as difficult as possible for Colombia to break them down.
So, Rodriguez did something that is hugely difficult to pull off, at least for any regular player. As the ball ricocheted into the air just in front of the Uruguayan 18-yard box, he chested it, turned and – without letting the ball hit the ground – smashed it in off the crossbar with the purest arc of a shot. It was divine, and possibly the goal of the World Cup so far. Rodriguez is certainly one of the players of the World Cup so far.
Their game plan now absolutely wrecked, Uruguay had to come out and attack.
They did try, but did not have much triumph first off. The best they could offer before a half-time was a skied Cavani free-kick and a bit of goalmouth chaos. It was their own defence that soon fell to chaos, though. Colombia back onto the field for the second half apparently determined to blow Uruguay away, to ensure no margin for error.
They first opened up Tabarez's side with some smooth passing, before simply smashing them with something a little more fundamental. The ball was swung into the box, Juan Cuadrado headed it back, and there was only one outcome. There was also only man worth talking about. Rodriguez slotted the ball home to take his tally for the tournament up to five. He is currently its top scorer.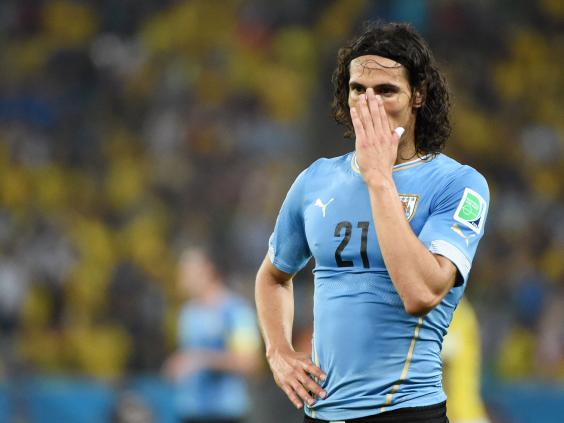 Uruguay by then had a huge job to do to topple Colombia. Cavani attempted to course through but only encountered impressively driven defenders.
Uruguay just had so little to offer. After all the sound and fury, this was perhaps the deepest consequence of Suarez's bite. He was always going to be suspended for this match, regardless of every other debate about the ban.
That completely self-enforced absence meant Uruguay could only play one way, with virtually no avenue of attack, and no equivalent response to Rodriguez's brilliance. They might have done had Suarez actually used his ability rather than his aggression against Italy. Instead, once their limited game plan was rumbled, so were they. They were also out. There was no-one else to blame this time, only Colombian players to praise.
Brazil now await. James Rodriguez has already arrived and may have a long way yet to go.
Reuse content