Some years ago, on holiday to Costa Rica, I was struck by how every town, village and hamlet, however small, had three common elements: a school, a church, and a football pitch. Now the world is waking up to the fact that this small central American country, previously best-known for not having an army, is also obsessed with football.
Given that enthusiasm, and a population larger than Uruguay (twice winners in the early years, and also semi-finalists in 2010), Croatia (semi-finalists in 1998) and Republic of Ireland (quarter-finalists in 1990) it is perhaps surprising Costa Rica have not been more successful. It is not, however, easy to qualify from Concacaf with Mexico and United States so dominant in the north and central Americas and Caribbean region.
Nevertheless, Costa Rica have the third strongest domestic league after those two giants, a fact reflected in two players in their giant-killing side, Michael Unama and Yeltsin Tejeda, playing for Saprissa in the capital, San Jose, and a third home-based player, Cartagines' Randall Brenes, being introduced against England.
England 0 Costa Rica 0 player ratings
England 0 Costa Rica 0 player ratings
1/22 Keylor Navas

Managed to cope with everything that England could muster. 7

2/22 Christian Gamboa

Did fine at the back for the South Americans. 6

3/22 Junior Diaz

Not quite as influential as against Italy but fine. 6

4/22 Randall Brenes

Removed on the hour mark after being pretty ineffective. 5

5/22 Joel Campbell

Did very little against England unlike first two World Cup games. Taken off after the hour. 5

6/22 Celso Borges

Played ok but not as attacking as before. Taken off for last ten. 5

7/22 Yeltsin Tejeda

Yeltsin Tejeda Played fine but never really a threat. 6

8/22 Bryan Ruiz

A couple of moments of quality skill but not very effect on his worst game of the World Cup so far. 6

9/22 Roy Miller

First start of the World Cup and performed well. 7

10/22 Giancarlo Gonzalez

Was solid at the back and gave England very little. 7

11/22 Oscar Duarte

Constantly good performer for Costa Rica and did well again. 7

12/22 Daniel Sturridge

Daniel Sturridge England's likeliest player to score, with ambitious efforts from the edge of the box in the first half and closer chances after that, but no success. 5

13/22 Adam Lallana

Lallana Some sharp runs round the corner, trying to out-wit the Costa Rican defence, and a few nice touches, but never too influential before he was taken off. 5

14/22 Ross Barkley

Not especially involved in play but he still can produce exciting moments, like when he made himself room to shoot with his left early in the second half. 5

15/22 James Milner

Worked tirelessly down the wings, as he always does, chasing passes but not always creating chances for team-mates when he got on the ball. 6

16/22 Jack Wilshere

The most dangerous of England's new players, he drove forward with the ball, played with his head up and sparked England's best moves. 7

17/22 Frank Lampard

Showed his years of experience with a controlling performance at the base of the midfield, giving a glimpse of the type of player England have missed. 6

18/22 Luke Shaw

As secure as any 18-year-old full-back on World Cup debut has a right to be, storming up and down the line, solid on and off the ball. 6

19/22 Chris Smalling

Solid defensively, although with not much to marshal, Smalling was slightly better with the ball than Phil Jagielka without quite being at the level England need. 6

20/22 Gary Cahill

On his third straight start, Cahil looked assured against opponents who were not as ambitious as they had been in their first two games. 6

21/22 Phil Jones

Never looked especially controlled, either while defending or going forward. Has to work this coming season on establishing a permanent role for England and Manchester United. 5

22/22 Ben Foster

Did not have too much to do but made one brilliant finger-tip save from Celso Borges' top-corner free-kick late in the first half. 7
Having reached Brazil, Costa Rica have prospered in the heat. Fulham's Bryan Ruiz, their captain, said beforehand that "the climactic conditions give us an advantage, in Costa Rica we are used to the humidity," and so it has proved. They have also, as Ruiz anticipated, played as a team not a collection of individuals like some countries (Cameroon and Ghana being the more obvious examples).
This is partly down to the coach, Colombian Jorge Luis Pinto, who places great store by positional discipline and a group ethic. This has enabled Costa Rica, unlike the team that came bottom of Group D, to be more than the sum of its parts; while the bulk of the squad play in Europe only two figured in the Champions League last season: Arsenal loanee Joel Campbell with Olympiakos, and Copenhagen's Christian Bolanos.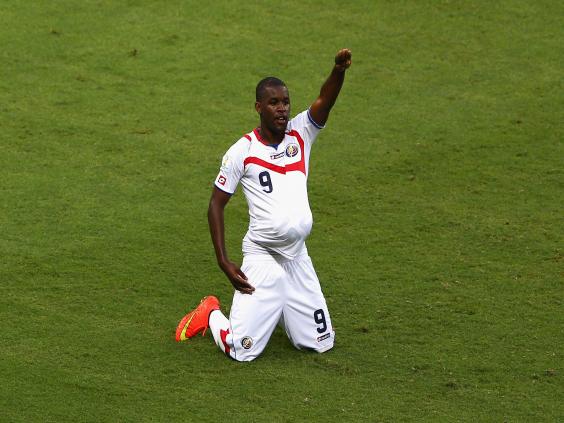 In this they are similar to tomorrow night's opponents, Greece, who have largely stuck to the template established by Otto Rehhagel in winning Euro 2004. The Greeks, though, are more defensive in outlook, qualifying despite scoring only two goals in three games. Pinto will look to  emulate his countrymen who put three past Greece in their opening game causing them trouble on both flanks.
The Greeks will know all about Campbell, who scored nine goals last season for an Olympiakos side who provide three of Greece's defensive players.
Both sides, having not expected to meet each other at this stage, have been frantically plotting since qualification on Tuesday. Tejeda said, "We were thinking more about Colombia and the Ivory Coast and in the end came the least expected team. Now we have to change the video  cassette."
Greece manager Fernando Santos will have been even more surprised to be facing Costa Rica, though perhaps the most taken aback of all are ITV Sport, who must have hoped to have England as tomorrow evening's primetime viewing, but now get the most unlikely knock-out tie since Portugal met North Korea at Goodison Park in 1966.
That match finished 5-3, Eusebio reviving the Portuguese after North Korea took an incredible 3-0 lead. ITV will hope tomorrow's game is just as dramatic.
Reuse content