In order to reach the second round of the World Cup for the first time since 1998, Croatia are going to have to do something not even Brazil could manage.
They're going to have to beat one of the unexpected stars of the tournament so far, Mexican goalkeeper Guillermo Ochoa. He marshals one of only two defences, along with Nigeria's, not to have conceded a single goal in this tournament.
Despite that, there was a surprising bullishness about Luka Modric as he began to talk about the influential return of the previously suspended Mario Mandzukic to the team. The Bayern Munich forward hit two against Cameroon to convert that win into a full 4-0 rout, and Modric expects him to only build on that today - and thereby demolish Ochoa's record.
"All to respect to Ochoa, but [Mandzukic] has scored against even better goalkeepers."
That assertive attitude could be essential because Croatia have no choice but to seize the occasion. A point behind both Mexico and Brazil, they need to win to go through.
The most controversial and shocking moments of the World Cup so far
The most controversial and shocking moments of the World Cup so far
1/15 Yuichi Nishimura gives Fred a penalty

The opening game of the World Cup between Brazil and Croatia was meant to be all about the hosts, but it was Japanese referee Yuichi Nishimura who stole the show. With the scores level at 1-1 and Croatia looking as likely to take the lead as the team in yellow, Nishimura gave an incredibly soft penalty after minimal contact between Dejan Lovren and Fred. Neymar, who perhaps should have been sent off earlier in the game for an elbow on Luka Modric, stepped up to score his second of the match and Brazil eventually won the match 3-1.

Getty Images

2/15 Finally, justice for Mexico

Mexico completely outplayed a poor Cameroon side but only after not one but two disallowed goals for Giovani Dos Santos. The former Tottenham striker had a volley and a header disallowed despite replays suggesting both should have stood. Thankfully Oribe Peralta scored during the second half and Mexico won the match.

GETTY IMAGES

3/15 The pantomime villain

The 5-1 defeat inflicted on Spain by the Netherlands was perhaps shocking enough, but the greatest moment of controversy came when pantomime villain Diego Costa appeared to aim a head-butt at Bruno Martins Indi. Being booed throughout by the locals due to his switching nationality, the soon-to-be Chelsea striker appeared to move his head towards the Netherlands player.

Getty Images

4/15 Hart goes mental at ball boy

Perhaps angered at being completely duped by an Andrea Pirlo free-kick that thankfully for England hit the bar, or maybe just desperate to get the game going again, Hart went wild as he looked to retrieve the ball. The Manchester City goalkeeper screamed and swore at the poor ball boy behind the goal.

YouTube

5/15 Just because your losing

A superb performance by Joel Campbell not only earned Costa Rica a win against Uruguay, it also saw him given a good kick by Maximiliano Pereira. The Uruguay defender put in a spiteful challenge on the Arsenal striker and waas shown the first red card of the World Cup.

GETTY IMAGES

6/15 Play on

Thanks to the referee, this was a moment of controversy avoided. With the scores level at 1-1, Ecuador had a great chance to take the lead in injury time. But after a superb defensive block by Valon Behrami, the Swiss broke. A dreadful challenge went in but referee Ravshan Irmatov waved play on and seconds later there were jubilant scenes as substitute Haris Seferovic rifled into the net.

GETTY IMAGES

7/15 Goal line technology

Making its first appearance at a World Cup, Fifa have been making the most of the goal line technology at their disposal. Goals that have clearly crossed the line have been replayed in great detail, just to confirm they have. But during France's win over Honduras the technology caused confusion, particularly for BBC commentator Jonathan Pearce. Karim Benzema's initial shot was shown not to be a goal, but when the cameras were rolled forward, it was shown that goalkeeper Noel Valladares had nudged the ball over the line. Quite simply it was a goal, but it still left a few people perplexed, particularly the former Robot Wars commentator.

GETTY IMAGES

8/15 Broken nose

Clint Dempsey has always been something of a hard man. The USA forward once told of how he tried to punch a teacher. But it seems the former Fulham man can take it as well as dish it out. After putting his team into an early lead against Ghana, the Stars and Stripes captain broke his nose after a collision with John Boye. He played on.

GETTY IMAGES

9/15 Pepe plonker

Pepe has never professed to be a mildly mannered defender, but even his actions against Germany were shocking. A coming together with Thomas Mueller saw the Germany striker making the most of the situation, going down rather dramatically. Angered by this, the Portugal defender decided to make sure there really was some damage done by pushing his head towards the Bayern Munich midfielder. It led to a straight red card and contributed to Portugal being mauled 4-0. To rub salt in Pepe's wounds, Mueller scored a hat-trick.

Getty Images

10/15 Deja vu for Capello

Fabio Capello could have been forgiven for thinking he'd see it all before during Russia's first game. The match with South Korea ended 1-1 and involved an horrendous goalkeeping mistake by Igor Akinfeev, bringing back echoes of England's opener against the United States four years ago in which Rob Green let the ball trickle into his net.

GETTY IMAGES

11/15 Marcelo dive

Perhaps encouraged by the refereeing mistakes in Brazil's favour against Croatia, when the hosts were struggling to break down Mexico, Marcelo took a theatrical dive in the box. It was the worst bit of simulation this World Cup had seen, and thankfully the referee agreed.

GETTY IMAGES

12/15 Really disgusting Cameroon

The actions of Alex Song and Benoit Assou-Ekotto were labelled 'really disgusting' by their own coach after Cameroon's 4-0 defeat to Croatia. Song was sent off for a shocking elbow on Mario Mandzukic, but things really descended into chaos when Assou-Ekotto became involved in an on-pitch argument... with his own team-mate!

Getty Images

13/15 The end of the Spanish reign

Having won the last World Cup and the European Championships either side of it, the end of Spain's dominance came in shocking style. Having been whipped 5-1 by the Netherlands, a result was needed against Chile. But the tiki-taka that once mesmerised audiences looked flat and uninspired. Chile won the game 2-0 and Spain's defence of their crown was over before it really got going.

GETTY IMAGES

14/15 Luis Suarez bites again

The Uruguayan striker has been built up as one of the most lethal finishers at the World Cup, and rightly so, but he shocked the world when he appeared to bite Italy's Giorgio Chiellini during the 1-0 victory over Italy. It was the third time Suarez had been involved in such an incident, having previously been found guilty of biting PSV Eindhoven's Otman Bakkal and Branislav Ivanovic of Chelsea in recent years.

PA

15/15 Beam me up Fabio

Igor Akinfeev makes his second appearance here but on this occasion it wasn't his fault. According to Fabio Capello, the Russian goalkeeper was blinded by a laser beam shone in his eyes from someone in the crowd during the build-up to Algeria's equaliser in their 1-1 game. It was a result that saw Russia exit the World Cup.

GETTY IMAGES
Modric painted it as a positive.
"It's a good thing that we have to play to win. This is the only option. It makes it easier in a way."
Mexico's backline still represents a difficult challenge. Yet, if their defensive stats and the very circumstances of the game make it seem like the Central American side will cautiously play for a draw in a contest that may well develop into a siege, veteran centre-half Rafael Marquez was quick to banish such thoughts.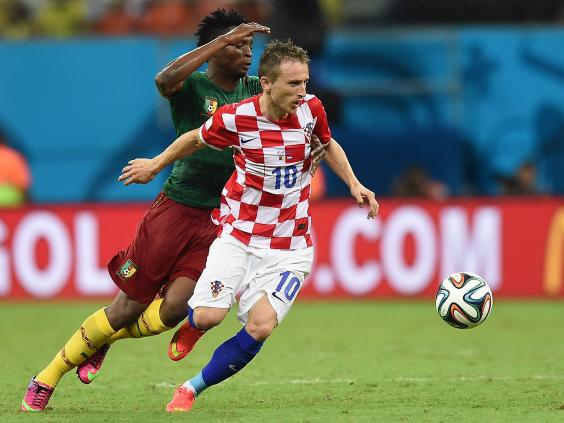 Their ambitions go beyond holding on for second. Having almost beaten Brazil in their 0-0 draw, Mexico can still beat the hosts to top spot.
"We need the win too," explained Marquez. "We're not going to play for the draw. That's something we need to watch out for at all times. We won't change our playing system. Croatia will be giving everything for the win and we will too."
If that is the case, it will continue the more dominant trend of this tournament: hugely open games. Croatia must finally open up Mexico.
Reuse content