You'll be surprised when I tell you that one of the most difficult aspects of mentally preparing the Gibraltar players to face some of the top European countries – with the latest of their opponents being Scotland at Hampden Park this weekend – was getting them used to the idea of being the inferior team in  a game.
It's nearly 18 months since I was approached to play for the territory, who were then Uefa's newest football nation, in their historic inaugural friendly against Slovakia. But my involvement has carried on into this European Championship qualifying campaign, with advice offered by phone before they faced Germany in Nuremberg last November.
I was eligible to play for the territory through my maternal grandmother, and because my dad, John, married my Spanish mum, Antonia, out there, when he had been posted to the Rock with the army. I played three games in all for them before I retired last year, but when I called it a day I told the manager, Allen Bula, who is my uncle, that if there was any advice I could give, then I was happy to do so, as they had treated me so incredibly well while I was out there.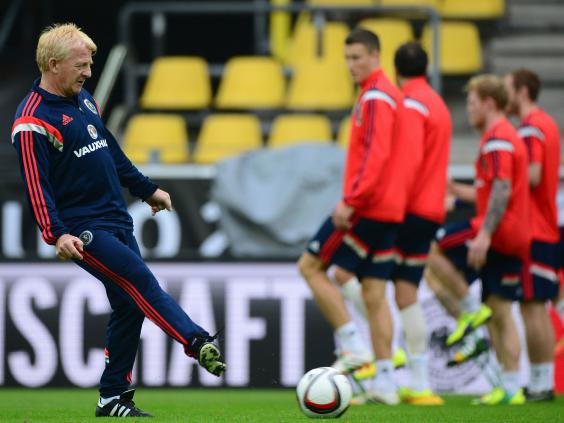 That's how I ended up involved in telephone discussions last autumn about how the largely semi-pro Gibraltar could stop Thomas Müller and Co in their tracks This was with the Scot David Wilson, who had replaced Allen. It certainly wasn't an easy challenge but the team, largely selected from a resident population of 29,000 on the Rock, only lost 4-0: hardly the rugby score everyone expected. It all goes to show how, when the other team are far better than you man-for-man, you nearly always have a way to hold your own if you can only get your system right.
When the whole international football adventure began for the territory, it didn't make things easier that the players were always used to winning. The same Gibraltarian domestic team – the Lincoln Red Imps – have won the league out there for all but one of the last 14 years. It means that the substantial number of players selected from that club for the international side were just not used to containing teams and sitting back.
The other problem I found when I arrived for that Slovakia game is that we were playing on a grass pitch – over the border in Faro, on the Algarve. There are no grass pitches on the Rock, and even the astroturf surfaces are limited to two or three. The players had to go to the local sports shop to buy boots with studs before that first game. Also, training at Gibraltar's main Victoria Stadium – where my dad played when he was stationed there – is restricted to one or two sessions a week, because the players have day jobs and the general public also use the stadium.
You could sense the players' lack of backs-to-the-wall experience as soon as the Slovakia game began. You could see the mentality was "let's go for it", and for a while everyone was flying forward. My message to the lads at that moment was: "Let's keep our shape here." And, to a man, they listened. There were some hairy moments towards the end but huge emotion when the president came into the dressing room after we had drawn 0-0.
It's not worked quite so well in the games which have followed. In my second match for the team, against the Faroe Islands, we took the lead, got into a mentality of "this is going to be easy" and lost 4-1. At times in the Euro qualifying campaign, they've not known what to do when they've gone a goal down and have ended up on the wrong end of two 7-0 defeats, to Poland and the Republic of Ireland. They'd conceded only one at half-time against the Poles in Faro, didn't anticipate the effects of the opposition coach giving his men a rollicking and conceded four in 10 minutes at the start of the second half.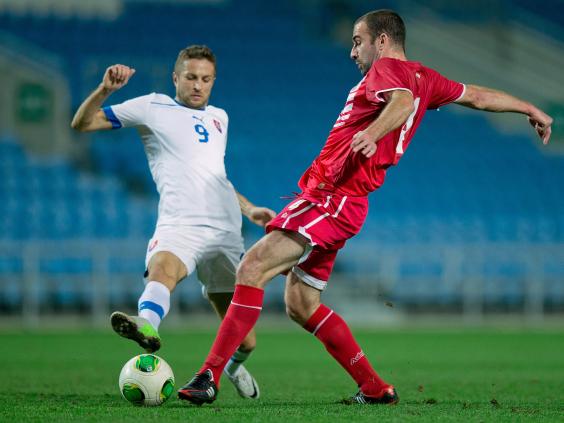 When it came to playing Germany, though, my advice was that you have to be pragmatic and forsake something against a side so much better than you. I told David that, though Joachim Löw has some of the world's best players in his side, they do like to attack through the centre rather than the wide areas. "Play narrow," was my suggestion. "Allow the Germans to go down the sides because if it means you have extra numbers in the middle they will not be able to outnumber you and won't be able to get behind you." We were saying to Germany: "OK, put your crosses in if you want," because we had our defenders – David Artell, then at Wrexham, and Preston's Scott Wiseman – ready and drilled for that.
The preparations for the game included plenty of defensive drills where the wing-backs were taken out of the game, to leave three central defenders and two midfielders preparing. We played a three-man defence in Nuremberg and were willing to have our wing-backs isolated in a one v one, rather than be outnumbered and overrun by the likes of Lukas Podolski, Mario Götze and Sami Khedira. There's a simple positioning rule for defending crosses in situations like that. The defender stands just inside the near post, the farthest goes just inside the far post and the central one of the three goes level with the penalty spot, using the spot to get his positioning right.
The German attacking players actually found themselves outnumbered by us at times and one of our lads, Liam Walker, almost scored from long range just before half-time, when his lob was turned behind by Manuel Neuer. It only goes to prove that any team can be well organised and acquit themselves well against anyone now.
Of course, Scotland are favourites this weekend, with Gibraltar looking for their first goal in the qualifying campaign, let alone their first point. Don't forget that money in that set-up is even tighter than you would think. The players have to hand their suits in after each game, in case they are not picked for the next. But I've always got the sense that more Gibraltarians might have left the Rock to play their football if only the lifestyle and the climate were not so good. They will be nothing less than well-prepared and know exactly what Scotland have to offer, when they walk out at Hampden tomorrow.
Reuse content