Former England striker Michael Owen believes Danny Welbeck is poised to come of age at the top level.
Welbeck scored both goals as England opened their Euro 2016 qualifying campaign with a 2-0 win over Switzerland in Basle on Monday.
The forward's match-winning display came just a week after he left boyhood club Manchester United for Arsenal in a £16 million deal.
Owen, speaking at the Soccerex Global Convention, said: "He has always had doubters and I can understand why but I have always been a big fan of Danny's.
The best Danny Welbeck memes
The best Danny Welbeck memes
1/8 Sir Bobby Welbeck

Danny Welbeck replaces Sir Bobby Moore during celebrations after England's 1966 World Cup success

Twitter/@MikeSanz19

2/8 Messi's inspiration

Lionel Messi lifts his shirt to reveal a picture of Welbeck

Twitter

3/8 Arsene Banter

Arsene Wenger relaxes after completing a £16m move for Welbeck in the summer

Twitter

4/8 Where you going Danny?

Robin van Persie and Wayne Rooney reflect on a season without European football

Twitter

5/8 How many Welbeck's?

Bart Simpson writes his latest Welbeck lines, Welbeck the Redeemer watches over Rio de Janeiro, Messi reveals Welback inspiration and Welbeck the Pope

Twitter/@SirAlexStand

6/8 10 Sterling's equals one Welbeck

Welbeck replaces the face of the Queen on the £10 note

Twitter/@AlwynPayne

7/8 The Professor at work

Arsene Wenger is praised once again for bringing Welbeck to the Emirates

Twitter/@FootballFunnies

8/8 The Royal Welbeck

Welbeck accompanies the Duchess of Cambridge at the Royal Wedding as he replaces Prince William

Twitter/@MazzGooner
"I trained with him for three years at Manchester United and he can really play, no question.
"People may complain about his goals ratio at Man United - but try getting in the team there. I had a good try with Robin van Persie, Wayne Rooney, Chicharito there - there are so many good players.
"A lot of the time when Danny did play he played on the left or on the right but, as his England record suggests, when he is played in the middle he can certainly score goals.
"I think he is a pretty good buy for Arsenal. They are the big winners here, with Danny himself. I can see him really improving.
"With Arsenal I think he will be given that chance to play in the middle and I think it could be one of the signings of the summer."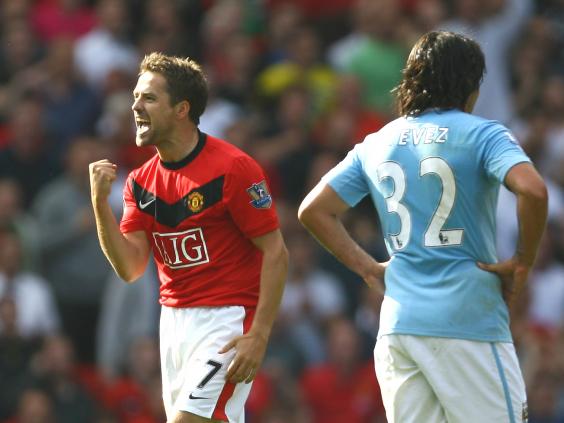 Former England and United captain Bryan Robson was surprised and disappointed that his old club let 23-year-old Welbeck go.
Robson said: "I think United added some quality players and allowed the right people to go - apart from Danny. That is the only one I thought I wouldn't have made. I would have liked to have seen Danny still as a United player.
"He is not an out-and-out goalscorer but he has other attributes and I think it is a great signing by Arsenal."
Welbeck's performance capped a much-improved effort from England, who were heavily criticised after a laboured friendly victory over Norway last week.
Manager Roy Hodgson's decision to deploy a midfield diamond shape worked well and Robson was impressed by the performance of newcomer Fabian Delph, although he still doubts Jack Wilshere's suitability for the holding role.
Former midfield general Robson said: "The lads stepped up a gear and I thought it was a really good performance considering Switzerland are the danger team in the group.
"I thought they played with a lot of energy and Delph was a plus point. He wasn't one you expected the manager to throw in, but he did and he played with a bit of passion.
"He put a bit of devilment back into the England team, which we have been missing for a little while.
"But with Wilshere, is he good enough defensively to play that role? I don't think so. If you play that holding role, you have got to be a good defensive midfield player."
Another player to catch the eye was Liverpool forward Raheem Sterling, who played at the tip of the diamond behind strikers Welbeck and Wayne Rooney.
Owen said: "I think we can hopefully rest our cap on Raheem Sterling to be one of the few who could potentially be world class and take us far in future tournaments.
"We have got him and Ross Barkley. I can envisage them going right to the top of the game and being pivotal points in the team for years to come."
Another former England midfielder, Peter Reid, paid tribute to Hodgson, who has endured plenty of criticism since the poor summer World Cup campaign.
Reid said: "I thought the manager got it right. He has had a bit of stick recently but I thought the set-up was excellent.
"I'm not sure about Wilshere in that so-called holding role but I thought the balance was good.
"Delph started a little over-aggressively but he grew into the game.
"We were really good on the counter-attack - but don't get carried away."
PA
Reuse content