Fifa's next president could be former Argentina international Diego Maradona, according to reports in Uruguay.
The man famous for the 'Hand of God' has decided to stand as a candidate to replace Sepp Blatter, according to Uruguayan journalist Victor Hugo Morales. Blatter announced at the start of this month that he will stand down as Fifa president following the corruption scandal that has rocked world football, and that an "Extraordinary Congress" will be called to elect his successor between December and February.
Speaking in Spanish on Twitter, Morales claims that 54-year-old Maradona personally informed him of his decision to stand for presidency, having been a long-term critic of Blatter's and has openly expressed that he was "enjoying" the corruption investigation into a number of high profile current and former Fifa members.
Contenders to replace Sepp Blatter as Fifa president
Contenders to replace Sepp Blatter as Fifa president
1/6 Michel Platini

Current president of Uefa. Voted for the Qatar World Cup, which makes position somewhat difficult. Asked Blatter to resign before elections.

Getty Images

2/6 Prince Ali Al-Hussein

The Jordanian was the only contender against Blatter when the elections took place. Managed to pick up 73 votes from the Fifa executive committee to Blatter's 133. Has already confirmed he will stand again.

PA

3/6 David Gill

The former Manchester United chief executive refused to take up his place on the Uefa executive committee after Blatter's re-election. 'My professional reputation is critical to me and I simply do not see how there will be change for the good of world football while Mr Blatter remains in post,' he said at the time.

Reuters

4/6 Luis Figo

Former Real Madrid and Barcelona player announced himself as a candidate for the most recent election but pulled out in protest at how it was being run, saying the process was 'anything but an election'.

AFP/Getty Images

5/6 Jerome Champagne

Also announced himself as president contender but failed to gain the minimum five nominations required. The Frenchman is a former Fifa deputy general secretary and has been a fierce critic of Uefa.

GETTY IMAGES

6/6 Michael van Praag

Dutch FA president was also a contender for president before pulling out in order not to split support between himself and Price Ali.

GETTY IMAGES
"He told me he was going to run for president of Fifa and authorised me to inform," Morales's first tweet translated to, before adding: "'I am a candidate' were the two words Diego Maradona used to answer me when I consulted him about the nomination for the presidency of Fifa."
The news comes after Venezuela's president, Nicolas Maduro, called for Maradona to run for presidential election, while former Brazil international and football great Zico has also announced his desire to replace Blatter. However, both will need to gain the support of five Fifa Member Associates, as is required under Fifa statutes to run for presidency.
The only other confirmed candidate is the current Liberia Football Association chairman Musa Bility, who famously broke ranks with the rest of the Confederation of African Football (Caf) and declared that he would vote against Blatter in the 2011 Fifa presidential election.
It remains to be seen if Prince Ali bin al-Hussein – the man who lost to Blatter in May's Fifa presidency election – and former Portugal international Luis Figo will elect to stand in the election, with Figo withdrawing his candidacy before the last vote took place as he believed he would not win as long as Blatter stood for election.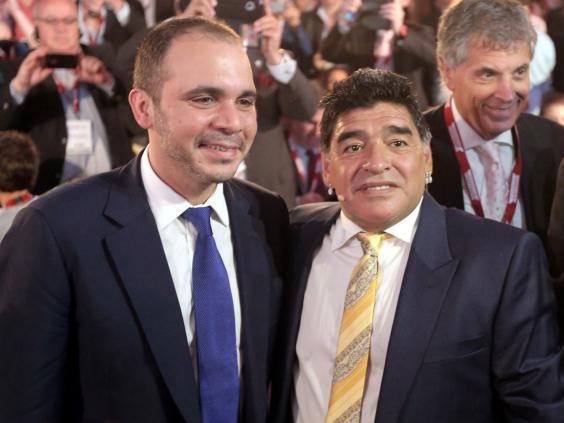 Reports in Switzerland earlier this month claimed that Blatter was having second thoughts about resigning following encouragement from Africa and Asia, and could yet perform a stunning U-turn to remain Fifa president. However, as thing stand, Fifa is due to confirm the date of the "Extraordinary Congress" on 20 July, with the 14th December likely to be the date of the gathering of all 209 of Fifa's Member Associates.
Reuse content