With the troublesome business of World Cup qualification completed last month; all that is left for Roy Hodgson's team to do now is prove that they can mix it with the best international sides in the world. One game in and tonight Chile, a skilful, shrewd bunch, but only the fourth best team in South America, showed them just how tough the second part of the plan will be.
Defeat at Wembley was the first time England have lost in ten games under Hodgson and it was the first defeat in London since Arjen Robben's last minute winner for the Netherlands in February 2012. It was England's heaviest defeat in a home game since Sven Goran Eriksson's team conspired to lose 3-1 to Australia at Upton Park in February 2003.
In mitigating circumstances, Hodgson did not play anything like the strongest team available to him, giving out three debuts along the way and making six substitutions in the second half. Even so, the post-qualification euphoria drains very quickly at Wembley. Last night England were booed off at the final whistle just one month to the day since they edged over the line in qualifying.
It was with that old ruefulness that Hodgson considered what that said about "the game today". "There aren't many games I watch today where the home team has lost and there isn't some sort of booing," Hodgson said. After the sheer relief of qualifying, England are back in familiar territory: the gnawing fear of what happens when they come up against one of the big boys next summer?
Chile won the game with two goal from Alexis Sanchez at either end of the game and gave Hodgson's boys a little taste of what it will be like to be without the ball in Brazil next summer. In short, arduous, soul-destroying and not conducive to a long run in the tournament. Chile can pass the ball beautifully and they only finished third in a South America qualifying pool that did not even include Brazil.
For Fraser Forster, it was a bad night to make his England debut in goal, especially with the usually reliable Leighton Baines and Gary Cahill playing a leading role in both goals the team conceded. The second, in injury-time added on at the end of the game was a reminder of how swiftly good teams can punish simple errors.
Anyway, it is only the Germans, ranked second in the world to Spain, up on Tuesday. No-one could argue that the Football Association have not set their team pretty stringent examinations in the November international window. Come Wednesday morning, Hodgson will have a much clearer idea of his resources and an insight into those countries who can expect to be around in the knockout stages next summer.
If there was a consolation for England as they chased the ball that was pinged around the pitch so masterfully by their South American visitors it was that France had lost 2-0 in Kiev in the first leg of their World Cup qualifier against Ukraine. Losing at home to Chile seemed mild in comparison to a result like that.
Only two places separate England and Chile on the Fifa world ranking list – the English are slightly ahead in tenth – but they are guided by two very separate philosophies. Jorge Sampaoli's team are a free-spirited bunch, liable to leave the back door open for the counter-attack, and they certainly like to have a go.
They took the lead on seven minutes Sanchez, the Barcelona attacker who was excellent tonight. So too the winger Jean Beusejour, currently mid-table in the Championship with Wigan Athletic and indifferent at times in a middling career in English football, but playing with some purpose at Wembley.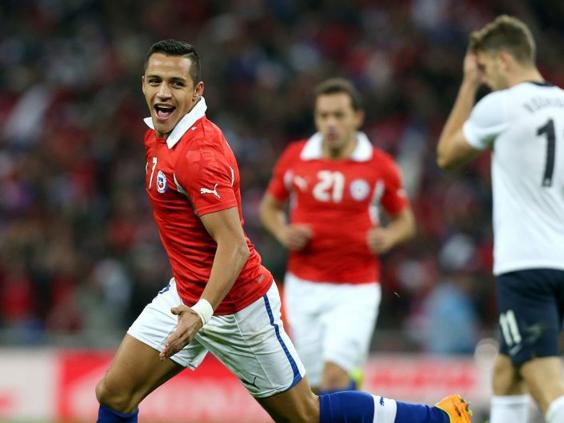 Their goal first might have been avoided at a couple of junctures for England as the attack built. Cahill did well to block Charles Aranguiiz's original shot but when Eduardo Vargas played the ball out to Eugenio Mena, the full-back's cross was allowed to travel too far across goal. The Chelsea man looked like he was momentarily winded and had not recovered in time to mount a proper challenge for the ball. Sanchez nipped in ahead of Baines to score.
It was an unfortunate start for Forster although there was not a great deal he could have done about it. The two Southampton new boys in the squad were also given debuts by Hodgson; Adam Lallana contributed some good moments but, on this occasion at least, Jay Rodriguez looked simply out of his depth.
England had lots of chances in the first half to score. They were thwarted in the main by Claudio Bravo, the kind of flamboyant South American goalkeeper who likes to leave you in no doubt that he has made a save. He threw himself at a Phil Jones header in the third minute. He saved from Jack Wilshere. He also got in the way of a good Frank Lampard free-kick from what looked like an impossible distance to shoot.
Afterwards, Hodgson described Bravo's performance as one of the most accomplished he had seen from a goalkeeper in a long time, not least for his ability to "ping 50-yard balls on to people's toes".
For the ones that Bravo could not save there were defenders throwing themselves in the way; never more so than the best chance for England a minute before the break when Wilshere unlocked the Chilean defence to get Wayne Rooney faced up to the opposition and running. He played in Lallana whose shot across goal was just fractionally deflected wide.
But Chile were always dangerous when they broke quickly and England never got their pressing game organised well enough to contain their opponents. Forster did well on 32 minutes to shepherd Beausejour wide of the goal when he might have doubled back and got a shot in.
Rodriguez was among Hodgson's first pair of substitutions when the England manager brought on Andros Townsend and Chris Smalling before the hour. It had been a tough start for the boy from Burnley who tried to do the things that have taken him into the Premier League but struggled at times with what looked like a big step up in quality.
Cahill was booked for an uncharacteristically late lunge on Vargas. Something had clearly irked the usually mild-mannered Chelsea centre-half; indeed it was the sort of momentary loss of control that could well see a player sent off in a World Cup finals. Not that the German referee Florian Meyer was having one of his better days. He must have missed substitute Gonzalo Jara headbutt Smalling in the preamble to a corner given that he just booked them both.
There was a good edge to the game, even before Hodgson brought on Jermain Defoe for Milner and switched from 4-3-3 to 4-2-3-1 with Rooney occupying the No 10 role behind the Spurs striker. Later Tom Cleverley and Jordan Henderson took the places of Wilshere and Lampard.
There was one major change in the latter stages, when Ross Barkley came on for his second cap and Rooney was shifted to the left wing to accommodate the Everton teenager in the No 10 position. In the end it was Chile who looked the stronger in the closing stages and Cahill's mistake started the move that saw Sanchez run in for the second goal.
England (4-3-3): Forster; Johnson, Cahill, Jones, Baines; Lallana, Lampard, Wilshere; Milner, Rooney Rodriguez.
Subs: Rodriguez/Townsend 57; Jones/Smalling 57; Defoe/Milner 66, Lampard/Henderson 71; Cleverley/Wilshere 71; Barkley/Lallana 77
Chile (4-3-3): Bravo; Isla, Medel, Gonzalez, Mena; Diaz, Fernandez, Aranguiz; Sanchez, Vargas, Beausejour.
Subs: Fernandez/Gutierrez ht; Aranguiz/Carmona ht; Isla/Jara 60; Vargas/Munoz 71; Beusejour/Fuenzalida 82
Booked: England Cahill, Smalling Chile Beausejour, Jara, Mena
Referee: F Meyer (Germany).
Attendance: 62,963
Man of the match: Sanchez
Match rating: 6