While Europe came alive with Cristiano Ronaldo's heroics in Stockholm and France's great comeback in Paris, so Wembley muttered and grumbled as a familiar plot-line unfolded involving England and those obdurate chaps they call Die Nationalmannschaft.
The Germany squad had shown a laid-back, more easy-going side by taking the tube to Wembley for their training session there on Monday evening. Tonight they were back in character. Well-organised, defensively-sound and capable of scoring the crucial goal, albeit without the spark they have shown in recent years. They had lots of players missing but, well, they got the job done.
And England? They had a good first half until they conceded the Per Mertesacker goal that decided the game, and after that it was ragged at best. Andros Townsend hit the post in the second half but there was not a single shot on target that forced a save from Roman Weidenfeller. The five substitutions from England did not help the team to settle, but then Germany made six changes had it did not affect them
Later Roy Hodgson bemoaned his team's failure to create the chances that might have won them the game. He was in a contrite mood, given how forcefully he has stood up to public opinion on recent England performances. "The major disappointment is twofold: we didn't show the quality I expected, and having 150,000 people through to watch us [tonight and in the defeat to Chile on Friday] we sent them home disappointed."
It did not feel as if Hodgson had to be that apologetic. No-one is any doubt what England are, a middling side outside the elite of world football - yet when their deficiencies are emphasised by quality opposition there is the usual outpouring of anger. There were boos again at the final whistle, although it was a bit like getting on West Bromwich Albion's case for failing to beat Real Madrid.
It did not help that England offered so little in attack. The result meant it was two straight defeats for Hodgson at Wembley, the first time that has happened to England since 1977. Of course, in terms of players and the length of time Joachim Low has had in the job to formulate a team and a style, England are a long way behind Germany. That much was true before a ball was kicked.
In qualifying, England showed a decent competence in their last two games. What was missing here was a flash of brilliance or unpredictability to give their manager something to think about in the long months before Denmark visit in March.
In the closing stages, Jordan Henderson and Jack Wilshere, both substitutes, never looked likely to not find a way to break down Germany from centre midfield where Toni Kroos was excellent. Townsend's running with the ball remained the greatest threat to the visitors all night - and that was not saying much. There just was not enough about England for a restless Wembley crowd to get excited about.
Hodgson picked a formation that for much of the game looked like 4-4-2 when England had the ball. It is hard to imagine that England would still be playing that way, more than three years after that system played its part in their defeat to Germany in South Africa. Yet, for much of the first half they held their own.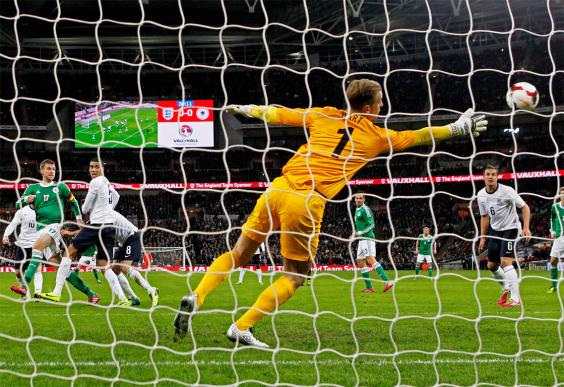 At a push, you could say that England matched up the Germans' 4-2-3-1 when England were defending, especially when Wayne Rooney dropped back. They were neat and tidy in the period before Germany's goal on 38 minutes. Not much of a cutting edge, and far too much going sideways, but they passed the ball with a confidence and a zip at times that had the Germans chasing.
With the likes of Thomas Muller, Mats Hummels and Julian Draxler on the bench - and Mesut Ozil, Manuel Neuer, Philipp Lahm and Bastian Schweinsteiger out the squad - this was a weakened Germany team. But it was not quite the B-team as advertised, and with the likes of Mario Gotze, Marco Reus and Toni Kroos in the side they were always going to have their moments.
Townsend carried the ball forward well at times. Daniel Sturridge tricked Jerome Boateng beautifully in the penalty area only for the defender to recover superbly. Rooney had a looping header that went over the bar on 20 minutes. It was in that first half an hour that Hodgson's team needed to pounce but they could not crank up the pressure sufficiently.
They conceded Mertsesacker's goal just moments after Joe Hart had saved brilliantly from the Germany captain, diving to his left to push the ball around the post. When Gotze crossed from the right Mertesacker beat Chris Smalling to the ball and opened up the angle to head it across Hart and into the far corner.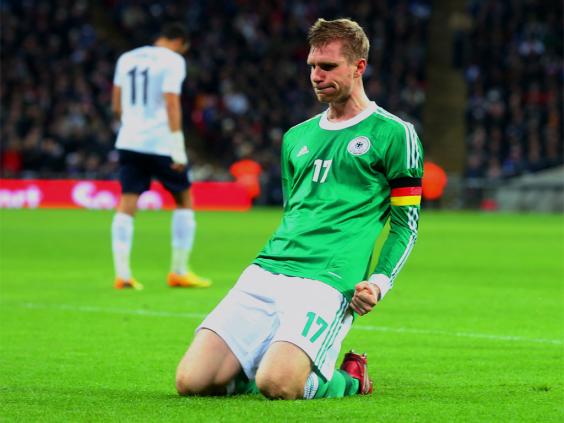 In the moments after that goal, the tension began to tell for England. Wembley began getting restless at what it regards as a familiar story. Kyle Walker did not help matters by knocking a free-kick on the right across the pitch and into touch. Steven Gerrard had space for a right foot shot with a minute of the half to go, and it landed on the roof of Weidenfeller's net.
As the substitutions came in the second half, so the game became more fragmented. Gerrard was replaced early, with Henderson. Kieran Gibbs came on for Ashley Cole. Wilshere replaced Tom Cleverley. Still England adhered to the 4-4-2 formation while Germany took a grip of the midfield.
It was a good half for Hart, aside from one more of those worrying sprints out his area which has been his undoing at Manchester City. On this occasion there was no more damage done than the flattening of poor old Smalling. Although you have to wonder where these sudden urges in Hart to become the team's sweeper come from.
Hart was much better when he was forced to stare down the attacker and rely in his instincts to get himself in front of the shot. He saved well from Reus when Gotze beat Phil Jagielka and the recovery tackle succeeded only in directing the ball to the Borussia Dortmund man. The England goalkeeper also did well to get in the way of a shot from Gotze on 65 minutes.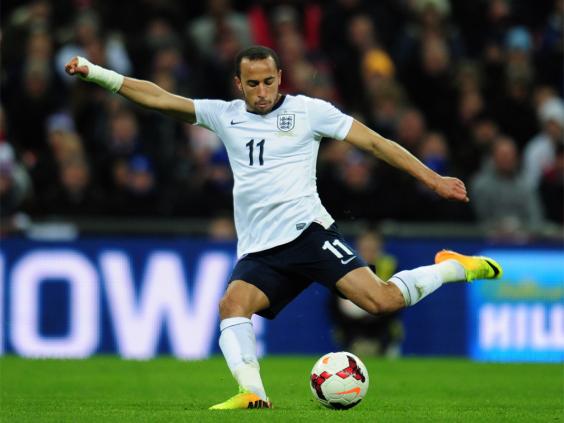 As for England they struggled to keep their momentum going through their substitutions. The best chance created was one of Townsend's runs from right to left and then a shot with his left foot that hit the post. By the latter stages, England had Barkley on the left wing and Sturridge partnering Rickie Lambert in attack. It felt like the tired last few knockings of a long international break.
Townsend had one more run and shot before the end of the game, but it was Germany who always looked the more inventive with Andre Schurrle coming on late to join Gotze in the attacking three behind the striker. The away team were delighted with their win and went over to their small knot of supporters at the end. Some consolation that it does still mean something to Germany to beat England at Wembley.
England (4-4-2): Hart; Walker, Smalling, Jagielka, Cole (Gibbs 52); Townsend, Gerrard (Henderson 56), Cleverley (Wilshere 64), Lallana (Lambert 76); Rooney (Barkley 71), Sturridge.
Germany (4-2-3-1): Weidenfeller; Westermann (Draxler 67), Mertesacker, Boateng (Hummels ht, Howedes 65), Schmelzer (Jansen ht); S Bender, L Bender; Gotze, Reus (Schurrle 82), Kroos; Kruse (Sam 56).
Referee S Lannoy (France)
Man of the match Gotze
Attendance 85,934
Rating 5/10