The storm might have cleared but the way forward remains unclear for Roy Hodgson after his England side failed to score against ten men Honduras in their final World Cup finals warm-up game tonight.
The game was suspended in the first half for 45 minutes for a thunderstorm that threatened lightning, although rather like England's attack it failed to strike at the Sun Life Stadium. A Honduras team bound for the World Cup finals were brutally combative at times and ended the match with ten men after defender Bryan Beckeles was sent off with 25 minutes left, although even then England could not prise them open.
That will have been a worry for Hodgson who saw his side cope with some bad challenges in a match that featured seven bookings, three of them for England. Daniel Sturridge had the best opportunities to score, missing with a header for a Glen Johnson cross late on as Honduras struggled to deal with the extra man against them, and the superior fitness of their opponents.
England will touch down in Rio de Janeiro tomorrow and train for the first time at their Urca military base on Monday. Tomorrow will be for nursing the wounds inflicted by Honduras. Even so, as preparation for the final group game against Costa Rica this will have been of value. Once again Hodgson finished the game with a young team, including Ross Barkley and Jack Wilshere.
There were fears that the match would be abandoned when the players were called off the pitch by the referee after 22 minutes because of a thunderstorm rolling in over the stadium which - "with associated lightning", according to the official account - was judged to pose a safety risk to the players. The teams were off for around 30 minutes while the match officials studied satellite data of likely weather patterns.
They eventually came back onto the pitch to warm-up and re-started the first half at 5.51pm local time, more than an hour after the match had begun. During that time, fans in the stadium – which has no roof - were encouraged to get under the cover of the stands or into the concourses. Having satisfied themselves the conditions were safe the teams came back.
England World Cup 23-man squad numbers
England World Cup 23-man squad numbers
1/22 1. Joe Hart - Goalkeeper

Age – 27 Caps – 41 Goals – 0 The Manchester City No 1 suffered a dip in form mid-season that saw Manuel Pellegrini drop him for understudy Costel Pantilimon. But Hart has recovered superbly to dismiss any talk that he won't be Roy Hodgson's first choice in Brazil.

GETTY IMAGES

2/22 13. Ben Foster – Goalkeeper

Age – 31 Caps – 7 Goals – 0 Having retired from international football, Foster was persuaded to make himself available for his country once again. Played the full 90 minutes against Ecuador last week.

GETTY IMAGES

3/22 22. Fraser Forster - Goalkeeper

Age – 26 Caps – 2 Goals – 0 Forster made his debut in the Wembley defeat to Chile in November last year, but his form with a strong Celtic side north of the border has seen him force his way into consideration for some time. Saw of the challenge of Norwich's John Ruddy to make the squad.

Reuters

4/22 2. Glen Johnson – Right-back

Age – 29 Caps – 52 Goals – 1 Johnson has cemented the right-back berth as his own this season, with his main rival Kyle Walker suffering an inconsistent season that has been disrupted by injury. Has a tendency to forget his defensive duties when he marauds up the pitch, which will be a worrying sight in Brazil against the world's best.

EPA

5/22 12. Chris Smalling – Centre-back/Right-back

Age – 24 Caps – 12 Goals – 0 Smalling's versatility in defence stands him with a good chance of playing in Brazil, although he has not pushed on as much as was hoped when Manchester United signed him in 2010. Unlikely to start if Hodgson's preferred back-four are fully fit.

GETTY IMAGES

6/22 16. Phil Jones – Centre-back

Age – 22 Caps – 10 Goals – 0 Jones' inclusion had been put into question after he suffered a shoulder injury that required him to go to hospital during the victory over Hull last week. But after getting the OK for Brazil, Hodgson has decided to include the young defender, who offers a similar versatility as his club colleague Smalling as well as fulfilling a role as a holding midfielder.

GETTY IMAGES

7/22 5. Gary Cahill – Centre-back

Age – 28 Caps – 24 Goals – 3 Cahill was a part of the standout defence this season as Chelsea's back-four conceded the least amount of goals by a considerable margin. He has solidified his selecting in the starting XI in recent years and has pace to get the side out of trouble if needed.

GETTY IMAGES

8/22 6. Phil Jagielka – Centre-back

Age – 31 Caps – 26 Goals - 2 Worryingly for England, Jagielka missed a considerable number of games in the run-in to the end of the season, but the Everton captain made a timely return after two months out for the narrow defeat to Manchester City at the beginning of May. Likely to partner Cahill at the back as he offers experience and calmness to a young-looking defence.

GETTY IMAGES

9/22 3. Leighton Baines – Left-back

Age – 29 Caps – 24 Goals – 1 The set-piece master has battled past the long-serving Ashley Cole to assume the left-back role under Hodgson, and he is expected to continue in Brazil after a solid season with the Toffees which saw them challenge for the top four.

Getty Images

10/22 23. Luke Shaw – Left-back

Age – 18 Caps – 2 Goals – 0 The Southampton teenager has enjoyed a tremendous year that has led to calls nationwide for his inclusion in the World Cup squad, despite his inexperience. Made his debut in the March victory over Denmark, and looks to be the ideal replacement to Ashley Cole, with the 107-cap veteran missing out on a fourth consecutive World Cup and announcing his international retirement as a result.

Reuters

11/22 4. Steven Gerrard - Central midfielder (Captain)

Age: 33 Caps: 110 Goals: 21 The captain of the side has enjoyed a brilliant but ultimately disappointing season with Liverpool. The Reds managed to remain in contention for the Premier League title until the last day of the season but ultimately missed out. Gerrard's costly slip in the 2-0 defeat to Chelsea is quickly becoming the defining moment of their season. Deployed in a deeper role this season.

Getty

12/22 8. Frank Lampard - midfielder

Age - 35 Caps - 105 Goals - 29 The Chelsea midfielder will be one of the older heads in the England squad. While unlikely to be a starter in Brazil, should he get opportunity he will want to atone for the injustice of his 'ghost goal' at the last tournament in 2010 when he scored against Germany but it wasn't given.

GETTY IMAGES

13/22 7. Jack Wilshere - Central midfielder

Age: 22 Caps: 18 Goals: 0 Arsenal midfielder suffered a foot injury playing for England on 5 March, but returned for the Gunners on their final game of the season. Arsenal manager Arsene Wenger claimed he would be ready to go for the start of the World Cup.

Getty Images

14/22 20. Adam Lallana - Central midfielder

Age – 26 Caps – 5 Goals – 0 He may be relatively inexperienced at international level, but the Southampton captain has had an extraordinary year that saw him named in the PFA Team of the Year as well as breaking into Hodgson's side. His ability to utilise both feet could prove a real threat in Brazil.

GETTY IMAGES

15/22 21. Ross Barkley - Central midfielder

Age: 20 Caps: 6 Goals: 0 The Everton midfielder has burst out of the traps at Goodison Park this season, resembling Wayne Rooney in his pomp. Barkley has made 34 league appearances for Roberto Martinez this season, scoring six goals.

GETTY IMAGES

16/22 17. James Milner - Midfielder

Age: 28 Caps: 47 Goals: 1 Mr Dependable for both club and country. Could win his 50th cap in Brazil if England get past the group stage.

GETTY IMAGES

17/22 15. Alex Oxlade-Chamberlain - Midfielder

Age: 20 Caps: 15 Goals: 3 Suffered a knee injury in the friendly against Ecuador but manager Roy Hodgson hopes the Arsenal midfielder will return against Uruguay on 19 June.

18/22 19. Raheem Sterling - Midfielder

Age: 19 Caps: 4 Goals: 0 Despite Liverpool's faltering end to the season, Sterling has excelled this term for Brendan Rodgers, impressing down the wing and also through the middle. With Theo Walcott missed the finals because of injury, Sterling will offer some badly-needed pace.

GETTY IMAGES

19/22 11. Danny Welbeck – Striker

Age – 23 Caps – 24 Goals – 8 While Welbeck's form for Manchester United this season hasn't been the best, he remains a favourite of Hodgson's and tends to shine on the international stage, having scored in the 3-2 victory over Sweden in the 2012 European Championships with a deft back-heel flick. Has a tendency to be deployed on the left, and could be overlooked in the starting line-up for the in-form Sterling.

EPA

20/22 9. Daniel Sturridge – Striker

Age – 24 Caps – 11 Goals – 4 Sturridge has flourished this season in his partnership with Premier League top scorer Luis Suarez, netting an impressive 21 league goals in helping Liverpool to finish second. Hodgson has shown a preference to start Sturridge in the striker role with Wayne Rooney playing off the Reds frontman, and is likely to be one of the first names on the team-sheet come 14 June.

GETTY IMAGES

21/22 10. Wayne Rooney – Striker

Age – 28 Caps – 91 Goals – 39 Rooney will head to Brazil as one of England's most experienced squad members, and the United striker will once again have the weight of a nation's expectations on his broad shoulders. The forward has been given licence to roam in the Three Lions shirt, although he is yet to produce his brilliant best at a World Cup, having been to the 2006 and 2010 tournaments.

GETTY IMAGES

22/22 18. Rickie Lambert – Striker

Age – 32 Caps – 6 Goals – 3 Aiming for a successful tournament in Brazil on the back of his "dream" move to Liverpool.

Mike Hewitt/Getty Images
The Football Association confirmed before kick-off that Alex Oxlade-Chamberlain would be part of the squad that travelled to Rio de Janeiro directly after the game. The player himself appeared on the pitch before the game with his right leg now out of the knee brace that was protect his strained medial ligaments.
It had not been an accomplished performance from England before the break for the storm. The Honduras side were a powerful team physically, and at times they pushed the referee Ricardo Salazar to the limits. Salazar seemed reluctant to make the more difficult decisions, with Honduras' tackling getting out of hand at times. Leighton Baines was caught twice, including within the first four minutes.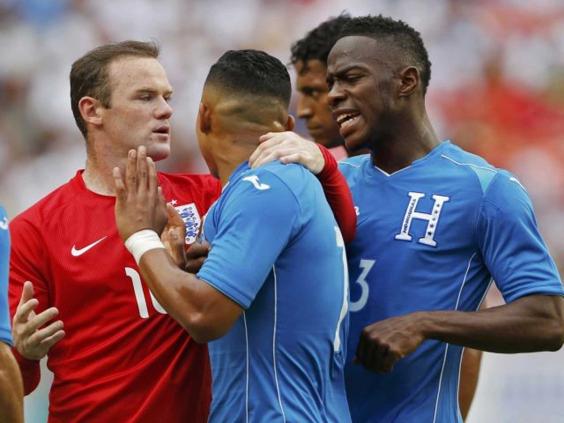 Salazar did eventually get the yellow card out a couple of times before the break, and certainly the challenge by the Celtic full-back Emilio Izaguirre deserved the sanction for sweeping away the legs of Sturridge. The defender compounded it by kicking the ball at his opponent while he lay prone on the floor. The American referee never quite had the game under control from the start.
Neither did England, it should be said, with big problems every time the ball was played into their box. Joe Hart flapped at a corner late in the half and his defenders never looked certain they were capable of dealing with crosses. There was a bad flurry of mistakes after the re-start when England looked well off the pace. The first half was one to forget for Johnson.
The best move from England had come just before the break, when Danny Welbeck played in Wayne Rooney and then, when the cross came in, the former dummied the ball and let it run to the back post. Sturridge was there with enough time to pick his spot but he dragged the ball wide of the goal. He will not get many chances in a World Cup game like that, and when they come he needs to take them.
Luis Garrido went into the referee's book for a bad tackle on Steven Gerrard and there was a real worry that an injury could be sustained.
It was no surprise when Hodgson substituted his captain at half-time, not least for Gerrard's own safety. On in his place came Jack Wilshere, presumably in the hope of getting England passing the ball through their opposition. He almost succeeded in the 57 minute when a nice move culminated in Wilshere sending the ball through to Ross Barkley, on in the place of Rooney, who was tackled by the last defender.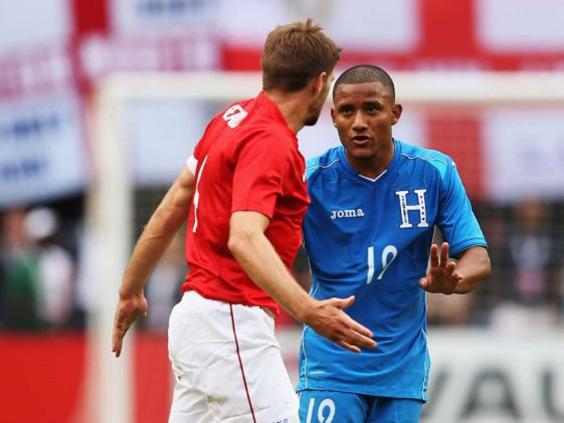 Honduras' pressing game could be formidable at times, but they did tire and England's quicker tempo of passing in the second half began to tell. Welbeck and then Lallana carried the ball forward on 59 minutes and when the ball came back to the Manchester United man he hit a shot that was only just blocked by the Honduras goalkeeper Noel Valladares.
Against a tiring opponent, the likes of Wilshere, Lallana and Barkley are dangerous but England were incapable of taking their chances. They also got themselves involved in needless little tussles with the Honduras players who were only too happy to pick away at their opponents' patience. Lallana and Roger Espinoza was one such flash point
Eventually, Honduras went down to ten men when Brayan Beckeles, booked earlier, led with the elbow against poor old Baines and picked up his second yellow card. It could easily have been a straight red. The thought occurred that if the Hondurans pursue this aggressive policy in Brazil they are unlikely to end any game with the full eleven on the pitch.
Fraser Forster came on for Hart in the closing stages one of five substitutions made by Hodgson who also brought on Frank Lampard and Rickie Lambert. His team had lots of the ball but no goal to see them on their way to Brazil with a win.
Line-ups:
England (4-2-3-1): Hart (Forster, 75); Johnson, Cahill, Jagielka, Baines; Gerrard (Wilshere, h/t), Henderson (Lampard, 83); Welbeck (Lambert, 79), Rooney (Barkley, h/t), Lallana; Sturridge.
Honduras (4-2-3-1): Valladares; Beckeles, Bernardez, Figueroa, Izaguirre (M Martinez, 90); Garrido (Claros, h/t), Palacios; M Chavez (Najar, 61), Costly (Delgado, 69), Espinoza (J Garcia, 87); Bengston (J Bengston, 75).
Booked:
England - Lallana, Cahill, Baines
Honduras - Garrido, Izaguirre, Bernardez, Beckeles
Sent off: Beckeles
Referee: R Salazar (USA)
Attendance: 45,379
Reuse content