There are 98 days left until the World Cup finals and one wonders what will be ready first: Brazil's stadiums and infrastructure or Roy Hodgson's first XI.
The final friendly before the squad is named on 13 May and the dice has been rolled once again. This was an England team in the first half that strained against some familiar limitations not to mention a Denmark team bereft of any ambition, determined to pack men behind the ball and rely on Nicklas Bendtner - yes, him - to catch England on the counter-attack. So Hodgson tried something different.
In the first half it had been Raheem Sterling who looked the brightest of a fairly conservative side. After the break there was a debut for Luke Shaw, on in place of Ashley Cole and then a stand-out performance from his Southampton team-mate Adam Lallana who came on for Jack Wilshere on the hour and did the most to transform England. It was from his cross that Daniel Sturridge scored the game's only goal.
In Lallana, Sterling and Shaw, Hodgson has three players who did not feature for a single minute between them in qualification for the tournament. Each of them posing a question to the England manager. Dare he take them? Dare he not take them? Certainly there were moments in the first half when Wembley fell into a familiar lull and England did little more than pass the ball in front of the massed ranks of Danes when something, anything, would have been preferable.
On the basis of their performances, one would not hesitate to select Lallana and Sterling for Brazil. Sterling is raw at times and can be unpredictable but he gets better and better. Lallana is different, an altogether more polished footballer who has been - to borrow a phrase once used to describe Jose Mourinho - an overnight sensation years in the making. He will undoubtedly be in the squad for Brazil and he might yet take Wilshere's place in the starting XI.
As for Shaw, his head-to-head with Ashley Cole remains a difficult one to call. The 18-year-old did not look out of place in senior international football but then neither in the first half did the 107-cap veteran Cole in spite of the sporadic first team football he is being granted by Mourinho.
The picture is changing all the time, although there are no certainties as to how it might look eventually. Neither Frank Lampard nor Michael Carrick were called from the bench and Ross Barkley was not summoned either. In an ideal world, Hodgson would take another three friendlies to refine his plans and explore every option but, as he knows only too well, the job he finds himself in is very far from ideal.
"Good luck in the World Cup - you'll need it," said Morten Olsen at the end of his post-match press conference, a rather more embittered quotation than it sounds. He had earlier claimed that had Christian Eriksen been in the team then his side would have won. A laughable assertion given the negative approach from the Danes who have six months before they play a Euro 2016 qualifier yet did not have the courage to try to attack England.
That is England's curse at Wembley: more often than not forced to pass the ball through or around recalcitrant opponents, a challenge which they have always struggled with.
Hodgson picked a team with five Liverpool players in it, including the 19-year-old Sterling who often found himself on the left side and thus obliged to cut in on his stronger right foot. He came the closest to scoring before the break, hitting the post from close range, and generally looked like the most dangerous option in England's attack.
It was left to Steven Gerrard to ping the ball from deep from what neo-coaching speak would doubtless describe as the quarter-back position. There is no question that Gerrard strikes the ball beautifully and, in the majority of passes, to the toes of his team-mate but it was never the case that Denmark found themselves stretched to breaking point before the end of the first half. England often find themselves slowing to a similar pace against unambitious opposition.
There was an early scare around Wilshere who first lunged in on a tackle when he gave the ball away early on and then raced into a challenge with Daniel Agger a minute later. The Arsenal midfielder, all hustle and action, is determined to keep the tradition of the 50-50 tackle alive, in a game that increasingly militates against it. Good for him. But on this occasion it looked bloody painful.
Wilshere's left foot met Agger's and the Englishman's ankle flexed back painfully. There was a good deal of agony on his face, to the extent that Lallana was flicking through the tactics folder with goalkeeper's coach Dave Watson in preparation to come on before Wilshere decided, after some treatment, that he was fit to continue.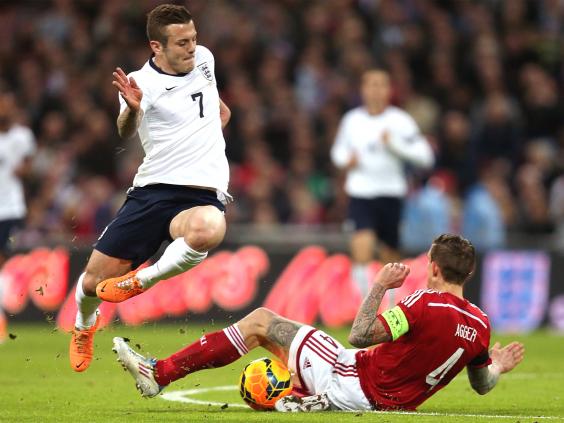 Some of England's best creative work came from Cole who knocked a ball over the top on 20 minutes that Wayne Rooney teased past Kasper Schmeichel but could not get on target from the far left side of the box. It was Cole's cross after good work from Sturridge and Rooney which Sterling could only guide against the post two minutes before the break.
Sturridge had his moments in the first half, a drive down the right and a ball across goal on 33 minutes that Rooney could not reach. There was the usual lack of momentum, however, and with Rooney off his game and later substituted around the hour England failed to increase the pressure beyond Denmark's capacity to deal with it.
Shaw replaced Cole at half-time and he was followed by Lallana on for Wilshere and then Danny Welbeck in place of Rooney. England switched to a 4-1-4-1 formation with Gerrard in front of the back four and Sturridge stuck out on the right. Sterling occupied the opposite wing. Lallana turned Jakob Poulsen inside out with a Cruyff-turn in the Denmark area.  Jordan Henderson prodded a ball through for Welbeck but Kasper Schmeichel was quick off his line to block.
The Leicester City goalkeeper was in excellent form, saving a shot from Sturridge from the right on 75 minutes that was hit with little warning or back-lift. Hodgson's fourth substitution was to swap Alex Oxlade-Chamberlain for Henderson and deploy the Arsenal man in the central midfield position Henderson had vacated.
Meanwhile, one of the best chances of the second half had fallen to the Danish substitute Morten Rasmussen who found himself with just Joe Hart to beat after a deflection fell into his path. The England goalkeeper, hitherto untroubled until this incident in the 65th minute, spread himself well to block and then picked himself up to shepherd the second ball wide
It was more excellent work from Lallana that created the goal for England. As usual the England attackers found themselves static in a line in the box but the Southampton man turned once and then again in the area to make enough room for the cross. It was a very good one, pitched perfectly to drop onto the head of Sturridge who headed the ball well out of the reach of Schmeichel.
It was a relief for Hodgson, who used all six of his substitutions by the end with the introduction of Andros Townsend and James Milner. It was only six months ago that Townsend was the new talent in the England squad. Before that, Barkley. But that status is changing hands quicker than anyone expected and Hodgson's plans are in flux.
England (4-2-3-1): Hart; Johnson, Smalling, Cahill, Cole (Shaw ht); Henderson (Oxlade-Chamberlain 77), Gerrard; Sterling (Townsend 86), Rooney (Welbeck 60), Wilshere (Lallana 58); Sturridge (Milner 87).
Denmark (4-5-1): Schmeichel; Jacobsen (Juelsgard ht), Agger, Kjaer (Bjelland 62), Ankerssen; Larsen (Kusk ht), Sloth (Zimling 62), Kvist, Poulsen (Olsen 81), Krohn-Dehli; Bendtner (Rasmussen 62).
Referee K Blom (Netherlands).
Man of the match Lallana.
Match rating 5/10.
Attendance 68,573.