After being shamed in the States, Raheem Sterling became Roy Hodgson's main man in Manaus.
During England's three-match build-up to last night's opening World Cup match, Sterling had barely done anything in the public domain of note aside from embroil himself in an avoidable moment of controversy to earn a red card against Ecuador that raised questions about his readiness for the biggest stage of all.
But far from admonishing the prodigiously gifted teenager, Hodgson spoke glowingly in subsequent days about Sterling's response in training – he was frequently the best on show when media were allowed to witness a complete session – using eye-catching adjectives "unstoppable" and "breathtaking" to describe his performances in practice.
The England manager was sufficiently moved, despite just 39 minutes' evidence since naming his squad, to not only hand Sterling his third start, but deploy him in the No 10 position ahead of Wayne Rooney.
This was quite a night for the 19-year-old to take centre stage. Hodgson no doubt had tactical reasons beyond Sterling's individual threat; Italy's 4-1-4-1 system included Daniele De Rossi sitting as the deepest midfielder with Andrea Pirlo, England's nemesis at Euro 2012, slightly further forward alongside Marco Verratti.
With De Rossi and Pirlo into their thirties – the latter considerably so – Sterling's ability to press the ball high up the pitch and quickly transition into attack was in theory a catalyst for England's counter-attacking.
England 1 Italy 2 player ratings
England 1 Italy 2 player ratings
1/22 Joe Hart

Didn't stand a chance for either goal, but almost at fault for another. 6/10

GETTY IMAGES

2/22 Glen Johnson

Never really exposed, but never entirely uncomfortable. 5

GETTY IMAGES

3/22 Gary Cahill

Partially at fault for both goals, and generally struggled with Balotelli. 5

GETTY IMAGES

4/22 Phil Jagielka

Sometimes caught out, but in the right place for Mario Balotelli's chip. 6

GETTY IMAGES

5/22 Leighton Baines

Repeatedly exposed and never got chance to display his attacking abilities, other than one superb slipped pass for Rooney. 5

GETTY IMAGES

6/22 Jordan Henderson

Putting him right beside Gerrard made England, and the player, look a little flat. 6

GETTY IMAGES

7/22 Steven Gerrard

Typically effective in attacks, less dependable when forced to defend. 6

GETTY IMAGES

8/22 Danny Welbeck

A productive showing that dismissed doubts over whether he should start. 7

GETTY IMAGES

9/22 Raheem Sterling

The player who best defined some of the new optimism around England. 8

GETTY IMAGES

10/22 Wayne Rooney

One fine assist, a lot of futile play. Poor. 5

GETTY IMAGES

11/22 Daniel Sturridge

A Gary Lineker-style finish to a cap a fine World Cup debut. 7

GETTY IMAGES

12/22 Salvatore Sirigu

Stepped in for the injured Gigi Buffon and then stepped up, making some excellent saves. 7/10

Getty Images

13/22 Matteo Darmian

A good performance, even if his pace wasn't as penetrative as usual. 7

Getty Images

14/22 Andrea Barzagli

So dependable, and perpetuating a fine line of Italian defenders. 8

Getty Images

15/22 Gabriel Paletta

The hair might be thinning, but the former Liverpool player made his own presence felt. 7

Getty Images

16/22 Giorgio Chiellini

Some cynical challenges, and still doesn't look entirely comfortably at left-back. 6

Getty Images

17/22 Claudio Marchisio

A brilliantly precise finish, a productive performance. 7

Getty Images

18/22 Daniele De Rossi

The necessary aggression amid so much Italian elegance. 7

Getty Images

19/22 Marco Verratti

Barely misplaced a ball, and played a key role in the first goal. 7

Getty Images

20/22 Antonio Candreva

An utterly exceptional cross for Balotelli's goal, and a surprise he was taken off. 7

Getty Images

21/22 Andrea Pirlo

The clever passes are too plentiful to remember, but the dummy for the opening goal impossible to forget. 7

Getty Images

22/22 Mario Balotelli

Frequently a threat, occasionally wasteful, but ultimately the match-winner. 7

Getty Images
He threatened more than that at the start. Sterling picked the ball up just inside the Italy half, beat two men and struck a rising effort from 25 yards which hit the side netting in a way that brought half the ground to its feet believing England had made the best possible start.
Back in February, Sterling revealed the key to his renaissance after a spell out of the team at Liverpool.
"I realised I need to stop being shy amongst the senior boys," he said. "I needed to be more confident. You have to respect the senior players around you but you have to stamp your own mark on the game."
It perhaps takes the fearlessness of youth to adopt the same approach on the international stage but Sterling did his best here.
Midway through the first half, Sterling popped up on the left flank and drifted past Marco Verratti with embarrassing ease before delivering an excellent ball across the six-yard box that Danny Welbeck was only denied the chance to convert by some robust Italian defending.
Sterling's deployment was not an unqualified success, especially against someone as wily as Pirlo. Collectively, England were unable to prevent periods in which Pirlo dictated terms in a familiar re-run of Kiev two years ago and it was apt that he should have a key role in Italy's opening goal, leaving the ball to run with delicious indifference for Claudio Marchisio to beat Joe Hart from 25 yards.
But going forward, England looked promising. Sterling regularly switched positions with Welbeck, Daniel Sturridge and Rooney in an interchanging of positions that prompted uncertainty in the Italian defence but it was from that central role that he helped to bring England level.
Sterling's beautifully weighted defence-splitting pass freed Rooney on the left and Sturridge did the rest.
There is a genuine dynamism to England's front four – plus the additional dimension of Everton's 20-year-old Ross Barkley and Southampton's Adam Lallana from the bench – that bodes well as England look to recover from this defeat.
They offer a combination of pace, invention and unpredictability that should give England a fighting chance of salvation, especially with Uruguay's defence looking so shaky in Fortaleza and Costa Rica not guaranteed to replicate their marvellous display.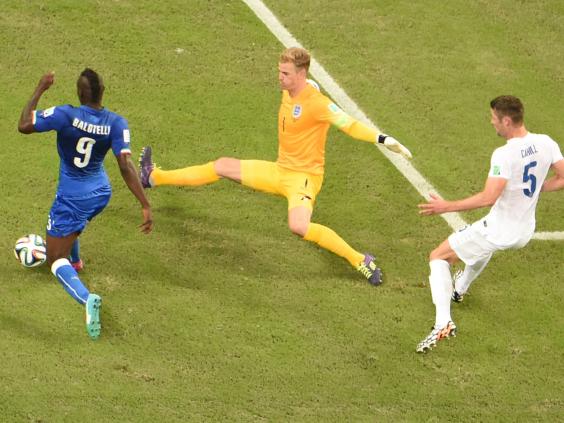 It took guts for Hodgson to opt for Sterling and that bravery did not get the reward it deserved. England's defending continues to act as their Achilles' heel – make that only nine clean sheets in 23 matches since their last tournament outing – but they threatened Italy more in attack here than  in Ukraine to suggest that some form of progress has been made.
Hodgson's England may well be flawed, especially against top level opposition – the wait for a tournament win against high-ranking opposition since defeating Argentina in the group stage in 2002 goes on – but the manager was right to give youth his head here.