Wayne Rooney admitted that his record-breaking 50th goal for England was an emotional moment when he finally passed Sir Bobby Charlton's 45-year record with an 82nd minute penalty against Switzerland.
The England captain scored the second of his team's goals in a 2-0 win, his 50th just three days past the 12th anniversary of his first international goal. Charlton will present him with a golden boot before the penultimate Euro 2016 qualifier against Estonia next month and the Football Association will mark the occasion with a flag at Wembley.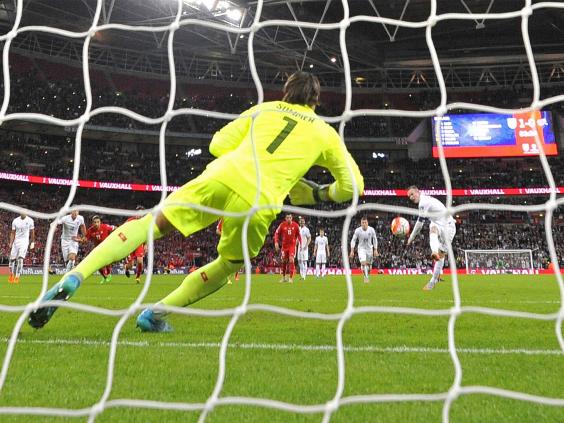 Rooney was presented with a commemorative shirt by Roy Hodgson in the dressing room after the game and made a short speech to his team-mates. In a video of the speech released by the FA, Rooney said: "Hopefully for the team and for myself there will be a lot more to come, we can be successful and hopefully a lot of the younger lads - Harry [Kane] coming through, Ross [Barkley], Raheem [Sterling], can come close and even pass me in the future. So I am grateful, it means the world to me and thank you very much."
He said in a television interview: "It's a great feeling. I've been close for the last few games and it's a dream come true. I was bit emotional, it's a huge honour and one I am extremely proud of. I knew it was a big moment and just picked my corner and put my foot through it. To be the record scorer before the age of 30 is nothing I could have imagined."
He added: "I knew myself it was a big moment for me and I just picked my corner and put my boot through it to get as much power as possible and make it hard for the keeper. He got a touch but thankfully it had too much power… since Roy [Hodgson] came in I've scored a lot of goals [22] and I'm grateful to Roy for letting me play with the freedom that I enjoy."
England 2 Switzerland 0 player ratings
England 2 Switzerland 0 player ratings
1/13 Joe Hart

Not a busy night for England's number one but he was solid when called upon. His concentration levels were superb and showed bravery to dive at Shaqiri's feet. 6/10

Getty Images

2/13 Gary Cahill

Did not look like the most experienced member of the defence. Having been regarded as the long term option for so long, his place is under threat if Smalling and Stones continues to develop. 5

Getty Images

3/13 Chris Smalling

A strong start saw him tackle Shaqiri superbly but his distribution was found lacking. Solid performance overall but not yet the finished article. 6

Getty Images

4/13 Luke Shaw

Bombed forward at every opportunity and finally seems to have put his injury plagued debut season at Old Trafford behind him. 6

Getty Images

5/13 James Milner

Ran and ran all night long, but did not make a real impact. Wasn't there to only make up the numbers but did little to stand out. 5

Getty Images

6/13 Jonjo Shelvey

Struggled to get on the ball and dictate like he did against San Marino. A sharp learning curve, but one he coped with and was much improved in the second half. 5

Getty Images

7/13 Fabian Delph

Substituted in the first minute with suspected hamstring strain. Painful. N/A

Getty Images

8/13 Alex Oxlade-Chamberlain

Isolated at times in the first half, but saw more of the ball in the second period. Good delivery from wide areas. 5

Getty Images

9/13 Raheem Sterling

A mixed bag for the Manchester City man. Worked tirelessly and chased his man back diligently but didn't sparkle in the final third. 5

Getty Images

10/13 Wayne Rooney

The striker's big night threatened to pass him by. Made no mistake from the spot. Deserved his record. 6

GettyImages

11/13 FROM THE BENCH: Ross Barkley

Played in a couple of positions and played well considering he was not expecting to enter the field of play so early on. 6

Getty Images

12/13 Harry Kane

Instant impact from the substitutes bench. Always wanted the ball. His goal could see his confidence come flooding back for Spurs. 7

13/13 John Stones

Came on at right back and proved there is more than one string to his bow. 5

Getty Images
Hodgson said that Rooney had told his team-mates that he wanted to score more. "The players greeted him with great delight while that shirt was given to him. I provoked him to give a speech, a very good speech but fairly short as it should be. The one thing I can tell you about it was how proud he was to have achieved that, how determined he is not to stop at 50. That was good."
"I know Wayne well enough to know he's really delighted tonight. It's a proud moment for him and his family," he added.
While Hodgson said that Rooney was more focused on improved tournament results, he backed his captain to get beyond 60 international goals.
"He wants to make England a better team, to make sure, like Sir Bobby Charlton, he ends up winning a tournament or getting very good results in a tournament."
"I'd like to think we're on 10 games a year these days, a bit more if we do quite well in a tournament. So if he plays to 2018 at least we're talking 20 or 30 games, so 10 to 15 goals with his rate of scoring."
Hodgson was impressed with how Rooney has adjusted to the burden of the captaincy since his appointment last year.
"I'm really pleased how he's taken on that extra burden while still trying to score those goals to take him to number one," Hodgson said. "The other thing that impresses me is his constant passion, his enthusiasm in training and meeting sessions. He's not sitting back thinking he's a legend, he's got 50 goals. He's there playing like the 19-year-old trying to impress to stay in the team."
In a statement released to coincide with the moment, Charlton congratulated Rooney on the milestone, "I have always been very proud to hold this record. Playing for my country was always an honour and a privilege and something I did with great pride. I obviously cannot deny that I am disappointed that I now don't hold this record, however, I am absolutely delighted that it is Wayne, as captain of my beloved club and country, who now holds this record.
"On behalf of myself and everyone at Manchester United I would like to say congratulations Wayne, this is a very proud moment for you and your family. It is a record that I am sure you will hold for a long time, and it is clear to see that you will go on scoring for your club and country for a long time to come."
Reuse content