England's most significant pre-World Cup warm-up was in 1998, when Paul Gascoigne's distracted performance against Belgium in Casablanca cost him a place in the finals, ended his England career, and led to his infamous trashing of Glenn Hoddle's hotel room to the backdrop of Kenny G.
Having been late for the team bus, he then missed part of Hoddle's pre-match instruction as he was on his phone in the middle of the pitch. Hoddle later wrote: "At that moment I began to started to seriously doubt he could do a job for us in France. Physically he wasn't 100 per cent, mentally he was all over the place. I sat opposite in the dressing room thinking, 'This is a big game for you, son, a very big game'."
It is a safe bet Roy Hodgson was not sitting in the Wembley dressing room last night harbouring similarly dark thoughts about one of his players, but it was nevertheless a big night for several of them.
Hodgson went into this match insisting places were up for grabs, and no one, including himself, knew what his starting line-up would be against Italy. Most, however, expected it would look quite a lot like the XI who lined up at kick-off last night.
Some places, however, are there for the seizing, with Hodgson identifying Steven Gerrard's midfield support as the area likely to be most debated when he sits down with Gary Neville and Ray Lewington to select his team for Manaus on 14 June.
England vs Peru - Player ratings & match highlights
England vs Peru - Player ratings & match highlights
1/22 Joe Hart

There was an argument for starting Fraser Forster or Ben Foster but Hart showed his importance with a few key saves. On top of his game. 7/10

Getty Images

2/22 Glen Johnson

Paul Scholes had suggested Roy Hodgson should start Phil Jones at right-back but, despite a few shaky moments, Johnson still looks the man for the job. 6

Getty Images

3/22 Gary Cahill

The cornerstone of the defence, Cahill knows he'll face tougher opposition in Brazil but he capped a decent performance with his third England goal. 7

AP

4/22 Phil Jagielka

Has been frustrated by calls for John Terry to be brought back but the Everton man is now a guaranteed starter in Brazil alongside Cahill. 7

Getty Images

5/22 Leighton Baines

England go into a major tournament without Ashley Cole at left-back for the first time since 2002 but Baines again showed he deserves his place. 7

Getty Images

6/22 Steven Gerrard

The nation held its breath when Gerrard crumpled under a hefty challenge in the first half but, thankfully, the England captain was quickly back on his feet. 7

Getty Images

7/22 Jordan Henderson

Henderson's form for Liverpool this season makes him favourite to start in the deep-lying midfield position alongside club team-mate Gerrard. 6

Getty Images

8/22 Adam Lallana

There were no signs that uncertainty surrounding his future will affect Southampton's Lallana, who is on the verge of joining Liverpool, in Brazil. 8

Reuters

9/22 Wayne Rooney

Hodgson says he is prepared to drop Rooney but, while he was quiet here, the forward looks ready to make an impact at a major tournament at last. 6

Getty Images

10/22 Daniel Sturridge

Largely subdued but his goal showed he can produce a moment of brilliance that will be needed in tight games at the World Cup. 7

PA

11/22 Danny Welbeck

A surprise selection ahead of Raheem Sterling on the left, Welbeck did not do enough to show he deserves a starting place against Italy. 6

Getty Images

12/22 Best off the bench: Raheem Sterling

The Liverpool winger was eager to make an impression after being left on the bench and showed glimpses of why he deserves a starting place. 7

Getty Images

13/22 England vs Peru

Chris Smalling of England replaces Phil Jagielka of England during the international friendly match between England and Peru

Getty Images

14/22 England vs Peru

England's Gary Cahill, number 5, scores a goal during the international friendly soccer match between England and Peru

AP

15/22 England vs Peru

Jack Wilshere of England on the ball during the international friendly match between England and Peru

Getty Images

16/22 England vs Peru

England's Gary Cahill (2nd R) heads to score a goal during their international friendly soccer match against Peru

Reuters

17/22 England vs Peru

Steven Gerrard and Phil Jagielka of England challenge George Forsyth of Peru during the international friendly match between England and Peru

Getty Images

18/22 England vs Peru

England's midfielder Adam Lallana (L) bursts into the box tracked by Peru's midfielder Rinaldo Cruzado

Getty Images

19/22 England vs Peru

England's Gary Cahill (L) vies for the ball with Peru's Luis Advincula during the international friendly soccer match between England and Peru

EPA

20/22 England vs Peru

Andre Carrillo of Peru is closed down by Leighton Baines and Jordan Henderson of England during the international friendly match between England and Peru at Wembley Stadium

Getty Images

21/22 England vs Peru

England's Glen Johnson (R) vies for the ball with Peru's Andre Carrillo (C) during the international soccer friendly match between England and Peru at Wembley Stadium

EPA

22/22 England vs Peru

Steven Gerrard of England congratulates Daniel Sturridge of England on scoring the opening goal

Getty Images
Last night Jordan Henderson, Adam Lallana and Danny Welbeck were given a first shot at nailing down a place. Later, Jack Wilshere, Raheem Sterling, James Milner and Ross Barkley came off the bench. That everyone in contention except Frank Lampard was given a run indicated Hodgson was telling the truth.
The starting trio had the best chance to show off their credentials. With Hodgson deploying a 4-2-3-1 formation, Henderson partnered his Liverpool team-mate Gerrard in the anchor roles while Welbeck and Lallana began on the left and right flanks. Neither, though, had to hug the wing and Welbeck, especially, came inside, at times swapping with Sturridge to be the front man.
It was when drifting in that Welbeck first threatened, linking neatly with Leighton Baines only to be hauled down. Then Lallana took a turn, bursting through the defensive cover and causing enough defensive confusion for Sturridge to be presented with a chance he snatched at.
However, neither showed much inclination to go beyond Peru's deep defence in the way a young Lampard would have. Lallana again showed what good feet he has, looking very comfortable in possession. He did, though, have a tendency to dwell on the ball and play safe with passes when it could have been played quicker, and longer. Welbeck's ability to run with the ball was shown again, though with little end product on this occasion.
Henderson had less opportunity to shine, being the water-carrier to Gerrard's quarter-back. But it is a job someone has to do and his energy levels, and positional discipline, make him a strong candidate for the role in the Amazon.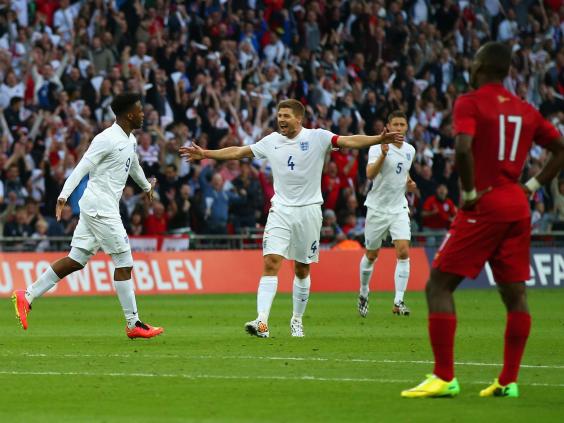 Wilshere was added to the fray in the 64th minute, Sterling a minute later. Sterling, intriguingly, played in the hole, where he shone late in the season for Liverpool, while Wilshere partnered Henderson. The effect of Sterling's pace was instant. England were immediately prepared to play longer. Henderson, who had been loath to do so before, quickly sent a ball over the top for his team-mate to run on to.
When Milner came on for Lallana the contrast between the latter's elegance and Milner's more yeoman qualities was stark, but there are times when Hodgson will want his steady Eddie. Manaus could be one of them.
Finally Barkley appeared. He went in the hole, Sterling to the left. The pair had time enough to for some interplay, which finished with Sterling curling an adventurous shot just wide.
Suddenly England looked young and vibrant and the impressively large crowd were infused with optimism.
Down on the bench the old man of the squad, Lampard, bided his time. While England had played well, and all the young pretenders had done OK, none had delivered a performance that screamed "I must play".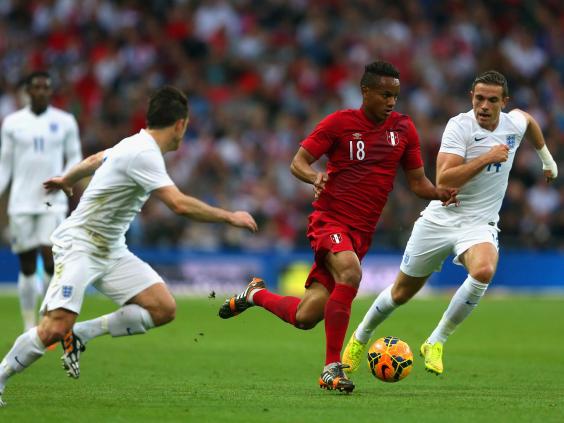 The veteran has been around long enough to know much can change when the real action starts. In 1986 Mark Hateley played himself into the team with his goals in the warm-ups, but was replaced in Mexico by Peter Beardsley after England started the finals badly.
Twenty years on the warm-up performances of a young Owen Hargreaves earned him a place in the team while Trevor Sinclair, then on stand-by, felt himself so out of his depth he asked to fly back to England. But 19 minutes into the second World Cup tie, against Argentina, Hargreaves was injured. Sinclair, having been recalled to Asia after Danny Murphy was injured, replaced him and went on to have a good tournament.
Some succour then, in history, for any England midfielder feeling this morning that their chances of starting in Manaus are drifting away.
Reuse content