His story will always be that of the Liverpudlian who left his job at a beetroot factory to play for Macclesfield Town, fuelled primarily by a steadfast desire to be a professional footballer, not to mention the added incentive of not having to go back to work at the beetroot factory. But you have to say now that Rickie Lambert's career is now building towards an even better conclusion.
With his winning goal against Scotland, a goal that allowed a number of concerns for Roy Hodgson to be relegated down the agenda, Lambert opened up the possibility that he may well be back in this England team. The man who had not played above League One until two years ago demonstrated that, at 31, he could just have a future with England - a future that comes in a World Cup year when, Hodgson hopes, he will be taking 23 players to Brazil in June.
It was a wonderful ending to a difficult night for England when they twice had to come from behind to beat an impressive Scotland, fired-up on the enthusiasm of the occasion if a little short on the quality required to beat their opposition. The home crowd sang Lambert's name from the moment he replaced Wayne Rooney on 67 minutes and then soon after powered in a header from Leighton Baines' corner.
As the England team of 2013 confronts the uncertainty of modern football's new world order it will be a crumb of comfort for Hodgson that at least he did not suffer the indignity of failing to beat Scotland at Wembley. No offence to the neighbours, of course, but for Hodgson this was one friendly he simply had to win.
Gordon Strachan's team were excellent in the way they took the chances afforded to them and almost hung on in the difficult moments. Although they could not quite keep England at bay as they would have wished. After James Morrison's opening goal, and then Kenny Miller's sweetly taken second, it took, along the way, goals from Theo Walcott, Danny Welbeck and finally Lambert to wrest the game back from the Scots.
What was there that Hodgson can take from this game into the four World Cup qualifiers on the horizon? First of all, his side demonstrated a great tenacity to extricate themselves from a losing position twice. Welbeck was deservedly voted the man of the match and Wayne Rooney looked sharper than might have been expected. Joe Hart's clanger for the first Scotland goal was a concern.
It was a bad mistake from the England first-choice goalkeeper who just let a relatively tame shot cannon off him and in. The margins are fine in these last four games that England must win to be sure of a place in Brazil and they cannot afford for one of the cornerstones of their team since the 2010 World Cup finals to let them down.
As for the occasion itself, for all the Scots splashing about in Trafalgar Square fountains during the day, the away end at Wembley was by no means full. Neither were the home seats either. That did not prevent little pockets of finger-jabbing and recriminations when Morrison scored the first goal of the evening for Scotland on 11 minutes and away fans leapt up to celebrate. Both anthems had been booed before then - the English booed first - although it was never really nasty on the pitch.
In Scotland's team, players from Norwich City, Blackburn Rovers, Vancouver Whitecaps and Wigan Athletic, but only two in the first XI who are registered to SPL sides, both at Celtic. This should have been a mis-match but then with England it never is. They are so rarely more than the sum of their parts; and so often less.
In the opening exchanges, Hodgson's team might have pinched a goal when a cross from Baines from the left looked like it had the potential to be guided goalward by Rooney. Baines was picked ahead of Ashley Cole, only back from Chelsea's series of games in the United States on Sunday.
In those early stages, Jack Wilshere, playing alongside Steven Gerrard and Tom Cleverley in a midfield three, looked sharp. He found himself caught in possession at the end of the first half but in those early stages the changes of pace and the laser-accuracy of his passing was a joy.
For the first Scotland goal, Welbeck got a firm clearing header on a corner but Walcott failed to get the ball clear and then, when it fell to Morrison, the Arsenal man did not close him down quickly enough. Hart should have saved the shot but never seemed to get in line with it properly.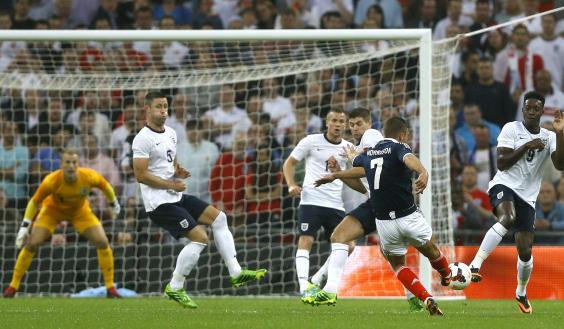 England had plenty of possession but you know they have lost their way when Gerrard adopts the role of quarter-back and tries to spray the ball out to the wings as he did occasionally in the first half. Cleverley might have done better when Rooney laid off Walcott's cross to his United team-mate and Cleverley's shot was blocked.
What a pass it was from Cleverley to create England's equaliser. It was hit down the inside right channel with confidence and allowed Walcott to exploit his phenomenal pace. The ball never quite sticks with Walcott when he hits top speed but he stayed sufficiently composed to cut inside behind full-back Steven Whittaker and, via a fortunate bounce, hit a shot past Allan McGregor.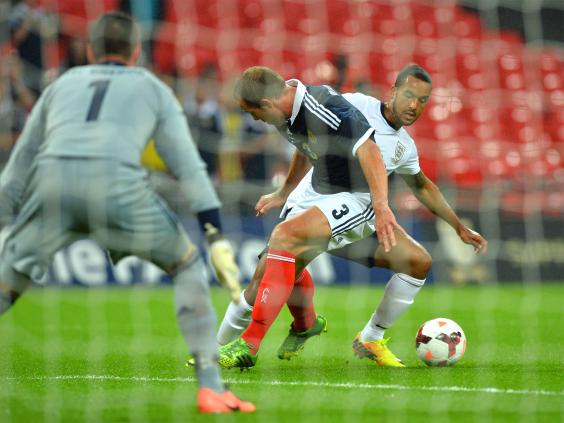 From then on, England might have had more. Cleverley scuffed a cross from Walcott that Welbeck left for him. Rooney struck one just wide. In fact Rooney was very harshly judged to be offside in the act of scoring with two minutes of the first half remaining. Frank Lampard came on for Wilshere for the Chelsea man's 98th cap at half-time and he was accomplished in the second half.
There was more dismal defending from England just after the break. On this occasion it was Gary Cahill who was easily deceived by the movement of Miller on the edge of the area with his back to goal, enough that the striker was able to create the space for a nicely taken low shot past Hart and into the corner of the England goal.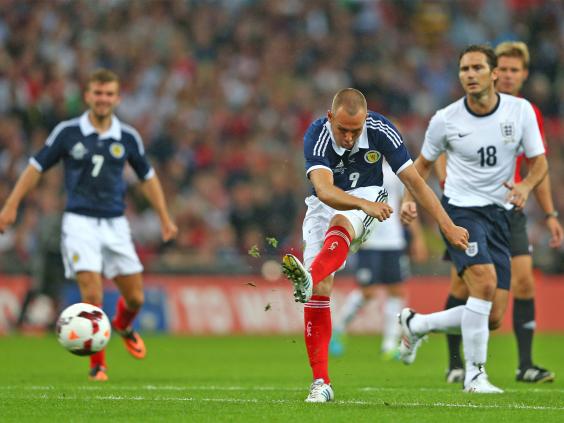 In truth, England looked shaky every time that their defence was tested. Even from set-pieces they might have been better organised. This time the Scotland lead lasted just four minutes but it was an uncomfortable episode for England who must have thought they had seen off the worst of it. A Gerrard free-kick from the right dropped just over the head of Russell Martin for Welbeck to head in.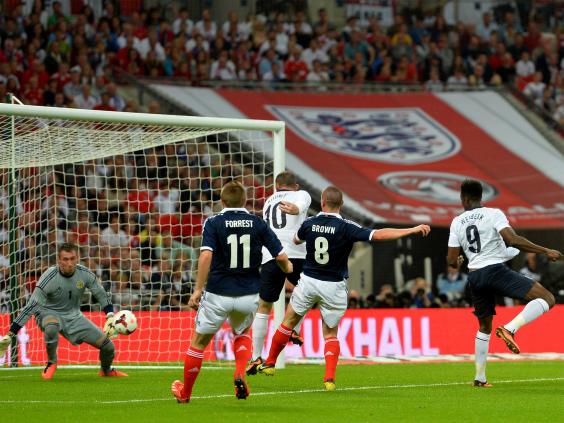 After the hour, the changes came with Gerrard replaced with Alex Oxlade-Chamberlain and then James Milner and Lambert on for Cleverley and Rooney. Lambert must have been on the pitch for all of three minutes when he attacked the near-post decisively at a Baines corner and connected with the ball perfectly to head past McGregor.
On his debut, this was to be Lambert's night, rescuing his team-mates, and if Hodgson's team can muddle through to World Cup qualification in similar fashion, that would suit the England manager just fine.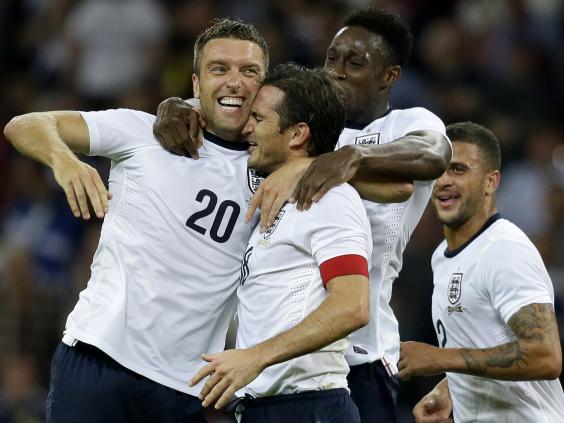 England Hart; Walker, Baines, Cahill, Jagielka (Jones 84 ); Gerrard (Oxlade-Chamberlain 62), Walcott (Zaha 75), Wilshere (Lampard 46), Cleverley (Milner 67); Welbeck, Rooney (Lambert 67)
Scotland McGregor; Hutton, Whittaker, Martin, G Hanley; Maloney (Naismith 86), Morrison (Rhodes 82), Brown, Snodgrass (Conway 66), Forrest (Mulgrew 67); Miller (Griffiths 73)
Man of the match Welbeck.
Match rating 8.
Attendance 80,485.
Reuse content